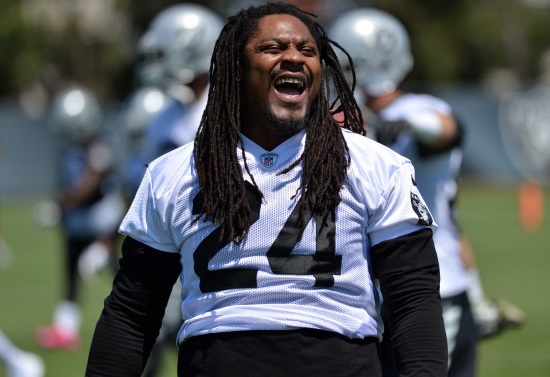 Written by John Adams
21 December 2017
BUST – Marshawn Lynch, RB, Oakland Raiders
Raiders RB Marshawn Lynch has strung together a rather impressive second half of the season, but his recent surge might get squelched with a trip to the East Coast to take on the high-flying Eagles. Despite decent fantasy numbers last week against the Cowboys, Lynch spent much of the day getting brick-walled in the red zone and was not able to score a touchdown. Philadelphia boasts the fourth-ranked run defense and could be playing Scrooge on Christmas night for hopeful fantasy owners who have championship dreams rushing through their heads.
BUST – Samaje Perine, RB, Washington Redskins
Redskins RB Samaje Perine has cooled off during the past three weeks and using him in hopes of securing a fantasy championship could be a risky proposition. Perine is getting plenty of reps, but he hasn't scored in four straight weeks. As a matter of fact, he almost NEVER scores; Perine has only one rushing touchdown all season. His yards-per-carry average is in the toilet after he posted 2.6 yards per rush against the Chargers and the Cardinals over the past two weeks. Denver has the league's fifth-ranked run defense and that could leave fantasy owners feeling very Grinchy during the holiday weekend.
BUST – Marcus Mariota, QB, Tennessee Titans
Even though his team lost, Titans QB Marcus Mariota had a damn fine game last week against the San Francisco 49ers. He threw for 241 yards and two touchdowns while playing more often in an up-tempo, no-huddle offense. However, a clash against the visiting Rams will NOT do his fantasy owners any favors at all. The Rams are fresh off a stifling defensive performance where they shut down Russell Wilson and crushed the Christmas spirit of the Seattle Seahawks. With all due respect to Mariota, he is no Russell Wilson, and the Rams' defense is poised for another punishing performance. Make sure Mariota is far away from your fantasy lineup on Christmas Eve. He is a bust!
Never miss ASL's latest fantasy sports news. Send us an email at This email address is being protected from spambots. You need JavaScript enabled to view it. and list the sports you are interested in (NFL, NBA, MLB, NHL, EPL) to start receiving ASL's newsletter.