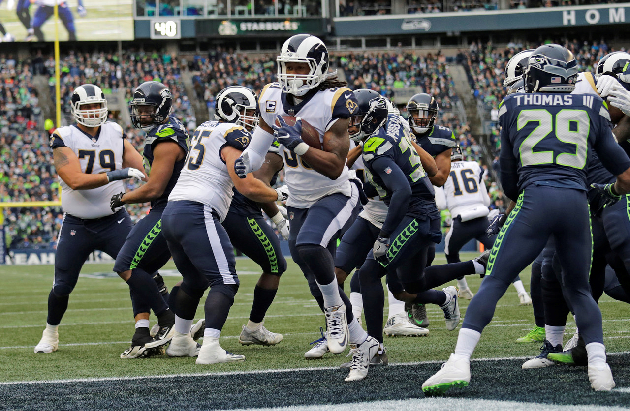 Written by Levi Andrew
19 December 2017
Los Angeles Rams 42 – Seattle Seahawks 7
Hello, Seattle. Meet Todd Gurley. That must have been Rams head coach Sean McVay's first words after kickoff Sunday. McVay said earlier in the week he wanted to be more "mindful" of sticking with the run game and that led to Gurley seeing 21 carries, his most in his last seven games. Gurley broke off huge gains in this game, using those 21 carries to rack up 152 yards and three scores on the ground. He caught all of his three targets for 28 yards and another score. Jared Goff threw the ball only 21 times and completed 14 of them for 120 yards, two scores and a pick. Robert Woods found himself back in the driver's seat as Goff's WR1. Woods was targeted seven times and came down with six for 45 yards and a score.
Seattle followed up a poor showing in Jacksonville by just not showing up at home. The defense couldn't stop the Rams anytime they were on Seattle's side of the field. The "12th Man" can come up with as many excuses as they want, but that was just a pathetic performance. The only glimmer of hope is Russell Wilson; he continues to be the only offense the 'Hawks have. Wilson put up 142 yards and a score through the air and rushed five times for a team-leading 39 yards. He did commit two costly fumbles, however.
Takeaways: Goff has been more of a QB2 as of late. Woods is back to being a high-end WR2 going forward. Gurley is a no-brainer start. You either won in Week 15 because you have him on your team or you lost because you were facing him.
Wilson should rebound to his QB1 self this week against the Cowboys. Look for a bounce-back game from Jimmy Graham as well.
New England Patriots 27 – Pittsburgh Steelers 24
Tom Brady had yet another dud for fantasy purposes. You should follow me on Twitter if you don't; I gave stats about him last week. Brady is not a December QB. He has yet to throw for more than one TD since Week 12 and hasn't thrown for more than 300 yards since Week 11. Rex Burkhead got an early goal-line score but got injured in the third quarter and never came back. It sounds like his regular season is over. Dion Lewis has been the guy Bill Belichick wants to roll with as he rushed 13 times for 67 yards and the game-winning touchdown. It was Rob Gronkowski's night though as he hauled in nine of 13 targets for 168 yards. The only negative is that he was held out of the end zone.
Pittsburgh had a couple of tough breaks Sunday. In the second quarter, Antonio Brown left the game with a lower leg injury which was later confirmed to be a partially torn calf muscle. Brown looks likely to miss Weeks 16 and 17 with the injury. The second tough break was the overturned TD catch by tight end Jesse James. You can think what you want, but I thought that ball crossed the plane. Ben Roethlisberger proved me wrong as he was not the overall No. 1 QB this week. He threw for only 281 yards, two scores and an interception, resulting in him being the QB13. Le'Veon Bell rushed for over a 100 yards for the first time since Week 7. He touched the rock 29 times for a total of 165 scrimmage yards and one score.
Takeaways: If you made it to the championship round with Brady these last few weeks, I salute you. New England plays Buffalo this week, and the Bills held Brady to no TDs and less than 300 two weeks ago. Look for James White to pick up Rex's work. I don't think Mike Gillislee will cut too much into Lewis' and White's snap counts.
With Brown out until further notice, it's time for Martavis Bryant to step up and ball for Big Ben. We all know what JuJu Smith-Schuster can do. Maybe just if JuJu really shows Ben how he can dominate, Ben won't think about retiring and Brown can still be valuable in the coming years.
Dallas Cowboys 20 – Oakland Raiders 17
Dak Prescott started his day by looking like a fish out of water again, throwing a pick on the first drive. He finished Sunday night with 212 passing yards and two interceptions. He saved his fantasy day by rushing six times for 32 yards and a score. Dez Bryant stayed inconsistent as he was targeted only four times. He came down with two for 59 yards. One of the targets led to an INT also. Rod Smith vultured a touchdown from Alfred Morris again this week, but Morris out-touched Smith, 18-10.
Derek Carr continued his up-and-down season, throwing 38 times for 171 yards and two scores. He also rushed four times for 47 yards. Both of Carr's touchdown throws went to Michael Crabtree, who caught seven of his 17 targets for a measly 39 yards. Head coach Jack Del Rio has finally seen the light and is riding Marshawn Lynch. Lynch saw 16 carries for 76 yards while also catching three of four targets for 16 yards.
Takeaways: Week 16 marks the end of Ezekiel Elliott's suspension. With Zeke back, look for the Cowboys' offense to take off. Yes, they have a big task at hand with the Seahawks coming to town. I think the Cowboys get it done, however, as Zeke takes the pressure off of this offense and allows Dak to find Dez deep against a depleted secondary.
Oakland travels to Philly in Week 16. Carr hopes to have Amari Cooper back to help generate something, but that hasn't worked all season, and the Eagles are looking to lock up home-field advantage this week. I see Carr throwing a lot, so look for Crabtree to have another decent day.


As always, follow me on Twitter: @LeviAndrewFF
Never miss ASL's latest fantasy sports news. Send us an email at newsletter@advancedsportslogic.com and list the sports you are interested in (NFL, NBA, MLB, NHL, EPL) to start receiving ASL's newsletter.