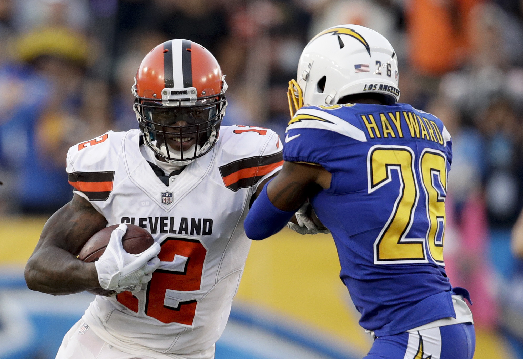 Written by Levi Andrew
05 December 2017
New England Patriots 23 – Buffalo Bills 3
Rex Burkhead is an animal, the perfect back for ol' Bill Belichick. Rex scored two TDs again this week, both of which came on the ground. Burkhead also came out of Week 13 with 103 yards from scrimmage. Tom Brady didn't have his normal outing against the Bills as he only threw for 258 yards and a pick.
Tyrod Taylor left Sunday's game with a knee injury. Word on Monday was he suffered no ligament damage and has a bruised patellar tendon. Taylor will most likely be out for Week 14, but watch the practice reports this week. The Bills' rushing game was a bright spot. LeSean McCoy went for 93 yards on 15 carries and caught two of five targets for nine yards.
Takeaways: Between Rex and Dion Lewis, I would say that Rex is an RB2 with RB1 upside while Lewis is a FLEX play. Then there is Rob Gronkowski, who led the Pats in receiving, going full heel on Bills Mafia. Gronk is now suspended for the first week of the fantasy playoffs after making a stupid, blatantly illegal hit. If you own Gronk and are in the playoffs, I hope you have a first-round bye.
Avoid all Bills receivers for the fantasy playoffs. McCoy is a different story, of course. He has some great matchups over the next four weeks: Colts, Dolphins, Patriots and Dolphins again, respectively. All of those teams have below-average run defenses. 
If you haven't played Daily Fantasy Football yet, get started today with DraftKings!
Oakland Raiders 24 – New York Giants 17
Derek Carr was without his top two wideouts but still found a way to throw for 287 yards and a touchdown. Carr will be glad to have Michael Crabtree back from suspension this week. Watch the practice reports on Amari Cooper for his status. Cooper is still in the league's concussion protocol and dealing with a sprained ankle. Marshawn Lynch found the end zone again this week, rushing 17 times for 101 yards and the score. If Cooper is a no-go again this week look for Cordarrelle Patterson to carry the load on that side of the field. The big-play threat gained 97 yards on four catches.
The Giants are a dumpster fire with the main fuel being Ben McAdoo's hair gel. Geno Smith started for the now-fired McAdoo, throwing for 212 yards and a score while also doing Geno Smith things like losing two fumbles deep in opponent's territory. Evan Engram was Smith's security blanket, catching seven balls for 99 yards and a score.
Takeaways: Lynch could have another good day against the Kansas City Chiefs in Week 14; the Raiders are rolling and the Chiefs are falling. Week 16 looks to be Lynch's worse week in the playoffs as he will play Philly's top-notch run defense. If you are starting Carr during the fantasy playoffs, I wish you the best of luck.
As I said, there isn't much to say about the Giants other than Engram could be a player who starts for your playoff team. Eli Manning will reportedly start this week and that's not a bad thing for the rookie tight end.
Los Angeles Rams 32 – Arizona Cardinals 16
Jared Goff has asserted himself as a competent starter, scoring double-digit fantasy points yet again. Goff has started to trust Sammy Watkins, who has now scored in four of the past five weeks. However, it's Cooper Kupp who has been peppered with targets since Robert Woods went down. Kupp was targeted six times and caught five of them for 68 yards. He's still missing those TD receptions that would take his fantasy value to the next level.
Kerwynn Williams got the start in place of Adrian Peterson and held his own in the run game, rushing 16 times for 97 yards. Larry Fitzgerald got back on track by catching 10 balls for 98 yards and a score. This team isn't going anywhere fast, but I did hear Bruce Arians say that he would be comfortable with starting Blaine Gabbert in 2018 if Carson Palmer doesn't return. That could be a good thing if Gabbert gets the time this offseason to build a rapport with his receivers. His rapport with rookie Ricky Seals-Jones is already sky high. I may have to rank him in my top-20 tight ends going forward.  
Takeaways: The Rams face tough pass defenses in the next two weeks: Philadelphia at home and then a road game in Seattle. If the Rams play the Eagles like the Seahawks did on Sunday night, I could see Goff having a decent day.
If AP doesn't play in Week 14, I can see Williams taking control of Arizona's ground game going forward. The Cardinals need to find something that works in their backfield and stick to it, which they are starting to find.
Los Angeles Chargers 19 – Cleveland Browns 10
Philip Rivers is playing lights-out football right now. He completed 31 of 43 passes Sunday for 344 yards and a score. As a result of Rivers' play, Keenan Allen has really caught fire lately, scoring four times and notching three 100-yard performances over the past three games. Austin Ekeler didn't get his in this game as Melvin Gordon kept the ball in his court. Gordon rushed for 77 yards on 19 carries and caught all four of his targets for 29 yards. Ekeler gained 40 yards on six touches.
Browns head coach Hue Jackson kept his promise that Josh Gordon would be involved often in Week 13. DeShone Kizer targeted him 11 times, and Gordon came down with four catches for 85 yards. That's a major feat for someone who hadn't played in an NFL regular season game in almost three years. Honestly, if he wasn't playing a top-tier defense with a highly rated cornerback in Casey Hayward, Gordon would have had a much bigger box score. Duke Johnson took a back seat in the game plan and was only targeted four times. He gained just 12 yards on nine touches.
Takeaways: Well, Allen has proven me wrong. Since I wrote about him not scoring a touchdown since the first week of the season, he has scored every week. You're welcome, Allen owners. Rivers is a top-eight fantasy QB going forward.
The Browns could really get something going if they draft a skilled running back like Saquon Barkley. Kizer, Gordon, Barkley, David Njoku and Corey Coleman could make up a special, dangerous offense. Of course, that assumes Jackson and the front office iron out their squabbles and don't get fired.


As always, follow me on Twitter: @LeviAndrewFF
Never miss ASL's latest fantasy sports news. Send us an email at newsletter@advancedsportslogic.com and list the sports you are interested in (NFL, NBA, MLB, NHL, EPL) to start receiving ASL's newsletter