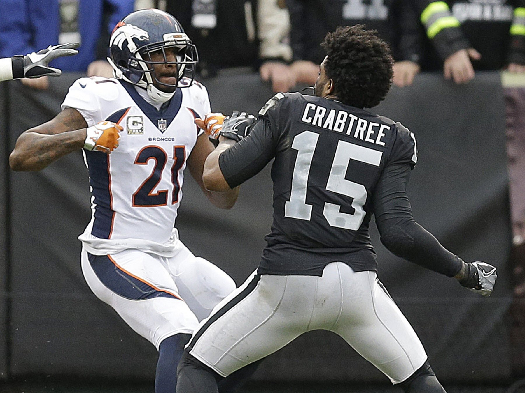 Written by Levi Andrew
28 November 2017
I hope everyone had a great and full Thanksgiving. I'm thankful for everyone who reads my articles and ranks. I hope at some point I have helped you make a playoff run.
Pittsburgh Steelers 31 – Green Bay Packers 28
What a game!!! This ballgame was full of back-and-forth action and went down to the final whistle. Antonio Brown went berzerk again, catching 10 passes for 169 yards to go along with two scores. That stat line is nice, but the toe-dragging catch on the sideline he made to keep the final drive going was a thing of beauty. Ben Roethlisberger finished as the No. 1 QB for the week, throwing for 351 yards, four scores and two interceptions. Le'Veon Bell not only is fire on the mic (check out "Winsday"), but he is fire on a football field. He might end up getting PAID this offseason. Bell went for a combined 183 yards on Sunday, rushing for 95 yards on 20 carries and catching a team-high 12 balls for 88 yards.
Brett Hundley had his best showing since Aaron Rodgers went down, throwing for 245 yards and three TDs. Let's hope that carries over into the next few games so Rodgers has something to play for upon his return in Week 15. Davante Adams has put up double-digit fantasy points in three games straight and is quietly WR10 for the season. Rookie running back Jamaal Williams had a career day, finishing with 66 yards and a score on the ground to go along with 69 more yards and another score as a receiver.
Takeaways: The Killer Bs are killing it. There's not much to say other than Roethlisberger is better at home and plays three of his next five there. Of those three games, only Baltimore's secondary scares me. JuJu Smith-Schuster doesn't look to be close to playing in Week 13, so you'll have to find someone else this week if you're depending on him.
The Packers look to be doing alright and aren't out of the chase yet. Rodgers was seen throwing deep Sunday and although he can start practicing this week, he can't play until Week 15.
If you haven't played Daily Fantasy Football yet, get started today with DraftKings!
Los Angeles Rams 26 – New Orleans Saints 20
Going back to Cali proved to be a shot in the arm for the Los Angeles Rams. As Jared Goff took the Rams down the field on the first drive of the game, he found Sammy Watkins on a 5-yard pass for his first touchdown. Watkins finished his day with four receptions for 82 yards and that TD while Cooper Kupp posted an 8-116-0 line. I told you last week that Kupp would be a WR2 in Week 12. Another rookie, Josh Reynolds, stepped up in the absence of Robert Woods. The fourth-rounder caught four of six targets for 37 yards and a touchdown.  Todd Gurley had another Todd Gurley day, racking up more than 120 yards from scrimmage.
The star of the game, however, was on the losing side. Alvin Kamara ran for 87 yards and a score on just five carries while also grabbing six passes out of the air for 101 yards and another score. If it wasn't for Kamara, Drew Brees wouldn't have had a decent day, but he provided his owners with 16 fantasy points. Wide receiver Michael Thomas is not living up to his draft pedigree; he has scored double-digit fantasy points in only three of 11 games thus far. The other Saints player to have a down day was Mark Ingram, who couldn't get rolling with New Orleans playing from behind for the entire afternoon. He gained just 36 total yards on 13 touches.
Takeaways: If Woods is out, Kupp is a WR2 with WR1 upside. Kupp just needed to get into the end zone Sunday to reach that WR1 mark. Watkins is a WR3 who I don't think will be on the team next year unless he takes a one-year, prove-it deal or the franchise tag.
Everyone is super hyped on Kamara. Yes, he is a great athlete and his production is out of control right now, but let's consider his future for fantasy and dynasty purposes. Brees is a free agent after this year. The Saints can't franchise tag him and will reportedly be looking in the draft for a QB even though Brees currently boasts a career-high 71.3 completion percentage. Then you also have to consider that Ingram can become a free agent if he is named a first-team All-Pro. In the end, I can see the Saints being pretty much torn apart this offseason, leaving Thomas and Kamara with a rookie QB. Just something to ponder.
Minnesota Vikings 30 – Detroit Lions 23
This was the most interesting game on Thanksgiving by far. The Vikings are a really good team and fun to watch on both sides of the football. Case Keenum was hurt by the Jeff Fisher Effect as badly as Goff last year. This year, he is producing and leading a team to a playoff berth. Keenum threw for 282 yards, two scores and also ran for 20 yards and a touchdown. Yet, we know Teddy Bridgewater is the future in Minnesota, so one bad game could get Keenum benched. Keenum connected with tight end Kyle Rudolph for four catches, 63 yards and two scores. Latavius Murray held the steady hot hand again, rushing 20 times for 84 yards and a TD. Jerick McKinnon got his normal 13 carries, but took them for only 23 yards.
Matthew Stafford held his own against a strong defense, throwing for 250 yards and two scores, although he did commit a couple of huge turnovers. Both of Stafford's scores went to Marvin Jones, who accounted for 109 yards on six receptions. The rushing attack was led by Theo Riddick as he rushed just five times for 20 yards. Ameer Abdullah rushed six times for 14 yards while catching three of five targets for 29 yards.
Takeaways: Adam Thielen continues to dominate opposing defenses. He finished Week 12 as the WR26, but I consider him a top-10 wideout going forward. Keenum has become a quality streaming asset, finishing with 15 or more fantasy points four weeks in a row.
Jones has quietly been a WR1 player for the last 6 weeks, scoring double-digit points five times. Start that draft steal with confidence. Abdullah is a flex at best for the rest of season.
Quick Snaps:
Los Angeles Chargers 28 – Dallas Cowboys 6
Philip Rivers and Keenan Allen have really found their spark over the last two weeks, having hooked up for 331 yards and three scores. Hunter Henry found the end zone for the first time since Week 5 and will be a TE2 going forward. Austin Ekeler continues to out-produce Melvin Gordon in the passing game. Both men saw and caught three targets, but Ekeler put up 55 yards to Gordon's 23. Gordon out-rushed Ekeler, 65-15, because he handled 14 more carries.
Dak Prescott is lost and doesn't know what to do. It can't be all Ezekiel Elliott's fault, right? If he could just throw it up to Dez Bryant and let him come down with it, we would be good. But until we see it, I don't think we can trust Dak as his normal, QB1 self. I see him now being in the QB14-19 range. I know that as soon as I sit him, he will blow up, but maybe I'll do that this Thursday versus Washington.
Oakland Raiders 21 – Denver Broncos 14
Well, we had another MMA fight in the NFL. Michael Crabtree and Aqib Talib had an all-out brawl in which Talib snatched Crabtree's chain from his neck for the second year in a row. It ended with both men and Raiders offensive lineman Gabe Jackson getting ejected. Crabtree is currently appealing his two-game suspension stemming from the fracas. Derek Carr had a decent outing, throwing for 253 yards and two touchdowns but also lost a fumble. Amari Cooper caught a nine-yard TD before being hit in the head and getting knocked out. He also suffered a sprained ankle, so he will have a lot to recover from in order to play in Week 13. Marshawn Lynch took 26 carries for 67 yards and a score. He looks like a good bet to have the same line in Week 13 against the New York Giants, especially with the Raiders being suddenly short on wide receivers.
The Denver Broncos are stuck in quarterback purgatory. Trevor Siemian came in after Paxton Lynch went down with an ankle injury. When Siemian entered the game, Denver trailed 21-0. He led the Broncos on two TD drives, neither of which helped fantasy owners as one went to Bennie Fowler and the other went to Cody Latimer. The Broncos never established a running game Sunday.


As always, follow me on Twitter: 
@LeviAndrewFF
Never miss ASL's latest fantasy sports news. Send us an email at newsletter@advancedsportslogic.com and list the sports you are interested in (NFL, NBA, MLB, NHL, EPL) to start receiving ASL's newsletter