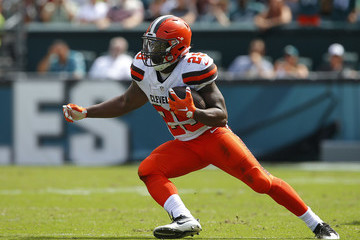 Written by John Adams
26 October 2017
BUST – Duke Johnson, RB, Cleveland Browns
Cleveland RB Duke Johnson has quietly had a very decent season for fantasy owners coming into Week 8, but playing in London this week against a rugged Vikings defense is not exactly a recipe for success. Fantasy owners must have noticed by now that Johnson gets shut down when playing against a top-tier rushing defense, and the Vikings are the best in the business. Johnson has maintained value in fantasy circles because he is catching so many balls, but he is still a risky proposition playing across the pond this week. With so many teams with a bye week, you may have no choice but to play him, but temper your expectations.
BUST – Lamar Miller, RB, Houston Texans
With the exception of one great week at home against the Tennessee Titans, Texans RB Lamar Miller has been relatively quiet this season. Miller has not been able to rush for more than 75 yards in a game this season and he has little chance of breaking that streak when the Texans head to Seattle to take on a stifling Seahawks run defense that ranks fourth in the league. Chances are that the Texans will be playing from behind Sunday, which means Deshaun Watson will be airing it out in an effort to keep pace with Russell Wilson. So, Miller's fantasy success during Week 8 rests on his ability to catch and run instead of ground and pound.
BUST – Ben Roethlisberger, QB, Pittsburgh Steelers
For fantasy purposes, Steelers QB Ben Roethlisberger has been more of a game manager than a stud quarterback during the 2017 season. Big Ben has thrown for more than 300 yards just once and that came on the same day he threw five picks with no touchdowns against the Jacksonville Jaguars. Last week against the Bengals, Ben had one of his best performances of the season, completing 14 of 24 passes for 224 yards and a pair of touchdowns. However, the Steelers are putting most of the load on Le'Veon Bell and severely limiting Roethlisberger's pass attempts. With the exception of Cam Newton in Week 5, the Lions have been very tough on opposing quarterbacks.


Never miss ASL's latest fantasy sports news. Send us an email at newsletter@advancedsportslogic.com and list the sports you are interested in (NFL, NBA, MLB, NHL, EPL) to start receiving ASL's newsletter.