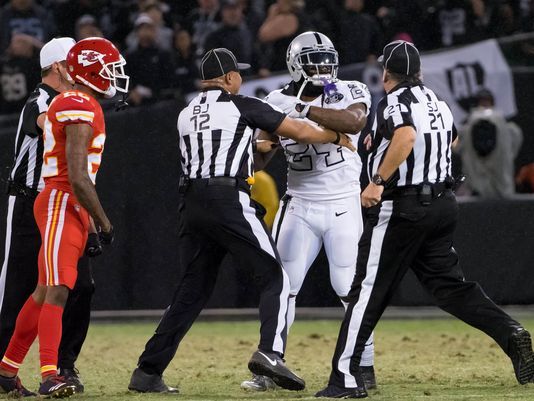 Written by AJ Schreiver
24 October 2017
Make sure to check out the NFL betting lines for Week 8.
Marshawn Lynch, RB Oakland Raiders
The Raiders' offense finally broke out on Thursday night. But it did so without Marshawn Lynch, who was ejected for making contact with an official and left his owners with less than a point. Now, Lynch is facing a one-game suspension and a bye in Week 10. However, I will KEEP Lynch on my bench until further notice. Why? Well, I could give you his numbers from 2013 and 2014 or the Raiders' rushing numbers in December last year. But honestly, even with Lynch's slow start, I don't see an unowned player with a higher ceiling, especially with Oakland's offense ostensibly starting to click after seven weeks under new offensive coordinator Todd Downing. 
DeAndre Washington, RB, Oakland Raiders
While I am dangling Marshawn Lynch from the end of my roster, I will ACQUIRE DeAndre Washington, who took over after Lynch received the early boot. It will be reported that Washington and Jalen Richard with split the workload, but on Thursday night, Washington came in and worked on early downs and from inside the 10-yard line, where he bulldozed his way to an impressive score. Washington looks like the handcuff to Lynch and could see an expanded role if he continues to play well. He will be a flex option in Week 8, pending Lynch's appeal. 
T.Y. Hilton, WR, Indianapolis Colts
I had a reader ask about T.Y. Hilton last week and my advice was to CUT Hilton. After his two-catch, 27-yard performance versus Jacksonville and with the recent news that Andrew Luck is doubtful to return this year, it is clear you can cut ties here. Other than his 150-plus-yard outings versus lowly Cleveland and San Francisco, T.Y. has topped 50 yards only once this season. There are better weekly streaming options than Hilton, who won't be more than a WR4 for the next three weeks before the Colts' bye. 
Randall Cobb, WR, Green Bay Packers
The devastating injury to Aaron Rodgers effectively ended the Green Bay Packers' season and delivered a crushing blow to all Packers for fantasy purposes, including Kentucky alum Randall Cobb. Cobb was a borderline WR4 before Rodgers' injury and with Brett Hundley under center, Cobb caught just two balls for 15 yards this past Sunday. CUT Cobb, who will be fantasy-irrelevant for the rest of 2017.
There are a few other talented youngsters who will be on my radar in the coming weeks but may sneak past your league mates. Look to ACQUIRE them if you are hurting due to injuries or bye weeks. 
Kenny Golladay, WR, Detroit Lions
This high-upside rookie broke onto the scene early with two touchdowns in Week 1. Kenny Golladay is looking to return from a hamstring injury this week, which is perfect timing for Matthew Stafford and the Lions. With Golden Tate doubtful for Week 8 due to a shoulder injury, Golladay will get some opportunities to shine in a tough matchup versus Pittsburgh.
Dede Westbrook, WR, Jacksonville Jaguars
Dede Westbrook, the Jags' fourth-round pick this year and a great talent out of Oklahoma, is eligible to return from injured reserve in Week 9. Since the Allen Robinson was lost for the season in Week 1, Allen Hurns and Marqise Lee have put up decent numbers, but this offense is still looking for playmakers. Westbrook is certainly one of those.
John Ross, WR, Cincinnati Bengals
The Bengals' offense is in dire need of a big-play threat. Its only one right now is A.J. Green and that's a problem when you are relying on him to do everything else as well. John Ross has been on the field for a total of five snaps in his rookie year due to shoulder and knee injuries but after not playing since Week 2, he could be active again as early as Sunday. The Bengals need a spark and some urgency. Maybe that urgency will never come to fruition under head coach Marvin Lewis, but Ross, with his 4.22-40 speed, is worth keeping a close eye on.  
Kenyan Drake, RB, Miami Dolphins
This may be a reach, but someone to watch -- especially deeper leagues -- is Kenyan Drake. This second-year player out of Alabama has great speed and vision. I mention him because Miami is playing on Thursday this week, which has commonly been starting running back Jay Ajayi's off day this season because of chronic knee soreness. Drake is on my radar simply because Ajayi may not be ready for a full workload in Week 8.


Have questions about other players or want to have your player featured in next weeks edition, follow me on Twitter @sports4u_ASL and let me know who you want to read about!
Never miss ASL's latest fantasy sports news. Send us an email at newsletter@advancedsportslogic.com and list the sports you are interested in (NFL, NBA, MLB, NHL, EPL) to start receiving ASL's newsletter.
Sponsored by My Bookie