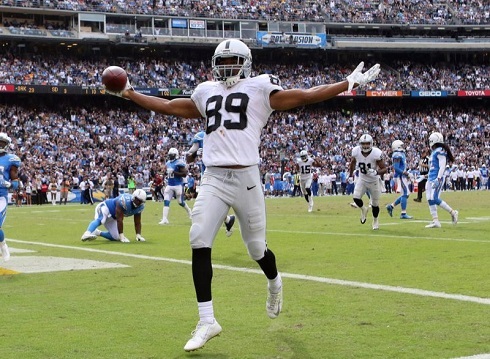 Written by AJ Schreiver
17 October 2017
Make sure to check out the NFL betting lines for Week 7
Amari Cooper, WR, Oakland Raiders
Alright, so the first six weeks of the season have been more than bad for Cooper, who has been a huge bust. Admittedly, I traded Amari two weeks ago while I still could, but I am here to tell you that if you still have him, KEEP him. Defenses have geared up for Cooper this year by being more physical with him at the line of scrimmage. That has thrown off his route-running, which usually sets him apart. There is some good news, however: Cooper has the most targets on the Raiders overall (39) and has seen 50 percent of the team's targets inside the 10-yard line. He is getting the looks but his catch percentage is one of the worst in the league. This leaves fantasy owners hoping the Raiders can find a way to move Cooper around and get him more quality looks to help his struggling team. He has a higher ceiling than any wideout on waivers so hang on and hope for a revival from Cooper and quarterback Derek Carr.
Mike Gillislee, RB, New England Patriots
Anyone here remember the name Jonas Gray, the one-hit wonder who went from a four-score game to non-existent in two weeks when he missed a Bill Belichick team meeting? OK, so maybe Gillislee, unlike Gray, still has a future in this league, but Gillislee's production has fallen off a cliff since Week 2 and his season-long outlook has him getting closer to those nice, warm, sideline heaters that are coming soon. Gillislee fumbled in the first half of Sunday's game, which led to Dion Lewis notching a goal-line touchdown while Gillislee looked on. Belichick doesn't owe anyone anything, and the Patriots have plenty of other options at RB who can space the field for Tom Brady. The ceiling is not very high for Gillislee. CUT him and find a player with more opportunity to use in your flex position.
Cooper Kupp, WR, Los Angeles Rams
After facing the Jaguars and Seahawks in consecutive weeks, the Rams finally get a break from two of the best secondaries in football and will play the Arizona Cardinals in London this weekend. In Week 6, the Cardinals gave up a 6-76-1 line to Buccaneers tight end Cameron Brate, who does his work in the middle of the field, much like Kupp. He isn't your average rookie since he is the same age as Sammy Watkins, but Kupp has quickly become a reliable target for quarterback Jared Goff. I wouldn't say Kupp's weekly ceiling is extremely high, but ACQUIRE him if you are looking for a solid flex play to cover for byes and injuries. He is available in more than half of all fantasy leagues. He should contribute consistently as the Rams' air attack looks to get back on track.


Have questions about other players or want to have your player featured in next weeks edition, follow me on Twitter @sports4u_ASL and let me know who you want to read about!
Never miss ASL's latest fantasy sports news. Send us an email at newsletter@advancedsportslogic.com and list the sports you are interested in (NFL, NBA, MLB, NHL, EPL) to start receiving ASL's newsletter.
Sponsored by My Bookie