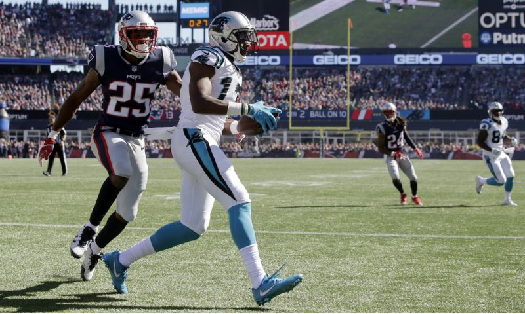 Written by Levi Andrew
03 October 2017
Philadelphia Eagles 26 - Los Angeles Chargers 24
Keenan Allen has been spectacular since coming back from his torn ACL in 2016. Melvin Gordon, on the other hand, didn't have the greatest game, being outgained by rookie Austin Ekeler on one rush. Ekeler, an undrafted free agent who worked hard just to make it through final cuts, was my taxi squad stash on my dynasty team. Philip Rivers had another good fantasy day, throwing for 347 yards and 2 TDs.
Zach Ertz and Carson Wentz sure are on the same page, having completed five or more passes in each game. The Eagles' run game really got going this week as LeGarrette Blount rushed 16 times for 136 yards while Wendell Smallwood gained 79 yards and a score on 14 touches, including four receptions. Rookie Corey Clement even got involved with 30 yards on 10 carries. This backfield looks like a committee, but at any point, one RB could run away with the job.
Takeaways: All three Eagles running backs need to be owned. Clement is a talented rookie who I was told earlier in the year by a beat writer "would make the practice squad at best, don't expect much from him." Well, thanks. I dropped him in dynasty due to that.
Another dynasty must-add is Ekeler, if Gordon misses any time, I think Ekeler would take over the starting role, not Branden Oliver. He is so unknown that Rotowire's app won't even bring his name up, but grab him while you can.
Pittsburgh Steelers 26 - Baltimore Ravens 9
Ben Roethlisberger continued playing poorly on the road. I told you last week it would happen. Le'Veon Bell had a great day in Baltimore, finishing with 35 carries for 144 yards, two scores and 42 more yards on four catches.
The Ravens followed up their embarrassing loss in London with another down week. The only good thing to come out of Week 4 for the Ravens was that Mike Wallace finally got going with six receptions for 55 yards and a TD. Alex Collins looks like the running back to own in Baltimore for as long as Danny Woodhead is on the shelf. Let's hope he can get his fumbling issues under control before Coach Harbaugh benches him.
Takeaways: You must continue to start Antonio Brown For every bad game like this one, he will have six great games. T.J. Watt came back after missing two games with a groin injury. He's a great pickup in IDP leagues.
In no way am I starting Wallace this week, even with bye weeks now here. If he puts up another good game, I may think about it. I ranked him as my No. 19 WR at the beginning of the season; I just look like a fool now. Collins is a must-add. He had nine rushes for 82 yards on Sunday. One rush did go for 50 yards, but he still got the most work of any Ravens runner.
Los Angeles Rams 35 - Dallas Cowboys 30
Jared Goff is really bringing it in 2017. After throwing for 255 yards and two scores on Sunday, he is now the No. 10 QB in fantasy this year. Todd Gurley is the No. 2 RB in fantasy after he carried the rock for 121 yards on 23 carries along with seven catches for 94 yards and a touchdown. He led the Rams in rushing and receiving. However, Sammy Watkins and Robert Woods combined for three catches and 34 yards. It was Cooper Kupp who hauled in Goff's first TD pass of the day and finished with five receptions for 60 yards. The second-highest fantasy scorer on the Rams was Greg Zuerlein, who kicked seven field goals. His 27 points saved me in one league.
Dallas looked like a playoff team this week. Dak Prescott and Dez Bryant connected five times for 98 yards. Dak finished the day with 252 yards, three TDs and one interception. He rushed three times for 25 yards, too. Ezekiel Elliott had his best game of 2017, gaining 139 yards from scrimmage and two touchdowns on 25 touches.
Takeaways: The Rams look to be the real deal this year. Head coach Sean McVay has really turned that team around. The Seattle Seahawks come to town in Week 5. That may be a tough task for the skill players on the Rams, but Seattle has always played worse on the road. I would go as far as saying you should start Goff this week. Don't sit Gurley either.
The Cowboys-Packers game this week will be a shootout, so continue to start your Dallas studs.
Houston Texans 57 - Tennessee Titans 14
Deshaun Watson is in the running for Rookie Of the Year honors after his five-touchdown showing. Will Fuller came back from his broken collarbone and really helped Watson out, hauling in four catches for 35 yards, but two of those catches went for TDs, which really made his comeback sweet. The Texans suddenly look like an attractive offense for fantasy purposes.
Marcus Mariota did most his damage on the ground, scoring twice with his legs, but he also threw two picks and left at halftime with a pulled hamstring. The Titans say he is day-to-day with the injury and are preparing both Mariota and Matt Cassel to start. If Cassel starts, that greatly drops all Titans skill players down the board.
Takeaways: Rishard Matthews was off to a great start before Mariota went out. Maybe a week of practice with Cassel will help him, or Cassel could maybe grow some bond with Eric Decker.
Watson is a must-own, must-start QB after this performance. He now has a great No. 2 wideout in Fuller, and we saw him help Watson and DeAndre Hopkins in Week 4. Fuller is a must-add this week as well. He could be a great WR3 for your fantasy team.
Carolina Panthers 33 - New England Patriots 30
Superman is back! Cam Newton accumulated more than 350 yards from scrimmage and four touchdowns. He ran more than we've seen from him this year, gaining 44 yards and a TD on eight carries. Kelvin Benjamin's knee didn't look to be bothering him as he caught four passes for 104 yards. Devin Funchess was the hero of the day in this receiving corps, catching seven passes for 70 yards and two touchdowns.
Tom Brady has yet to throw an interception this year, but Sunday wasn't a great day for that Pats. It was mostly dink-and-dunk passes to James White, leading him to 10 receptions for 47 yards. Chris Hogan had another great game, catching five passes for 60 yards and a score.
Takeaways: Hogan has become an every-week starter. He has pretty much filled the Julian Edelman role pretty much. White may be a great add in PPR formats this week. He had a great Super Bowl but hasn't done too much to talk about until this past weekend.
Don't get too excited about Newton's resurrection. The Patriots don't have the greatest defense. Let's see it happen again before we say he's returning to his MVP form from two years ago. Funchess may be worth an add in 12-team leagues.
Quick Snaps
Denver Broncos 16 - Oakland Raiders 10
Derek Carr broke his back in this game and could be gone for as many as six weeks. Amari Cooper and other Raiders skill players get a huge downgrade for as long as Carr is sidelined.
C.J. Anderson is the real deal. Try to trade for him if you can.
Seattle Seahawks 46 - Indianapolis Colts 18
Running back Chris Carson going down with a broken leg will really hurt the Seahawks moving forward. He had taken over the starting job over and you could see how much he meant to the team when he went down. This backfield looks to be murky now. J.D. McKissic looks like a dart throw, but he could easily seize the job just like Carson did.
Look for a bounce-back game from Jacoby Brissett and T.Y. Hilton when they face the 49ers in Week 5. Frank Gore is still going in his 30s. He just won't go away.
Detroit Lions 14 - Minnesota Vikings 7
The Vikings' defense is the real deal. They have the league's best shutdown corner in Xavier Rhodes, who just ruins an opposing quarterback's day. Hopefully Sam Bradford comes back soon for the Vikings; their offense needs that little extra he brings to the team.
The only bright spot for the Lions -- other than winning the game -- was Ameer Abdullah. He rushed for 94 yards and a TD on 20 carries.


Never miss ASL's latest fantasy sports news. Send us an email at newsletter@advancedsportslogic.com and list the sports you are interested in (NFL, NBA, MLB, NHL, EPL) to start receiving ASL's newsletter.