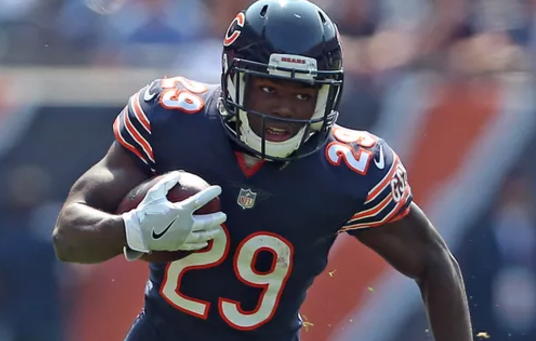 Written by John Adams
11 September 2017
Here are ASL's top waiver pick-ups and here are the NFL straight-up picks for week 2.
1) RB - Tarik Cohen, Chicago Bears
Open up your checkbooks and get ready to pay that cheese – Rookie running back Tarik Cohen is the hottest ticket coming into Week 2 and David Johnson owners are justifiably desperate. This 4th round pick out of North Carolina AT&T (not Verizon) tallied 113 total yards and a touchdown in his very fist start. Cohen broke tackle after tackle pulling down 8 of 12 targets for 47 yards while rushing for 66 yards on only five carries. Some experts are warning that you should be cautious in grabbing Cohen and they are DEAD WRONG. Quarterback Mike Glennon targeted this kid 12 TIMES – and Glennon is a guy who feeds his favorite targets. The coaching staff is all in on this 22-year-old whiz kid and you should be too.
2) WR – Nelson Agholor, Philadelphia Eagles
Nelson Agholor's performance against the Redskins yesterday was the biggest shocker of Week 1 in the NFL. There were no early warning signs in the preseason that the Eagles were going to suddenly pepper their third year wide receiver with 8 targets on Sunday resulting in 6 catches for 86 yards and a touchdown. Agholor was playing in the slot and while the Washington secondary keyed in on Alshon Jeffery and Torrey Smith, the 24-year-old stole the spotlight. The key to fantasy success is usually targets, and if Carson Wentz is sold on Agholor, the sky is the limit.
3) TE – Jesse James, Pittsburgh Steelers
Steelers tight end Jesse James is an outlaw – At 6-foot-7 and 261 pounds, he provides the perfect outlet for his veteran quarterback Ben Roethlisberger. With offenses keying in on Antonio Brown and Le'Veon Bell, some how, some way, defenses still lose track of this mountain of a man. James broke out yesterday hauling in 6 of 8 Targets for 41 yards and a pair of touchdowns. If you know anything about the Steelers, you know that Big Ben loves big tight ends (remember Heath Miller). James is just what the aging quarterback needs when his primary targets can't shake their double teams, a giant target with a great set of hands.
Get In-Season Analyzer for lineup, waiver and trade help with blended projections from Pro Football Focus, 4for4, Fantasy Gurus, NumberFire and Fantasy Sharks.
Never miss ASL's latest fantasy sports news. Send us an email at This email address is being protected from spambots. You need JavaScript enabled to view it. and list the sports you are interested in (NFL, NBA, MLB, NHL, EPL) to start receiving ASL's newsletter.
Sponsored by My Bookie