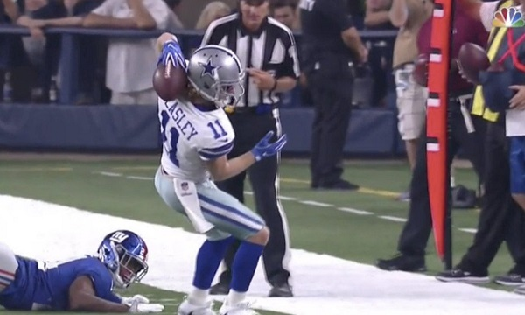 Written by Levi Andrew
11 September 2017
Here are a couple of players to keep your eyes on and a few to pick up from your waiver wire this week. This article will be published every week after the Sunday games, so be sure to check back here every Monday morning.
The Giants went into Jerry's World Sunday night to play the Dallas Cowboys. After last year most people thought the Giants would pull the upset and walk away victorious. Then came the news Odell Beckham Jr would not play with an ankle injury suffered in the preseason. The Cowboys proceeded to control the clock in the first half. Having the ball for 19:13 minutes, swarming and dominating the Giants offensive line. Dallas forced 5 punts in the first half. The second half started with a Giants field goal and ended with the Giants committing a false start penalty to end the game.
The Giants did a good job taking away Dak Prescott's two favorite weapons in Dez Bryant and Cole Beasley. Dez did get the better of Janoris Jenkins a couple times finishing with 2 receptions for 43 yeards, which was better than both games from 2016. Even with the Giants finding ways to take them away, Dak Prescott and Ezekiel Elliot were the stars. Zeke finished with 24 carries for 104 yards rushing and 5 receptions for 36 receiving yards. Dak finished with 268 yards and 1 TD through the air and rushed for 3 times for 24 yards. Let's hope Zeke wins his case and plays all year. The Cowboys look to be the real deal once again in 2017.
Takeaway: Continue to start all your Cowboys.
Now let's roll the script back to opening night on Thursday. The Kansas City Chiefs went into Foxboro and shut down the Patriots. KC beat New England 42-27 with the help of rookie sensation Kareem Hunt. Alex Smith made a case for himself to be in the QB2 conversation with 368 yards passing and 4 scores. If he keeps putting up those type of numbers, he could end up being a QB1. Hunt looks to be in the RB1 conversation now. I have been preaching this kids talent since the draft. Hunt will be Andy Reid's next Brian Westbrook.
If you think this brings the Patriots down though, think again. This is going to light a fire under Tom Brady and the Patriots organization. Brady will come out next week with a fire under him so hot that I can already see a Brady and Brees showdown.
Takeaway: Start all the studs from both the Patriots and the Saints in what looks to be setting up to be a shoot-out in Week 2.
The biggest threat to the Patriots top AFC seed will be the Oakland Raiders. Derek Carr came out Sunday and showed why he got paid the big bucks during this offseason. He threw for 262 yards and 2 TD's. Marshawn Lynch came out with his Beast Mode aggression and was plowing people over. Lynch had an alright outing on Sunday finishing with 18 carries for 76 yards and catching 1/16. Carr targeted Amari Cooper 13 times but he only came down with 5 catches, 62 yards and 1 TD. Cooper could have had 2 TDs but could not secure the ball on 3 consecutive red zone looks. Michael Crabtree finished with the most yards on the day with 6 receptions for 83 yeards.
Takeaway: The Oakland Raiders is a team that looks to put up fantasy points on both offense and defense.
Oakland beat the Tennessee Titans in a great back and forth game. Marcus Mariota finished the game with only 256 yards passing with no TD's but did rush for 26 yards and a TD. Rookie Corey Davis saw the most targets which is good news for all fantasy owners. Delanie Walker and Rishard Matthews were both targeted 9 times and Walker came down with 7 receptions for 76 yards, and Matthews finished with 6 receptions for 71 yards.
Takeaway: The Titans' offense will grow and become a great scoring offense for your fantasy teams.
Some other surprises were the 2017 rookies, Tarik Cohen, Leonard Fournette, Cooper Kupp, Christian McCaffery, and T.J. Watt. T.J. Watt actually outplayed his brother, J.J. Watt in the first day of his NFL career. Racking up 6 solo tackles, 2 sacks, 2 TFL and 1 pass defended. Cohen had an amazing showing Sunday, leading the Bears in targets, rushing 5 times for 66 yards and caught 8 of 12 for 47 yards and a TD. Fournette started his NFL career with a 100-yard game and a TD. McCaffery didn't have as good of a day but he did rush 13 times for 47 yards and caught 5 passes for 38. Fournette, McCaffery and Kupp were most likely drafted in your league.
Takeaway: Add Cohen to your team on waivers. If you play in IDP leagues, add T.J. Watt.
Get In-Season Analyzer for lineup, waiver and trade help with blended projections from Pro Football Focus, 4for4, Fantasy Gurus, NumberFire and Fantasy Sharks.
Fournette wasn't the only good thing that happened to the Jaguars on Sunday. The Jags ate the Texans for lunch, sacking Tom Savage and DeShaun Watson a combined 10 times and holding them to 7 points. The Jaguars defense is no joke, they are young and hungry. This could be the year they are finally picking outside of the top 5 in the NFL draft.
Takeaway: Calais Campbell and Myles Jack are names to keep on your radar for IDP after their play on Sunday.
Another young team that looks to be making the upswing is the LA Rams.
Takeaway: Jared Goff started the season by looking like a competent QB.
If you drafted David Johnson or Le'Veon Bell, you were probably yelling at your TV set. Bell finished the day with 10 rushes for 32 yards, and 3 catches for 15 yards. Bell will be fine, don't panic, Week 2 is a whole new week. The game plan must not have been centered around him.
David Johnson had a little bit better day stat wise, rushing 11 times for 23 yards and catching 6 passes for 68 yards, yet left after he fumbled it and hurt his wrist. X-rays at the stadium saw no break which most likely means a sprain, its being reported he could miss up to half the season, but the Cardinals are waiting for the MRI results on Monday. I've been saying all off-season that Johnson would not finish the year as a top 5 RB, but always said it was due to him only rushing against stacked boxes 18.1% in 2016. Not an injury, but if that's the case I was still right and I'll take it ?.
Takeaway: If you own Bell, start him in week 2.
The Patriots, Seahawks, Giants and Bengals all started the season 0-1 and didn't do much for your fantasy teams. However, a couple injuries that happened could help boast your team next week, cornerbacks Eric Berry and Ronald Darby. Both the Chiefs and the Eagles have great pass rushes but with their secondary in shambles it could easily pay off for your WR in their matchup next week. Berry is out for the year with a ruptured Achilles tendon and Darby dislocated his ankle. Darby sounds like if he avoids big time ligament damage he could be back in a few weeks.
Takeaway: Wide receivers on the Chiefs and Eagles might have better than usual performance as these two teams match up against each other in week 2, and both teams have problems in the secondary.
Never miss ASL's latest fantasy sports news. Send us an email at This email address is being protected from spambots. You need JavaScript enabled to view it. and list the sports you are interested in (NFL, NBA, MLB, NHL, EPL) to start receiving ASL's newsletter.