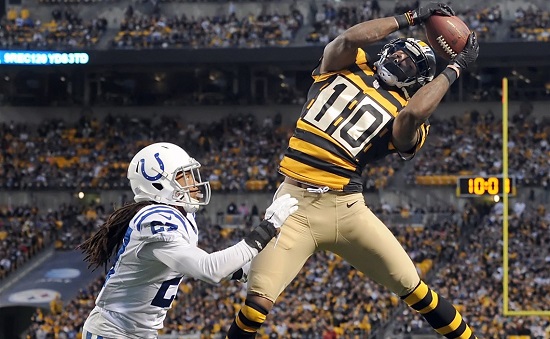 ASL's writers give their bold predictions for the fantasy football season, and go here for betting on the NFL season.
The Bills' Nathan Peterman will be a top-20 quarterback by Daniel Brown

Buffalo traded away its best-known wide receiver (and solid fantasy contributor who just couldn't stay healthy) in Sammy Watkins and also made some moves on the defensive side of the ball. They surprisingly released running back Jonathan Williams, who was expected to back up LeSean McCoy, and quarterback Tyrod Taylor has been banged up this preseason, having emerged from the concussion protocol in time for Week 1. All of this suggests that the Bills will be less competitive this year and are probably in the midst of a rebuild centered around draft picks such as Peterman and wide receiver Zay Jones. They will likely be looking at what the future holds, and I expect the Bills to move from Taylor to Peterman either due to injury or because they want to see what Peterman can do before they get to next year's draft, which is expected to be QB-rich at the top. The offense will run through McCoy, but once Peterman gets an opportunity, I expect him to put up some solid numbers due to his arm strength and accuracy.
The Jets' Bilal Powell will be a top-10 running back by Brian Murphy
This call admittedly hinges on 31-year-old Matt Forte's health, but I don't expect that to remain in good order for long  Once Forte inevitably gets hurt again, Powell will pick up the slack, just as he did during the final four games of last season when he averaged 18.3 fantasy points per outing. That total shoots up to 23.5 in point-per-reception formats. It's that receiving ability which I think will help Powell (and his owners) the most. The Jets, as you may know, are bereft of high-quality receiving targets. Their defense isn't pretty either. That's all gold for a dual threat such as Powell. No matter if it's Josh McCown, Bryce Petty or even Christian Hackenberg, Powell is going to see a bunch of targets every week from his quarterback because there just aren't many dependable hands in this offense. He showed last year that he can handle 20-plus touches in a game. Give Powell that much work again and he will finish inside the top 10 in standard leagues. His ceiling is obviously higher in PPRs.
The Cardinals' David Johnson is not going to finish as a top-5 running back by Levi Andrew
I have been saying this all summer after reading that Johnson had faced a stacked box only 18.1 percent of the time. That was due to Arizona playing in three-WR sets 54 percent of the time. Carson Palmer is a year older, and Larry Fitzgerald is the only other weapon in this offense. Bruce Arians came out and said there are only two starting-caliber wide receivers on this team: Fitzgerald and Jaron Brown. John Brown has always been hurt and still is. It sounds like his sickle-cell trait is making it difficult for his soft-tissue injuries to heal. With all that being said, yes, the Cardinals want to get Johnson 1,000 yards rushing and 1,000 yards receiving, but it's not going to happen after defenses figure him out and start stacking the box against him more often.
The Jaguars' Leonard Fournette will not be a top-25 running back by Daniel Brown
Jacksonville attempted to address its running game two years ago through the draft with second-rounder T.J. Yeldon. Then they picked up Chris Ivory in free agency last year, and now the Jags have gone back to the draft with Fournette, the No. 4 overall selection in April. These attempts have not yet proven successful, and Jacksonville has become more of a pass-happy offense with Blake Bortles throwing the ball more than 600 times in each of the past two seasons. The problem for the Jaguars appears to be a three-headed issue: 1. They fall behind in games and need to pass often in order to catch up; 2. The running game has not been effective enough; 3. And the QB play has not been good enough either as Bortles' 58.9 completion rate last season ranked 28th in the NFL. Fournette is a new, big, bruising back. However, he was already injured in the preseason and has not had to run into game-planned defenses. Plus, the defense is still a little bit of a liability in Jacksonville, which leads me to believe they will continue to play from behind and resort to a pass-first offense. I think Fournette will realize the NFL is not college football, struggle behind his offensive line, get limited opportunities in the second half of games and likely miss a couple of weeks due to injury. All of that pushes him outside the top-25 RBs for the season.
The Steelers' Martavis Bryant will be a top-10 wide receiver by Brian Murphy
Having a pair of top-10 wideouts on one team has been fairly common over the past decade: Larry Fitzgerald and Anquan Boldin; Demaryius Thomas and Emmanuel Sanders; Jordy Nelson and Randall Cobb; Jordy Nelson and Davante Adams. That's just a sample. Make way for the next dynamic duo in Antonio Brown, the consensus No. 1 WR in drafts this summer, and Bryant. Martavis has never played a full season, but on a per-game basis, he slotted in as fantasy's No. 15 wide receiver in 2014 and 2015. And that's when he was just learning the position at the pro level. Thus, this bold prediction is probably less bold than most fantasy owners think. Only 25, Bryant is the clear No. 2 receiver in a pass-heavy offense, with a quarterback who likes to throw deep and a teammate across the field who demands safety help, leaving Bryant with very advantageous matchups. His talent can't be questioned; he's a true game-breaking threat who can take the top off a defense or take a smoke screen 80 yards (no pun intended). As Bryant returns from his year-long suspension, he should be motivated to show that he has not lost any passion for the game or any of his skills either.
The Ravens' Mike Wallace will be a top-20 wide receiver by Levi Andrew
Wallace is in the best spot a wide receiver could be in. He is on the team that threw the ball the most in 2016, and the Ravens need to replace 330 targets following Steve Smith's retirement and some injuries to their tight end corps. Baltimore also didn't add anyone outside of Jeremy Maclin and Danny Woodhead to soak up those targets. Breshad Permian was hurt for most of training camp yet again. Wallace will be Joe Flacco's No. 1 WR, making him a top-20 wideout in fantasy. I have found myself drafting Wallace in the ninth round or later. If you can get a low-end WR1/high-end WR2 that late, it's an absolute steal. Wallace finished as fantasy's WR24 last year and that was with Smith, Dennis Pitta and another 60-plus targets going to other players.
The Giants' Evan Engram will be a top-10 tight end by John Adams
I get it; rookie tight ends NEVER make the grade. There's too much of a learning curve, the game moves too fast, yada, yada, yada. Forget all of that noise and focus your sights on Giants rookie tight end Evan Engram. Engram was a first-round draft choice for a reason. Eli Manning loves throwing to a big tight end with great hands, and Engram has all of that and much more. He is a bruising 6-foot-3, 235-pound player who runs the 40 in 4.42. Engram has been playing with the first team during the preseason and has already hauled in six of nine targets for 75 yards. His blocking has improved with each week and Manning is clearly impressed with this 23-year-old out of Mississippi. With Odell Beckham Jr. likely on the shelf for Week 1, Engram will get all the targets he can handle against a suspect Dallas secondary. If his debut is a smashing success, he will be the hottest pickup on all the waiver wires coming into Week 2. So do yourself a favor before this weekend's opening kickoffs: Snag Engram off the waiver wire now and be far ahead of the curve when everyone is looking for him later in the week. You can thank me later.
Never miss ASL's latest fantasy sports news. Send us an email at This email address is being protected from spambots. You need JavaScript enabled to view it. and list the sports you are interested in (NFL, NBA, MLB, NHL, EPL) to start receiving ASL's newsletter.
Sponsored by My Bookie