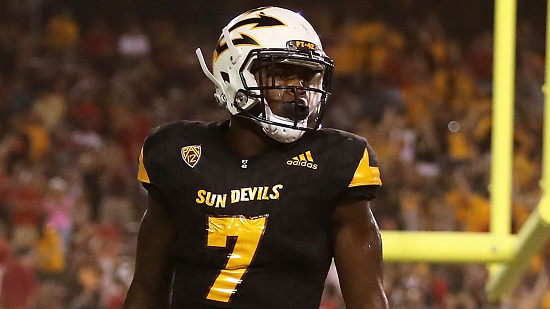 Written by Chad Samuels
31 August 2017
Dynasty creates the challenge of balancing how to manage your team to win your league this year verses creating a roster that will not deteriorate and be competitive for winning multiple titles over several years. While we're setting lineups and trying to win titles, we also should be paying some attention to the college landscape for potential players we can draft next year. By paying attention to some key players now, we can answer some questions on player value in advance. This will make our draft preparation a little easier come January. Our goal in this article is not to point out the big names who just need to log a solid performance to become a top rookie pick. We want to look at  some players with questions to answer on the football field. For this reason we will not look at SaQuon Barkley, Derrius Guice, or Courtland Sutton. The NFL Combine will be critical to confirm their early top three status.
Kalen Ballage - RB, Arizona State: Ballage has the size you want in a running back. He is 6'2" and 227 lbs. He also projects with a 4.50 forty yard dash time. His four-star recruit status adds to his potential draft pedigree. Despite his size Ballage has yet to seize a full market share of the touches. In 2015 he ran the ball 125 times and in 2016 he ran the ball 126 times. He also started only 7 games over the last two seasons. On the positive side of his profile he did have 46 receptions in 2016, which shows he can catch the rock. If Kalen can increase his touches and grab the starting job for most of the season he will greatly improve his draft stock. The difference in production could be between being a day two and a day three selection in the NFL draft. He has the size. Now he needs the production.
Nick Chubb - RB, Georgia: If it was August of 2015, then Chubb would not be in this article. The previous year he rushed for 1547 yards as a freshman, while replacing Todd Gurley, who had injured his knee. In 2015 Chubb injured his knee and missed seven games, then in 2016 didn't look like himself. His yards per carry dropped from 7.3 to 5.0. The reason to watch Nick this fall is to see if he regained his burst and speed that he seemed to have lost last season due to injury. If he does he could become a top-5 pick in dynasty.
Royce Freeman - RB, Oregon: Freeman is a 1,000 yard rusher in 2014 and 2015. Injuries and being benched for a game left his 2016 rushing total at 945 yards. Freeman is a four-star recruit using the 24/7 composite. If he has a 1,000-yard season and maintains his 5.9 yard per carry average, he will improve his draft stock and be in the conversation for a first-round selection in dynasty.
Christian Kirk - WR, Texas A&M: Christian is another wide receiver who has the potential to crack the first round of the NFL draft. He is a five-star recruit by the 24/7 sports recruiting composite index. As a dynasty owner, while it doesn't sound endearing you really do want to be a draft status snob when it comes to wide receivers. The chances of a wide receiver growing into an elite player drops dramatically if they are not drafted in the first round of the NFL draft. Kirk's numbers were slightly worse in his sophomore year versus his freshman year. This is acceptable as Texas A&M moved to a more balanced approach on offense last year. Watch Kirk this year to see if he at least maintains his offensive production, but more importantly that he increases production as the next step to a first round draft grade.
Equanimeous St. Brown - WR, Notre Dame: St. Brown is a four-star recruit who broke out last season for the Fighting Irish. He had 961 yards on 58 receptions, which is good for a 16.6 yard per catch average. St. Brown may come out in 2017 and if he does, he needs a big year. He has the height 6'4" and projected speed (4.44 40 yard dash) to do it. He is a little light for prototypical wide receiver size and if he can add some weight while keeping his speed it will do a lot for his draft stock. He will have a new quarterback throwing him the ball and that is a reason enough to watch Notre Dame this season. Unless a wide receiver is from a small school, it's an advantage for a player to come out of college as a Junior. Keep an eye on Equanimeous to see if he produces to be a top pick and a potential first-round selection in the NFL draft. .    
Auden Tate - WR, Florida State: Auden Tate is another four star recruit on this list. He is a physical specimen standing at 6' 5" and weighing 225 lbs. CBSSports' Chris Trapasso compares Auden Tate to Brandon Marshall. Given Tate's size and production, it's not a bad comparison. The comparison assumes a breakout year for Tate, as Marshall had one season with over 1,100 yards and 11 touchdowns. Tate is a junior and may elect to come out in 2018. If he does his production this year will be absolutely critical. So far he's started four games and amassed 400 yards in his collegiate career. Tate needs a very strong showing statistically if he is to improve his draft stock.
Jake Wieneke - WR, South Dakota State: Wieneke is a small school special. He has been productive through three seasons amassing 4192 yards. He is tall, listed at 6' 4", but is a little light, at 215 lbs, for a prototypical WR build. The combine will be critical for him but so will this season. Wieneke red-shirted his freshman year and since he is a little older than most. Day-three wide receivers rarely develop in dynasty and undrafted free agents less so. He will need to put up at least a 1300-yard receiving season if not more, to become a day-two pick.
The fantasy football season is here. Never miss out on the latest content and receive ASL's free newsletter. Send us an email at This email address is being protected from spambots. You need JavaScript enabled to view it. with the sports you are interested and receive custom content in your inbox.