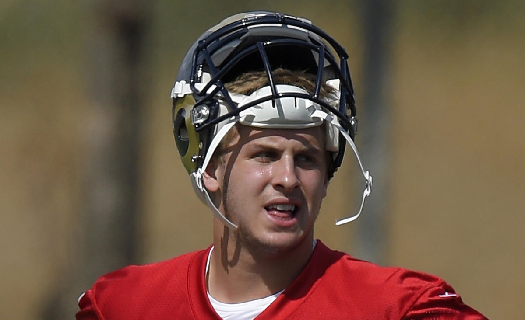 Written by Josh Rabbitt
23 August 2017
By this point, hopefully you know the score here. I am going to give you a player from each team in this week's preseason games and they are seemingly either going to be jinxed by me or gain a whole bunch of momentum. This week, I've included more big names who have questions to be answered during this dress rehearsal week. If I do one of these articles for the final week of the preseason, I will go back to finding deep sleepers.

Jay Cutler, QB, Miami Dolphins
Whom else could we watch but Smokin' Jay Cutler for the Dolphins? This offense is going to succeed or fail based on if he is ready to at least equal what Ryan Tannehill would have provided. As a big Tannehill detractor, I think Cutler will be just fine. I also want to see which wide receiver he favors most. Cutler, of course, has a history of peppering his favorite offensive player with targets. My money is on Jarvis Landry, but a dark horse may be Julius Thomas.
Zach Ertz, TE, Philadelphia Eagles
Carson Wentz simply doesn't look like he has it. That means fewer throws toward the perimeter to the Eagles' big-name, expensive-in-fantasy wideouts. There will be much more hay to be made inside with easy throws to the likes of Ertz, especially now that Wentz has lost his former security blanket, Jordan Matthews. I think Ertz is a great value as a back-end TE1. This game should prove it, based solely on the targets he sees.
Cam Newton, QB, Carolina Panthers
I want to see if Cam can knock the rust off and perform in the regular-season dress rehearsal. Has he improved his short-range accuracy? If not, why are we super excited about Christian McCaffrey?  We also might get a clue as to whether we are dealing with 2015 Cam Newton or 2016 Cam Newton. The earlier version helped win many fantasy leagues. The later version helped lose an equal number of leagues.
Brandon Allen, QB, Jacksonville Jaguars
Trust me: Allen is someone you want playing for the Jaguars if you are at all invested in their offense. Blake Bortles has been awful since entering the league. Chad Henne has been below average-to-awful since he entered the league. Allen, on the other hand, has some upside. He looks like he can command an offense at least semi-competently. R.C. Fischer of Fantasy Football Metrics thinks there is something to be had here. Henne will start this game, which is good news for the entire Jags offense. However, Allen might be the difference in Jacksonville reaching the playoffs. I am guessing we won't see much, if any, of Allen this week, but perhaps the front office has seen enough of Bortles to move on completely.
Rex Burkhead, RB, New England Patriots
Wow, the Burkhead hype train is rolling full steam ahead. His average draft position has risen five full rounds for the MFL10 drafts I will be doing in a week. I was just as excited as everyone else about his performance last week. Now, in the dress rehearsal, I want to see it happen again in order to trust Burkhead's new more expensive price point. If he does what I think he will, it is another R.C. Fischer prophecy come true! How many people called this last year?
Michael Roberts, TE, Detroit Lions
How long will it take before we realize that Eric Ebron isn't that good? Here's hoping Detroit figures it out soon because Roberts can be a touchdown machine if he is given the chance. There are a ton of red zone targets up for grabs in this offense, and everyone has a guess as to who will pick them up. Don't sleep on this tight end.
Tyreek Hill, WR, Kansas City Chiefs
I'm not going to do many repeats this week, but Hill deserves another look. I don't remember a player in recent memory who has been so polarizing among the fantasy community. You are either on board the Hill hype train or you are laughing at people investing in this "gimmick" player. Count me in as a believer after he scored 12 TDs last year. I'm excited to see him touch the ball about 10 times in this game and get everyone even more pumped for him.
Kasen Williams, WR, Seattle Seahawks
Williams looked REALLY good last week, so I want to see if he gets a nice, long run with the starters again. This isn't a tough WR depth chart to crack, and I think there is room across from Doug Baldwin for Kasen Williams. What does that mean for fantasy? purposes? He's probably a WR5, but that's good news for those scrambling for depth.
David Johnson, RB, Arizona Cardinals
All eyes will be on DJ for this one. That is the problem though, right? Can he live up to being the only focal point in the offense? Will there be a dip in his production? I'm not really sure Johnson could be stopped even if he had my high school football team filling out the rest of this offense, to be honest. This should be a nice first test for the consensus No. 1 pick this year.
Tevin Coleman, RB, Atlanta Falcons
With Devonta Freeman banged up, this will be a chance for Tevin to show what he can really do. I expect a huge game from him and, as a result, a bigger share of the work in Atlanta's backfield once Freeman returns. Hey, don't say I didn't warn you in my dynasty rankings. Good things are about to happen in the world of Coleman.
Tyrod Taylor, QB, Buffalo Bills
Wow, did Tyrod look bad last week. I am going to be watching closely for improvement and to see if Nathan Peterman is putting some pressure on him for the starting job. If you want Jordan Matthews and Zay Jones to matter this year, Taylor needs to be the No. 1 guy. I don't have much hope for this offense with Peterman at the helm.
Ryan Mallett, QB, Baltimore Ravens
Nothing in this offense matters right now. Mallett is simply so bad that he is holding down every other player here. I know what you are saying: "But Josh, Joe Flacco is going to be starting in Week 1." Is he? How come we are so sure Andrew Luck will be out for at least a few weeks but think Flacco can step right back in from the jump and be ready to go? If Mallett gets that Week 1 start, run far away from this offense and start lining up the Bengals' defense as a nice streaming or DFS option.
Bilal Powell, RB, New York Jets
It's really tough to find someone to care about on the Jets. Powell is not my cup of tea as he is a timeshare back in a bad offense. I just don't see how that is worth his current fifth-round asking price. Maybe Gang Green will show some signs of improvement this week and perhaps I will get on board at that point.
Shane Vereen, RB, New York Giants
Vereen is going to have a much bigger role in this offense than people think. He looks fast, locked in and ready to go. Paul Perkins, conversely, looks very average. I can't believe how high some people are on Perkins and how low they are on Vereen. Four or five receptions this week will help get more eyes on the former Patriot.
Phillip Dorsett, WR, Indianapolis Colts
Dorsett isn't a quality NFL wide receiver. He simply isn't. I don't know how much longer the Colts will keep rolling him out there, but hopefully a terrible performance this week can get someone with a little more upside involved. With a QB as good as Andrew Luck, the offensive talent assembled around him is just pathetic.
Joshua Dobbs, QB, Pittsburgh Steelers
The complete and total waste of a fourth-round draft pick is happening right before our eyes. Dobbs is bad. Not just a little bad; he is really bad. It just goes to show that you don't have to be a rocket scientist to play quarterback in the NFL. You do, however, need arm talent and a fast visual processor in order to recognize a defense quickly. Dobbs appears to have neither. The consistent success the Steelers have enjoyed since the 2000s ends whenever Big Ben hangs them up.
DeShone Kizer, QB, Cleveland Browns
Well, I guess Kizer is going to be the Browns' starting QB this year. It's difficult to comprehend Cleveland's run of bad decisions at the game's most important position, but this is another one of them. Just think: This problem could have been solved by simply drafting Mitchell Trubisky. Myles Garrett better be the second coming of Lawrence Taylor. Even then, it may not matter if Mitchell Trubisky ends up turning into what everyone thought Andrew Luck would be.
DeSean Jackson, WR, Tampa Bay Buccaneers
Despite all of his personality on HBO's "Hard Knocks," I can't help but feel that Jackson is completely disinterested in playing football. I want to see him actually engaged in a game when the ball isn't headed his way. Otherwise, this is a big waste of money for the Bucs.
Amari Cooper, WR, Oakland Raiders
I need to start seeing some connection with Derek Carr. If it's not there, I am sounding the alarm on Cooper and getting out of Dodge. I am tired of watching this uber-talented, former first-rounder be the second-best wideout on his own team. It's time for him to take over games. Did you know that in his two NFL seasons, Cooper has had only nine 100-yard outings and one multi-touchdown performance? That is frightening for as good as he is supposed to be.
Ezekiel Elliott, RB, Dallas Cowboys
How much time Elliott gets with the first team will show us how confident the Cowboys are in his appeal and how long Elliot might be willing to fight in court. That is the most important unknown of the entire offseason.
Melvin Gordon, RB, Los Angeles Chargers
I cannot tell you how excited I am to watch Gordon run about 3 yards and fall down. It is just going to be great. I am going to really enjoy a stat line of about 10 carries for 30 yards with perhaps a catch or two. That is going to get everyone juiced up to snag him in the first round.
Seriously, I can't believe he is viewed as one of the best backs in fantasy. Don't be that guy drafting Melvin Gordon.
Jared Goff, QB, Los Angeles Rams
Goff was written off by everyone last year while playing under the terrible Jeff Fisher. I'm not buying it. Goff has the talent to actually be an elite QB in the league. I'm not blind; I saw some things that concerned me last year. That is why I would love to see a big move in the right direction this week.
Lamar Miller, RB, Houston Texans
Miller has to be feeling the heat from D'Onta Foreman following the rookie's two great preseason performances. Despite a recent tepid endorsement from his head coach, Foreman has looked really good. This offense is going to need a spark at some point. It certainly won't come from Miller.
Coby Fleener, TE, New Orleans Saints
Fleener has just looked horrible ever since coming to New Orleans. Will we finally see some sort improvement? I doubt it, but if Fleener can emerge as a red-zone target, that would really be a nice boost for the Saints' offense.
Davante Adams, WR, Green Bay Packers
Was Adams a fluke last year? Well, this should be a fantastic test for him as he won't face a secondary as talented as Denver's again this year. I can't imagine Davante will score 12 TDs again, but I think WR2 numbers are on the table. This should be a really nice game to watch between the Packers' excellent offense and the Broncos' fantastic defense.
Trevor Siemian, QB, Denver Broncos
For better or for worse, Siemian is the Broncos' starting quarterback. You all know my stance on whom it should be from two weeks ago. That being said, Trevor moved the ball decently at times last year. I would expect a few strides to be made from him despite some obvious arm talent limitations. The bigger question on my mind is what do the Broncos do With Paxton Lynch, who was clearly the worst QB in camp all summer? I know head coach Vance Joseph said Lynch is the No. 2 and that he will be keeping only two quarterbacks, but there may be a fan revolt in Denver when Kyle Sloter gets cut.
Mitchell Trubisky, QB, Chicago Bears
Could it be more clear that Trubisky is, one, the best QB on the Bears' roster and, secondly, ready for prime time? Will Trubisky get some run with the first-team offense this week? I certainly hope so. If he starts Week 1, watch out for the Bears as a surprise team this year. Knowing NFL logic, however, the team will wait until things turn hopeless before trotting him out there.
Taywan Taylor, WR, Tennessee Titans
I am officially super excited about Taylor despite the Titans' crowded WR corps. His excellent play may lead to him earning an every-week role in this offense. I have no idea how the targets will be divvied up, but if Taylor is as good as he has looked in August, the Titans are going to be fun to watch on offense.
Tyler Eifert, TE, Cincinnati Bengals
I would really like to see Eifert get involved in the offense. Last week, he wasn't targeted. I am pretty invested in him as a high-end TE this year, so if Andy Dalton doesn't begin looking toward him in the red zone, that is going to be a costly mistake by me. Let's hope those two warm up with a touchdown this week.
Samaje Perine, RB, Washington Redskins
Hopefully you caught some of the Redskins game last week. There was an eye-popping difference between Perine and Rob Kelley. Despite what the roto blurbs and beat writers say, at some point this year, Perine will be Washington's starter. It's going to be sooner rather than later. I can't imagine Kelley holding on to his job past Week 3 at this rate.
Joe Williams, RB, San Francisco 49ers
Wow, Williams was brutal last week. He is fast, but his inability to change direction is really going to limit him as a player. If the NFL was fair and decisions didn't depend on a player's draft slot as often, Williams wouldn't even make this team. Unfortunately for the 49ers, he is probably going to bump a real talent off the roster in undrafted free agent rookie Matt Breida.
Sam Bradford, QB, Minnesota Vikings
The question of the year for the Vikings is this: Will Sam Bradford ever throw the ball past the first-down line on third and medium or longer?  At this rate, Bradford is going to shatter his own NFL record and complete 80 percent of his passes this year while also setting the record for the most checkdowns thrown n critical situations. Perhaps Bradford will be more unleashed once head coach Mike Zimmer is fired. I doubt it, but anything is possible in the NFL.