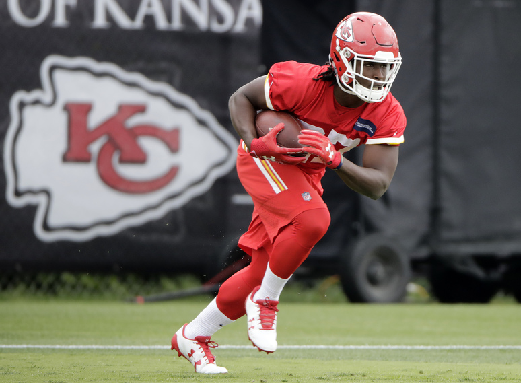 Written by Levi Andrew
17 August 2017
Here is a list of Running Backs that have an ADP of round 5-11, that will return high end value. Look for these RB's to have RB2 value in 2017. Some many even have RB1 value in PPR formats.  
Danny Woodhead ADP 54.8
Danny Woodhead has the chance at a top 20 season I feel like. Once Kenneth Dixon went down Woodhead became the lead back I feel, Terrance west had a decent season in 2016 splitting carries with Dixon. With Woodhead's red zone threat and his pass protection ability Woodhead could not only lead the Ravens in catches but rushes too. Woodhead could be one of the biggest draft steals at his ADP of round 5. I currently have him ranked as my RB27.
Dalvin Cook ADP 58.3
Dalvin Cook looks like the heir apparent to AP. Cook could end up leading all rookie RB's in yards this year, if he gets the full workload. The only big issue in Minnesota could be the O-line, the left side is currently sitting out of practice. In the Vikings, first preseason game Cook got the bellcow treatment with Latavius Murray and Jerick McKinnion watching from the sidelines. Cook will run away from this job giving way to Murray only when Cook needs a breather. You may be able to get him in the 6th round if you're lucky. My RB30 going into the season, has every chance to be a top 20 RB next year.
LeGarrette Blount ADP 76.3
LeGarrette Blount finished last year with 18 TDs and 1,161 yards being the Patriots RB finishing the season as the #7 RB in fantasy. The Eagles will try and use him the same way but I see the TDs going down, but yards could go up. His ADP of the 7th round may be due to reports of him not having a great camp. Blount has never been one to have a crazy impressive camp, but he knows how to turn it on when the lights come on. Blount is my RB13 so his 7th round ADP is crazy to me. Draft Blount you will be happy.
Robert Kelley ADP 107.1
Robert Kelley has the starting RB job in Washington locked down. Samaje Perine hasn't been showing up in camp. This could end up being a yearlong battle between the two. Kelley is said to be bigger and faster in year two of his NFL career. He could excel on his stats from last year having the job to himself in 2017. The redskins will be a pass heavy like always, but a good run game still has its place. Kirk Cousins needs a RB to take the pressure off him, Chris Thompson will always spell Kelley on 3rd downs. Kelley Finished as the RB26 in 2016, so I have him ranked as my RB26 in 2017 due to Perine being on his heels.
Doug Martin ADP 116.1
Doug Martin has had an up and down career in the NFL, and is now suspended for the first 3 games in 2017. The GM Jason Licht has come out and said that Martins roster spot isn't safe, which makes sense they wouldn't have any dead money by cutting him. They have already kept him after his stint in rehab and it sounds like he is having one of the best camps of his career. Martin will come back in Week 4, and run away from all the other running backs. With Mike Evans and DeSean Jackson on the outsides, defenses will have to stay honest and not stack the box, letting Martin do his work between the tackles. Make sure you grab Jacquizz Rodgers when drafting Martin for Weeks 1-3 while he's out on suspension. Doug Martin slides in at RB25 for me.
Kareem Hunt ADP 117.5
Kareem Hunt will be Andy Reid's greatest running back since Brian Westbrook. Hunt can do it all, watching his tape from Toledo, this kid has some moves and some nice hands. I have Hunt ranked as my RB31, which may be too low, but Spencer Ware is still running in front of Hunt in the pecking order. Hunt will take the job over by that start of the regular season. Ware didn't have a good 2016, especially down the stretch scoring only once in the final 11 games. With Tyreek Hill Playing more WR this year Hunt will be a threat out of the backfield in the same way Hill was in 2016. Hunt is going reasonably cheap at his 11th round ADP right now. Grab as many shares of him in as many leagues as you can, you could end up with a top 10 RB in 2017.
As always you can follow me on Twitter @LeviAndrewFF for more fantasy insight and classic banter.