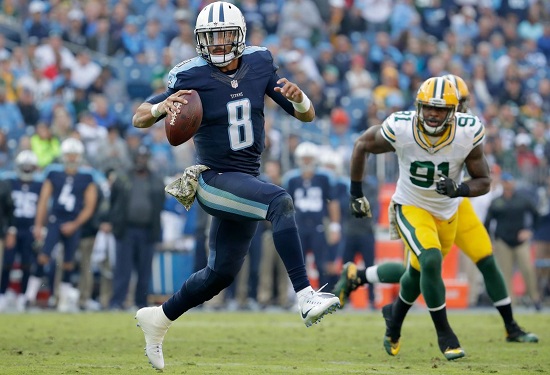 Written by Daniel Brown
10 August 2017
Going UP:
Marcus Mariota (QB) Tennessee Titans: Mariota has benefited this offseason from some moves made by the Titans to bring in some additional skill players, both through the draft (Corey Davis and Taywan Taylor) and through free agency (Eric Decker). This is in addition to moves made prior to the 2016 season on offense that saw Rishard Matthews and DeMarco Murray join while they also drafted Derrick Henry in the 2nd round. Over the past 2 seasons Mariota has shown that he can be a dual threat on offense, and he has done it with a relatively lack luster receiving core. This season with the additions made by the Titans, that observation should no longer be relevant. The WR threat posed by the players brought in, coupled with consistent play at TE and the running game that was evidenced last season, should lead to more opportunities for Mariota in both facets. If defenses put extra men in the box, he can throw to his TE or WRs who should be enjoying one-on-one coverage, if they choose to defend the pass then Mariota can use read options against the edge rushers to pick up big chunks of yards. Add to that the check down passes to his RBs and Mariota should be able to improve on his career completion percentage (one of the most over-rated statistics in football, in my opinion) of 61.5% and he should be able to replicate or improve on his 26 TD passes in 2016.The one area Mariota needs to improve is his ball handling, - he has lost 5 or more fumbles in each of his two NFL seasons.
Going DOWN:
Latavius Murray (RB) Minnesota Vikings: Murray has finally been cleared to practice this week after having to watch from the sidelines early in camp. And he has been watching the exciting rookie Dalvin Cook out of Florida State doing some pretty exciting things. Cook was named as the lead back in the first depth chart, however this doesn't mean a whole lot as Murray was on the PUP list until this week. It does however put pressure on Murray who signed with the Vikings this offseason from the Raiders, and he expected to be the bell cow. Those who look at film and statistics know that Murray benefited from a strong offensive line in Oakland, and his yards per carry over the past 2 seasons has only been four, which given the strength of the O-line should be considered disappointing. In fact last season he rushed for less than three yards per carry in an astounding five games! The main reason he was so successful, and probably over-valued early on after signing with Minnesota, was that he rushed for 12 TDs last year. It's conceivable that he will again score TDs as he should be the goal line back, however it will be an interesting situation to watch in Minnesota with the explosive rookie in the mix.
Going UP:
Miami Dolphins offense: The Dolphins offense received unexpected fantasy boost this week when Ryan Tannerhill went down injured and the Dolphins were able to convince former Chicago QB Jay Cutler to step back out of the booth and onto the field. Cutler joins his former coach in Adam Gase and his familiarity with the system should enable the Dolphins offense to function as expected, and potentially have more deep passing threats which should enable both the running game and the passing game to thrive. Of course, this is all dependent upon Cutler remember to throw it to the guys with the Dolphin on their helmet! Over the past 5 seasons in Chicago, Cutler has played in 61 games, throwing 60 interceptions and losing 20 fumbles. He has not started all 16 games since his first season in Chicago back in 2009. Assuming he remains healthy (a big assumption) and that his protection is better, routes being run are better and his decision making is solid, there should be a boost to all players on the Dolphins offense. We especially like what it could do for Julius Thomas and DeVante Parker in the passing game, and think it should be Jay Ajayi in the running game too.
Going DOWN:
Jordan Reed (TE) Washington Redskins: Reed is currently going as the # 3 TE off the board, and while he is an incredibly talented TE, the toe injury he suffered last season continues to hamper his preparation for this season. In his 4 seasons Reed has yet to play all 16 games, but despite this he has shown that for fantasy purposes he is a fairly safe option, and can be a difference maker in any given week. Last season he went for over 50 yards in 8 out of the 12 games played, which included scoring 2 TDs on two separate occasions whilst also pulling in at least 5 receptions in 8 of the 12 games. From a fantasy perspective he is a solid choice, however given the injury he suffered at the end of last season meant that it was tough to rely on Reed each week, and the fact that it has surfaced again here prior to the pre-season means that I would be looking at a few other TE names ahead of Reed if drafting today given the uncertainty about his health. I would be targeting both Greg Olsen and Jimmy Graham ahead of Reed at this point in time – maybe even Delanie Walker.