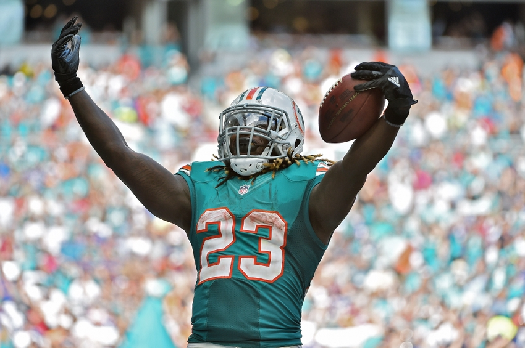 Written by Levi Andrew
03 August 2017
In this article, I discuss the top handcuffs you need on your team. Handcuffing an RB can make or break your season. Some say it's a waste of a roster spot and others draft their handcuffs a few picks higher than they should. It's ultimately up to you to choose to handcuff or not.
Just going into a draft knowing which handcuffs have value and which do not can make or break your fantasy season. This list lets you know which players have value and that you should draft for you to keeps in mind when you're drafting this year.
Le'Veon Bell - James Conner/ Fitzgerald Toussaint
James Conner may have been drafted to take over for Bell in the case he leaves after this season. I don't see the Steelers tagging him twice in a row. In training camp so far Conner has been battling an AC joint sprain. So, Fitzgerald has been running with the 1st team due to Bell still not being there. I see Conner winning the backup job when he gets healthy, which then will make him one of the most valuable handcuffs there is. Bell has only played 16 games one time in his career. When he was out and DeAngelo Williams was playing the Steelers coaching staff didn't hold back in any way, which led to great numbers in a few games for Williams. Look to roster Conner if your drafting Bell or have him in a keeper league.
Ezekiel Elliott – Darren McFadden
With a looming suspension as everyone thinks, McFadden could prove to be the most valuable early season handcuff. In 2015 without Zeke, McFadden had a career year posting 239/1089/3. The Cowboys have faith in him to run the ball behind that great line. Even then you may need McFadden for the fantasy playoffs if the Cowboys have another good year and they sit Zeke in week 17. Zeke will put up great numbers even missing 2-3 games from a suspension, but if you plan on drafting him with an early pick you better draft McFadden. His current ADP 13.6, bookend your draft with him.  
LeSean McCoy - Jonathan Williams
Even with McCoy playing every game last year, Mike Gillislee finished 2016 with 101/576/8, finishing as the 26th RB in standard scoring. That's value alone, not to mention having him in case McCoy goes down. Then in steps Jonathan Williams, a fifth-round rookie last year. Williams looks to be the back of the future in Buffalo too. One injury to McCoy who has battled knee and hamstring issues over the past two seasons, missing five games over that time and Williams becomes the clear-cut starter and might never look back, unseating McCoy permanently. McCoy is 29 and we know what the common expectation is once an RB hits 30. Draft Williams not only for his stand alone value but also for his handcuff value. He is currently going undrafted in ESPN leagues, which is just absurd. Swoop him up; you'll be happy you did.
Marshawn Lynch - Elijah Hood
You may look at this handcuff and ask why Hood? Hear me out on this one. Lynch is 5'11", 215 pounds, a heavy downhill runner with force and breaks tackles with his leg power. Hood is 5'11", 232 pounds and a downhill runner who breaks tackles with his powerful lower body. Sound familiar? Having Lynch to teach this young man, who also lacks some agility, will greatly help his running style and to learn NFL-level techniques. You may say what about Jalen Richard and DeAndre Washington? Both those guys are more of your scat back, 3rd down RB. If Lynch goes down with an injury I feel Oakland will let Hood have the first crack at the early down work with Richard or Washington coming in on passing downs. I don't particularly think Hood is a handcuff you need to draft if you're drafting Lynch, but be that first person on the waiver wire if you drafted Lynch and he goes down.
Eddie Lacy – Thomas Rawls
This is the RB duo I think you should most definitely draft together. I think Lacy wins the job out of camp, leaving Rawls on the bench. With ADPs of Lacy 72.7 and Rawls 136.6, it's worth grabbing both. You never know how Lacy's ankle is going to hold up, or if his weight becomes a factor during the season leading to a benching. The Seahawks could turn into a full RB committee and ride the hot hand. You'll also have C.J. Prosise taking passing downs from both. I'm personally staying away from this backfield in all leagues. Not only is it going to be confusing each week but that O-line is horrible.
Jay Ajayi – Kenyan Drake
Ajayi has started training camp with a concussion. Not a good look. I don't care that it's early; concussions are nothing to mess with and the team should take it as slow as possible with him. That has led to Drake getting time with the 1st team offense. Head coach Adam Gase has even come out and said Drake's "an all-around back. We don't want him to get stuck in one phase. We've got to be ready to go if Jay [gets hurt]. Jay takes a lot of hits." Now that Ajayi is sitting out, this is Drake's time to prove to the coaching staff that he can perform to expectation. Also, Ajayi only rushed for more than 100 yards four times last year and never went over 80 yards in any other game. I would roster both in this situation. Drake is going undrafted.
Lamar Miller – D'Onta Foreman / Alfred Blue
Last year, Miller finally got the workload everyone wanted him to have in Miami. But with bad QB play, most defenses stacked the box and he wasn't as effective as he could have been. The Texans then drafted Foreman, leading most to think he will take some carries away from Miller. I think the opposite. Deshaun Watson will end up taking the starting QB role and making that offense one to watch. With Foreman's arrest, I think that sets him behind Blue for a little while in camp. Foreman will eventually take over the #2 RB gig, but I don't think he takes many carries away from Miller unless he gets hurt.   
Doug Martin – Jacquizz Rodgers
Martin is suspended for the first 3 games of the season and GM Jason Licht won't guarantee his roster spot. Martin will keep his spot and be the starter when he comes off suspension. With that being said, this will be a backfield to draft both backs. Rodgers will start weeks 1-3 and then maybe be a change of pace back when Martin comes back. Dirk Koetter likes Rodgers from their time in Atlanta together and the veteran RB isn't going anywhere anytime soon. If you plan on drafting Martin with his ADP of 108.8, you better draft Rodgers with his ADP of 138.2.
Frank Gore – Marlon Mack
Frank Gore is probably the most consistent RB in the NFL, having gone over 1,000 yards every season but 3 since he's been in the NFL. I don't see that changing this year. The Colts will lean heavy on Gore to begin the season especially if Andrew Luck doesn't play in the season opener or is limited. This could end up leading to Gore needing plays off or getting injured. That's where Mack comes in. Robert Turbin isn't much of anything. Mack can earn that #2 RB job with a strong camp. The Colts' O-line is getting better, which should help all the backs. If Gore goes out with an injury, Mack might take his job outright.
DeMarco Murray – Derrick Henry
Tennessee uses a run heavy offense. Murray had a bounce back year last year, after having a horrible year playing for Chip Kelly in Philly. Tennessee also Drafted Derrick Henry in the second round in 2016. They proceeded to use both players bringing value. Murray finished as a top 5 RB with 293/1,287/9 and Henry finished the year with 110/490/5. Murray is currently sidelined with a hamstring injury early in camp. Which gives way to Henry soaking up some 1st team reps. Which could lead to less touches for Murray during the season. Henry does have some standalone value and has a current ADP of 128.0. I feel as though if you're going to draft Murray as a top 8 RB you better grab Henry before someone else does, or you will be out a RB1 if Murray goes down.
Todd Gurley – Malcom Brown
With the signing of Lance Dunbar this off season, most thought that he was going to win the #2 RB job in LA. Now he is out indefinitely with a knee injury. In comes in Malcolm Brown, an UDFA out of Texas in 2015. Sean McVay has come out and said, "He's got a quiet confidence about himself, where he just goes about his business, very reliable, knows exactly what to do and how to do it." The Rams have yet to sign another RB since Dunbar has went down which means they must be comfortable with Brown as the #2. The team could always look to trade for another back later in training camp. Maybe someone like Jeremy Hill to play a role. Just a RB that looks like he could be traded during camp. Rams could be the ones to do it.
Todd Gurley had a down season last year that McVay wants to turn around. But if Gurley gets hurt or doesn't play well Brown could be the guy. I would think about rostering Gurley's handcuff due to his season he had last year.  
Thank you for reading. As always you can follow me on Twitter for more insight and thoughts @LeviAndrewFF