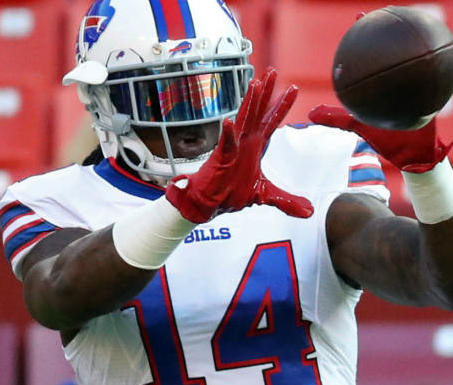 Written by AJ Schreiver
21 July 2017
Sammy Watkins – Bills WR had his second foot surgery in January which seems common in the NFL with guys like Julio, Dez, Edleman and E. Sanders having the 2nd surgery and turned out to be less problematic the second time around. Watkins was limited in OTAs but was in on some 11 on 11 drills which is certainly a plus, but will be eased back slowly. Even though the Bills declined to pick up the 5th year option of the 24 year old former #4 overall pick, Watkins has several incentives to play for. If Taylor can get him the ball (Buffalo 3rd lowest pass %) then it should be a strong season for Sammy.
Mike Williams – Chargers WR has a herniated disc that kept him out of offseason work outs so far and has put him behind according to his coach. Taking in to account the loaded WR room they have in San Diego or LA or wherever they will be, we could be looking a Laquon Treadwell 2.0 this year. News just dropped 7/19 that Williams had a second epidural shot in attempt to be ready for the season but his entire rookie season hangs in the balance as he may have season ending back surgery. I'm staying clear of Williams in all redraft leagues.
Giovanni Bernard – Bengals RB Although you most-likely won't be drafting Gio he plays an impact for others. Marvin Lewis has said that Gio is moving along in his recovery at a surprising pace, maybe give that he went through this same injury in college on his other knee. He should avoid the PUP list but it's likely he misses at least the first couple weeks of the season, and given that Lewis always errors on the side of caution he might be held out until October.

Ameer Abdullah – Lions RB is back from a Lisfranc injury but says he is ahead of schedule and was a full participant in OTAs. The Lions expect him to be their guy, IF he can avoid injury this year for the first time in his career he has an abundant of talent.
Keenan Allen – Chargers WR has had his last 2 seasons cut short by injury, the latest being a torn ACL in the first game of the year. He was seen running routes during OTAs and should be ready for training camp, where there should be an intriguing battle in the WR room.
Doug Martin – Buccaneers RB is said to be healthy and lean while getting his quick burst back in to shape. Right now Martin is a projected around the 4th round which seems high given the 3 game suspension and a new rookie in town. I wouldn't be too worried about Sims taking his job away but if the price is too high on Martin you may want to stay away.
Corey Coleman – Browns WR Coleman injured his hamstring during OTA's and was limited the rest of camp. He should be ready for training camp but this is already the second hamstring injury he has suffered in not even 2 years. Hamstrings are tricky injuries for speedsters like Coleman so it is something to keep an eye on as September rolls around.
Tyler Eifert – Bengals TE After ankle surgery last offseason Eifert dealt with a back issue most of the 2016 season. He has said himself that he has lost a lot of strength in his back due to problems with the nerve tissue, but he has also said that he will be ready for training camp. I am sure Eifert will slowly work his way back in training camp and should be ready for the regular season. If his Pepsi shoot yesterday is any indication he was lifting 12 packs of Pepsi and planking on grocery carts in a local grocery store, so you can also take that in to consideration. I wouldn't be reaching for Eifert but if he feel to me in the 6th round I wouldn't hesitate taking his upside that late.