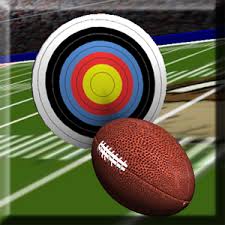 Written by Chad Samuels
13 July 2017
There are few things as important in dynasty as nailing your rookie draft. The rookie draft is the lifeblood and health indicator of your roster for years to come. While the core assets are gone by round two, there are some low hanging fruit to clean up early round two. Even after this fruit is cleaned up value can be had in flip players. Taking a mid to late second round draft pick and turning it into a high second or late first round selection in future years helps grow your roster portfolio.These players build on our haul from the first round and lay the solid foundation to dominate our rookie drafts. In case you missed it, you can find my first round values here
Juju Smith-Schuster - WR, Pittsburgh Steelers: Schuster has decent size at 6'1" 215 lbs. He is projected to start his career in the slot on a loaded Steelers offense. He was a five star recruit for USC. As for production he met expectations amassing 3092 yards on 213 receptions through his career at USC. He has the talent if not the opportunity early on to make an impact. Quarterback Ben Roethlisberger in The Steel City for a year or more. Smith-Schuster is young and has plenty of time to grow into the NFL game. He will be under 21 when the NFL season starts. Antonio Brown is 28 years old. Martavis Bryant already has a year suspension for drugs on his record. Because of these factors there is a pathway for him to grow into the WR1 in Pittsburgh. His ADP is 15 or 2.3 in 12 team drafts. Pick him up in the top of the second if he is available after the first round targets are gone.
D'Onta Foreman - RB, Houston Texans: Drafted late in round three D'Onta Foreman is still a day-two running back when it comes to draft pedigree. At 6' 233 lbs Foreman is going to be an armful to tackle when he gets on the field. It is when he gets on the field not if he gets on the field. Drafting a running back high has become more popular the last couple of years. Still, NFL teams have not put a premium on the running back position. Teams mostly seem to have a RBBC (running back by committee) attitude with different backs filling different roles. A day two running back is still a premium to pay for the position. It makes sense as Foreman ran a 4.45 second 40 yard dash at his Texas pro day.  The time may not sound that exciting but it is quite impressive for his size. He repeated it for his second run too so it was not in error. His lack of conditioning has caused him to slip in rookie drafts. His three star recruiting status is a concern at a position where recruitment ratings seem to matter a little more. Foreman's current ADP is 19 overall or 2.7 in a 12 team draft. At this cost Foreman is a great value when he finally produces. Foreman is on the bubble for me between keeping and flipping for more draft capital. I believe a dynasty owner could get several years production out of him or trade him as a flip after he breaks out.    
Author's note: A few days after this article was published, Foreman was arrested in Texas on marijuana possession and unlawful possession of a firearm. He is still draftable despite the added risk, but he should slip into the latter half of the second round. Before your draft, check his ADP and verify that he is not falling any further due to this arrest. Foreman also is now a flip player instead of a core asset for your team. 
Jamaal Williams- RB, Green Bay Packers: Williams ADP is 21 overall or 2.9 in twelve team leagues. He is a tweener at 212 lbs. He plays solid and lands with the Green Bay Packers. This is an opportune situation for a player to flash and be productive out of the gate. Ty Montgomery leads the Packers depth chart at RB and it is very feasible that Williams will take the job from him. Football Stat Manna has some interesting stats on Ty posted on twitter last week. You can read them from us here. The Packers also drafted Aaron Jones and signed UDFA DeVante Mays. This points to Williams hold on a job that if he does win may not be that solid. By 2.9 do not be looking to roster any player you draft long term. Players drafted in this area are rare to be long term success for dynasty rosters. Due to injury and volatility at the position the running back is the smart draft choice. They are more likely to have a stretch of production where their value rises. When they do you sell them. Williams fits this mold perfectly. Draft Williams and when he breaks out flip him.