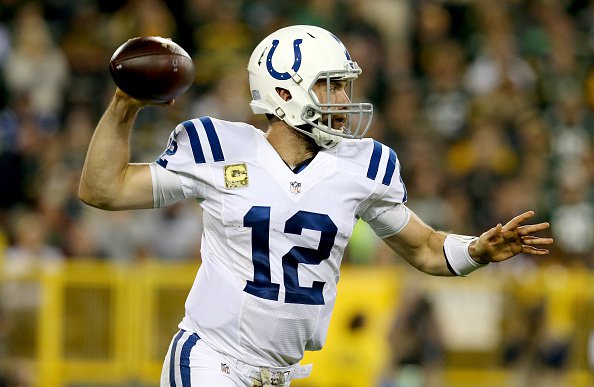 Written by Brian Murphy
13 July 2017
All quiet on the Andrew Luck front
Is it time to start freaking out just a bit over Luck and his surgically repaired right shoulder? Closing in on seven months post-op, it's unknown if Luck has begun to throw the football again or, if not, when he will do so. The Colts have held steadfast to their belief that Luck will be ready to fire come Week 1 even if he misses some of training camp, which opens for Indianapolis on July 29. But as Colts.com writer Kevin Bowen said this week, "If we don't get an update on Luck throwing once the calendar turns to August, there should be legitimate concern to just how ready the franchise quarterback will be for the regular season."
Luck was my No. 2 quarterback in ASL's early QB rankings six weeks ago. Today, I would drop him behind Tom Brady and Drew Brees at minimum. Luck could quell these worries with a couple of reassuring August showings. He needs to be approached with some caution for now as the smoke keeps building around this story.
Saints RB Adrian Peterson wants more receiving yards
In a wide-ranging and must-read profile by Bleacher Report's Dan Pompei on Peterson, the former Vikings great unsurprisingly said one of the reasons he signed with New Orleans was to play with Brees.
"I was attracted to playing with Brees, a guy who is good at distributing the ball to different players," Peterson says. "I know in this system, I'll get some opportunities to catch the ball in space. Drew Brees, he'll get the ball to me."
In lieu of those 20- and 30-carry games that are more a part of Peterson's past than his future, he wants to be a greater force as a pass-catcher and is specifically aware that he has never surpassed 500 yards a receiver. He hopes Brees and head coach Sean Payton can help him erase that fact this season.
Definitely go read Pompei's story at the link above -- there is a great anecdote that shows how Peterson is still a marvel in the weight room and is doing things at age 32 that leave younger athletes in awe. This is also the kind of story that could drive up Peterson's draft stock. Everything sounds so optimistic in July, but don't lose sight of AP's injury history and reduced role. I placed him at No. 31 in my early running back ranks last month. He will obviously turn in some starter-worthy box scores with his new offense, but there will also be weeks where Mark Ingram outshines him and/or Brees has to put the team on his back, thereby likely further limiting Peterson's output. I would not use his stated desire of being a better receiver as a reason to bump him up in PPRs. I'll believe when I see it. Peterson hasn't even reached 250 receiving yards since 2010.
49ers will not hand RB Carlos Hyde the starting job
At least that is the opinion of longtime Niners beat reporter Matt Maiocco, who wrote Tuesday that Hyde has not secured a starting role.
"Hyde is probably still the favorite to win the starting job, but he will have to earn it," Maiocco said. "However it shakes out, it is probably safe to assume the club will employ more of a backs-by-committee approach with (fourth-round rookie Joe) Williams and Tim Hightower available for key roles."
More often than not, Shanahan has favored backs who catch passes to be his backfield leader, with Alfred Morris being an obvious exception. At first glance, that would look like a negative for Hyde, who has 50 receptions in 34 career games. But that's not Williams' forte either; he caught just 20 passes in 19 games with the University of Utah. Plus, Williams has big question marks about blocking and ball security hanging over him. He is a better athlete than the injury-prone Hyde and an exciting prospect. However, I wouldn't expect Williams to tap into his potential until after a 2017 that stands to be a large learning experience. I would still draft Hyde as the 49ers' presumed starter and therefore as an RB2 in fantasy. Of course, he missed three games due to injury last season (what else is new?), but he was on a 1,400-yard full-season pace, and you have to believe that San Fran's offense can't be worse going forward.