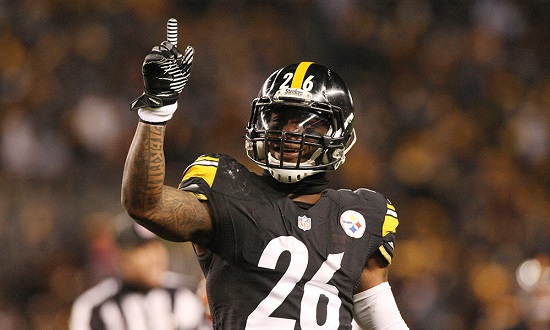 The start of the NFL season is two months away, which means NFL fans are getting ready for some fantasy football. While it's a fact that many people like to bet on NFL games, fantasy sports has become as popular as NFL betting.
Any seasoned fantasy draft player will tell you that your best bet is to pick a running back with the top pick of your draft, unless there is a quarterback like Michael Vick in his prime who can get you a lot of points with both his arm and his legs.
For those still not sure about which player they should take with their first pick, there really is only one choice to make. Pittsburgh's Le'Veon Bell.
Last season, Bell missed the first four games of the season and still finished with 1,268 rushing yards and 7 touchdowns. He also had 75 receptions for 616 yards and 2 touchdowns, showing why he is considered to be the most complete running back in the NFL.
For those of you that have searched for expert analysis for your fantasy football team, you might have noticed that a lot of experts ranked Arizona's David Johnson as the top running back. Last season, Johnson ran for 1,239 yards and 16 touchdowns, while catching 80 passes for 879 yards and 4 touchdowns.
Johnson's numbers obviously trump Bell's but you also have to keep certain factors in consideration. Johnson started all 16 games for the Cardinals and still had less rushing yards than Bell, who played in 12 games. 
If you take a look at their receiving stats, Johnson caught 66 percent of the passes thrown to him, while Bell caught 79.8 percent of the passes thrown his way. In fact, Bell has only caught less than 70 percent of the passes thrown to him during his rookie season, when he caught 68 percent of the passes thrown his way.
Looking at their stats, it's obvious Bell is a much better receiving back. Also, if you consider the fact that he plays for the Steelers, who have one of the best receivers in Antonio Brown, and a very capable one in Martavis Bryant (as long as he can stay clean), Bell will have plenty of opportunities to make big plays in the passing game this season and could very well top 1,000 receiving yards.
As far as I'm concerned, Johnson's impressive number of rushing touchdown is the greatest advantage he has over Bell. However, running backs rushing for 16 touchdowns a season isn't something we see every day and is likely not sustainable, so expect to see Johnson's rushing touchdown numbers drop this year.
The biggest knock on Bell is his history of injuries, which have forced him to miss 17 games in his four year career. However, there is no way to predict injuries, and also no way to predict if Bell will be able to play all 16 games this year or not.
The bottom line here is that you can't go wrong with either player as your top pick, but I really believe Bell will have an outstanding year and will be the most valuable player in fantasy football this season.