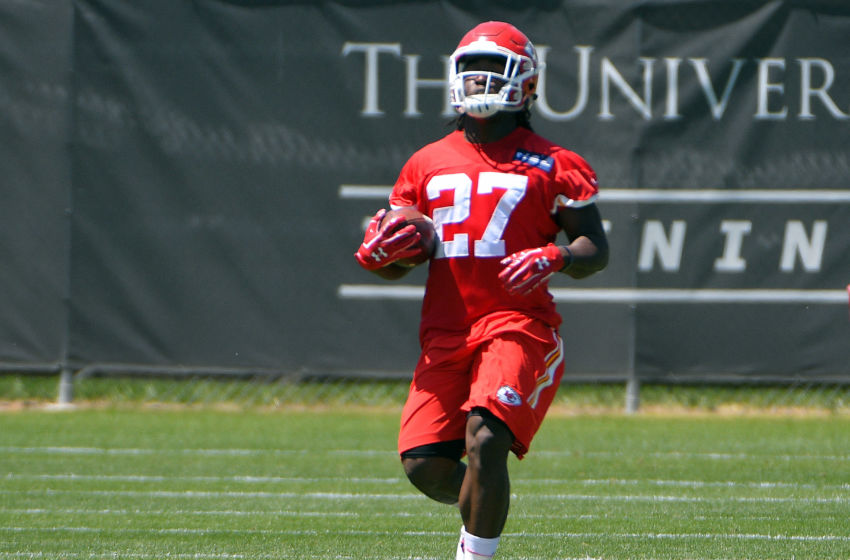 Written by Daniel Brown
01 June 2017
Average Draft Position (ADP) is used to rank where players are typically being drafted in fantasy football leagues. Even as early as end of May, there is some value in looking at the ADP, however the true value will come closer to pre-season and a time when most re-draft leagues will be drafting their teams. ASL's Daniel Brown looks at a few players whose current ADP (yes only in May) is likely to be significantly higher come August, and who you should be considering if you are drafting early.
Each new league season there are events that dot the calendar leading up to the opening kick-off of the new season. First you get the Free Agency, then you get the Draft, followed by Rookie mini-camp, then into OTA's, veteran cuts post June 1, Training Camp and then pre-season. We are currently just under 100 days out from opening kick-off of the 2017 season, but that doesn't mean there aren't some players who are generating some buzz already (mostly rookies for obvious reasons):
Kareem Hunt – RB – Kansas City: Hunt was selected in the 3rd round by the Chiefs during last month's NFL draft after they traded up to get him, and there has been a lot of excitement already out of the Kansas City coaching staff and writers. Terez A. Paylor of the Kansas City Star reported that the 21-year-old Toledo product "has already impressed with his short-area burst and balance." He is likely to push Spencer Ware who will return as the starter for that role, and it is likely that his snap count will increase considerably as the season goes on, to the point that he could be the lead back with Spencer Ware relegated to back-up. With an ADP of 120 (in the same region as Rob Kelley (116), Alvin Kamara (119) and Duke Johnson (124)) Hunt appears to represent a player whose arrow is pointing up compared to the players in a similar ADP to him.
Kyle Rudolph – TE – Minnesota: Rudolph is currently the 10th TE to be taken in the early drafts (per Myfantasyleague.com) and the 104th player overall. The main concern with Rudolph is probably his health and the ability of their quarterback Sam Bradford, or if healthy Teddy Bridgewater. Rudolph showed last year that he was a big target in the redzone amassing 24 targets (2nd highest in the league behind Jordy Nelson) inside the 20, catching 14 with 5 for touchdowns. Inside the 10 he caught 6 passes of which 4 were in the endzone. This should continue to be the case regardless of who the quarterback is for the Vikings and if Rudolph can stay healthy he should be in for a lot of targets, and not just in the redzone. Several tight-ends going ahead of Rudolph include Delanie Walker (93) and Zach Ertz (101), all of whom an argument could be made should be drafted after Rudolph, and certainly as we get closer to the start of the season we expect his stock to rise a little and he could go as the 7th or 8th TE and should represent good value in the mid rounds of drafts.


Cooper Kupp – WR – Los Angeles Rams: Kupp is a very skillful receiver out of Eastern Washington who enjoyed catching a lot of passes in his 4 years - an incredible 428 of them!. This year he likely will be catching them from a highly sought after quarterback - a No 1 overall pick - in Jared Goff and, assuming he wins the starting job and has the harness loosened somewhat from last year, should see plenty of targets this year. The receiving core of the Rams is still a work in progress which means there is opportunity and the reports out of Rams training camp are very positive for Kupp even suggesting he could be the No 1 target. With his current ADP of 207 compared to his teammates Robert Woods (164) and Tavon Austin (181), we expect Kupp's value to increase and his ADP to decrease as the drafting season heats up.
| | |
| --- | --- |
|   | Daniel Brown is a sports fanatic. Growing up in Australia, he followed English Premier League soccer, NFL, NBA and many other sports. Since relocating to the US over 12 years ago, Daniel has been heavily involved in fantasy football including Dynasty Leagues, Re-draft and Daily Fantasy. The NFL Draft and Fantasy Football are his passion and devotion. You can follow Daniel on Twitter @brownsnake76 for sports comments and general musings, or hit him up with your fantasy questions! When not talking, writing or researching fantasy sports, he comes up with t-shirt designs, check out some offerings here |