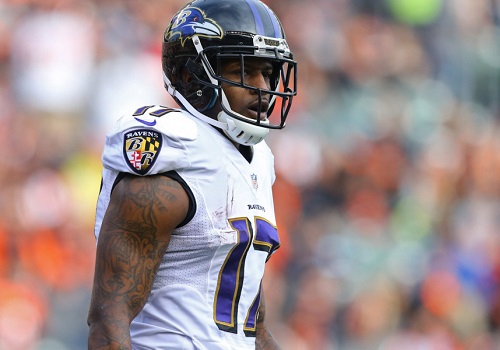 Written by Levi Andrew
23 May 2017
This list consists of 5 WRs that will be a steal in the late rounds of your draft. These players could attribute anywhere from a WR2-WR4 this year. I know it's early and the ADP can change. But keep this list in mind when drafting and researching. 
This article has been updated to reflect new ADP as of 8/8/17.
Mike Wallace
2016 Stats: 72/1017/4
ADP: 9.51
Here is a guy that doesn't  have anyone in front of him on the depth chart. Steve Smith is gone, Breshard Perriman hasn't ever came on in his first 2 years. Benjamin Watson is back but missed all last year with injury. Wallace is the #1 WR on this team. He can easily become a WR2 with another 20 targets coming his way. Hopefully the touchdowns come up too but he's never been a true redzone threat.
Don't let the Maclin signing differ your pick of Wallace. He will still be Flacco's #1 target next to Woodhead. Wallace will be a steal in round 9 when he produces WR1 numbers for you. You can thank me later.
Adam Thielen
2016 Stats: 69/967/5
ADP: 10.2
Adam was a huge asset to Bradford last year. Yes he has Diggs and Rudolph in front of him. Behind him are last years first round pick Laquon Treadwell and Michael Floyd. But if he holds them off which he should. I can definitely see the same stat line or better. WR3-WR4 potential.
Thielen's ADP has rose since I first published this article which is fine but with Diggs ADP of 6.91 I would way rather have Adam. It seems in training camp that Treadwell still isn't clicking, which is great news for Adam. Michael Floyd has been lighting it up in camo but has a 4 game suspension to deal with at the beginning of the season which just helps Adam more. 
Sterling Shepard
2016 Stats: 65/683/8
ADP: 12.9
Yes I know you have Odell and Marshall there but that's the point. Them on the outside with Shepard in the slot. That's gonna leave plenty of check downs and inside routes open for him. Eli is getting older, he's gonna become a safety blanket for him. Yes they drafted TE Evan Engram but Shepard already has a year with Eli under his belt. Shepard's ankle injury looked to be worse then it was which is good. Since I first wrote this article his ADP has fallen even more. Most likely due to Marshalls strong camp so far and his injury. I still think Shepard will produce some numbers and could end up being your WR4 low end WR3.
Kenny Stills
2016 Stats: 42/726/9
ADP: 14.4
Kenny stills has been up and down since entering the league. Had one good year with the Saints finishing 2014 with 63/931/3. Last yeR he had a career high with 9 touchdowns. Yes that's where a majority of his points came from. But Coach Gase knows how to use him, Gase also isn't happy with Devante Parkers work ethic. They did sign Julius Thomas which could hurt him. I just have a feeling he's gonna have a good year. He got paid, he's got the opportunity.  WR2 if the stars Aline, WR4 at the worse.
With the signing of Jay Cutler, I think Stills is one to benefit. Cutler likes a taller receiver and Stills is a 6 foot receiver. His ADP has fallen a few spots but not much. With Landry being a 5'11" guy I would draft Stills at his current ADP. Look for Stills to be a solid WR3 in 2017.
.
Taylor Gabriel
2016 Stats: 35/579/6
ADP 14.3
Taylor started last year as an outcast finding a new team. By the end of the season he found himself a nice home as a big play threat for Matt Ryan. He also had 1 more touchdown then Julio in the regular season. Flukey I know but I can see him out touching Mohamed Sanu this year. Plus he's always capable of taking one to the house. WR3-WR4
Double Bonus:
Robert Anderson,  2016 Stats: 42/587/2
Robby just became the WR1 for the Jets. Yes, we all know the Jets are a disaster, but of the WR there will have some type of value. Probably not WR1 value but value. Robby as of Tuesday August 8th is going undrafted. That will most likely change in the coming days due to Quincy Enunwa's neck injury. Look to grab Robby at the end of your draft for maybe a WR3 value this year.
Robert Woods,  2016 Stats: 51/613/1  ADP: 14.2
Robert Woods is my sleeper of 2017. I have been high on him before everyone else. Look for Woods to lead the Rams in targets. Goff and Woods have been building repor. I will own many shares of Woods this year at his price and greatly appreciate his WR2 numbers at the end of the year. Swoop Woods up at his ADP in the 14th round before his ADP shoots up after the preseason.    
Follow me on Twitter @LeviAndrewFF