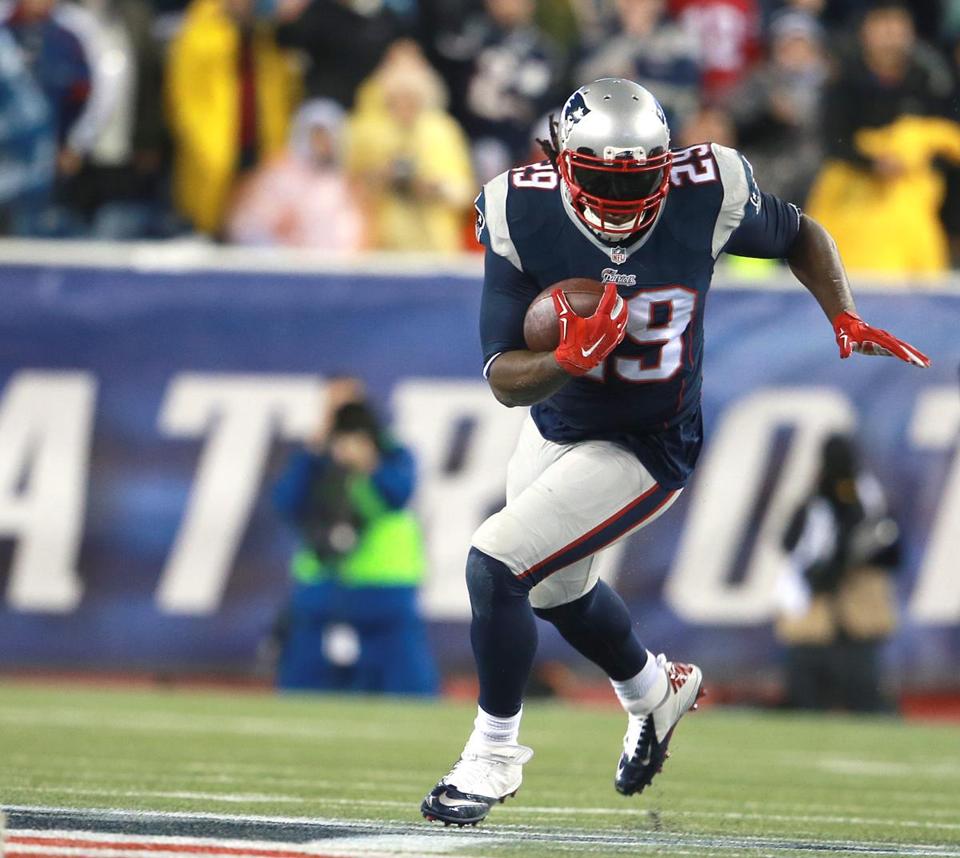 Written by Brian Murphy
17 May 2017
RB LeGarrette Blount signs with the Philadelphia Eagles
The NFL's league leader in touchdowns last season has finally found a home. And it's a pretty interesting landing spot for his fantasy value. In Philadelphia, Blount becomes the easy favorite for early-down work, assuming that the currently and perpetually injured Ryan Mathews is released. The rest of the Eagles' backfield is otherwise made up of players who can make their money as a pass-catcher, chiefly Darren Sproles and rookie Donnel Pumphrey. Blount's main competition for carries looks to be Wendall Smallwood, but everyone understands that it will be Blount's time to shine whenever Philadelphia gets inside the 10. The Eagles' boast an above-average O-line and a fairly conservative offense. The foremost problem for the 30-year-old Blount is the Eagles may not be leading a bunch of games late, likely keeping the one-dimensional big man off the field at times when he was padding his stats while with the Patriots. I doubt he will come all that close to matching his regular-season numbers with last season's Super Bowl champs -- 1,161 rushing yards, 18 TDs -- but 8-10 scores behind that offensive line is within reach. That would make Blount a worthy albeit inconsistent RB2.
Washington Redskins RB Samaje Perine keeps picking up offseason buzz
We here at ASL are pretty confident Perine will see significant playing time in his debut season. More importantly, Perine impressed his head coach, Jay Gruden, during last weekend's rookie minicamp, with Gruden praising the Oklahoma product's vision, footwork, passion, improved receiving chops, work ethic and intelligence. This week, John Keim, a Redskins reporter for ESPN.com projected Perine to be the team's starting back, with Rob Kelley playing a "complementary" role. It'll be interesting to see how far all of this May buzz impacts Perine's draft stock in the coming months. It's certainly on the rise right now.
Carson Palmer says Arizona Cardinals WR John Brown has gained strength and speed
Brown was a popular pick in the middle rounds of 2016 fantasy drafts, but he saw his production fall off drastically from the previous season due to issues related to his Sickle Cell trait and a cyst on his spine. That cyst has been removed, Brown says he now feels great, and Palmer praised the speedster as well, saying: "[Brown] doesn't look like he looked last year. He just has a different energy about him. He's heavier. He's stronger. He looks more explosive than he did last year ...." If true, Brown should be back on the sleeper radar as a key member of a thin receiving corps behind Larry Fitzgerald. Brown's fantasy value will stay afloat as long as he can stay healthy and as long as the 37-year-old Palmer improves following his dreadful 2016 season. Those are some pretty sizable concerns, but Brown won't cost you much in drafts, and his big-play upside is still very real. Consider taking a chance on him yet again.