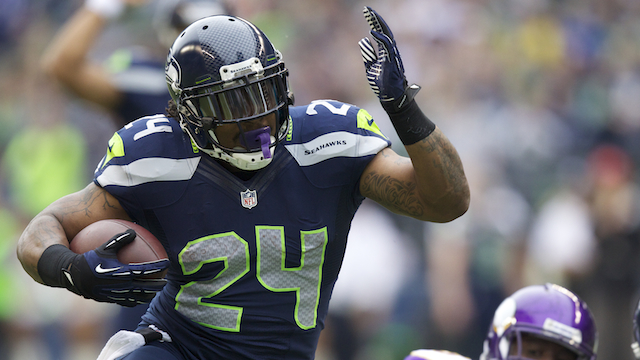 Written by Brian Murphy
06 April 2017
Marshawn Lynch reportedly plans to unretire
Are we about to see the return of "Beast Mode"? Wednesday gave us the most optimistic hopes for that thus far. NFL Media's Ian Rapoport reported Lynch met with Oakland Raiders executives, coaches and players earlier that day in what was described by Rapoport as a "recruiting visit." And at the end of said visit, Lynch reportedly told the Raiders that he plans to play again. Lynch can't just snap his fingers and rejoin the league, however. He has to notify the NFL in writing of his plans to unretire, and the Seahawks still own his rights. Although Rapoport said it is Raiders or bust for Lynch, the punishing back can't do anything until Seattle, which certainly won't keep him, decides how to get him off its books. Trade him? Cut him? We're a long way from a resolution here, but we're also apparently closer to Lynch's return. It's tough to judge his fantasy value at the moment; he would be the Raiders' lead back, but have his skills eroded during his time away from the game? He will turn 31 years old in April. Still, fantasy owners should be paying very close attention to this situation in the coming weeks and months.
Rob Gronkowski says he will be ready to take part in New England Patriots' OTAs
If you watched WrestleMania or the Boston Red Sox's Opening Day ceremonies earlier this week, this isn't really news to you, but Gronkowski said Sunday that he will be "ready to roll" once the Patriots break into OTAs next month. You would hope so after Gronk's recent antics, including getting tackled by Tom Brady on the field at Fenway Park for stealing Brady's previously missing Super Bowl jersey. I'm sure Bill Belichick and Robert Kraft were praying feverishly for that scene to wrap up with no harm done. Anyway, Gronk is coming off yet another back surgery and yet another injury-shortened season. However, he is still the top tight end in fantasy football and having a full offseason of preparation is something he has lacked in the past. The work can only benefit him -- barring another injury.
C.J. Anderson may miss Denver Broncos' OTAs
With four years under his belt, Anderson is an NFL veteran. And it's not a concern on the surface when a veteran sits out spring organized team activities. Yet, the possibility that C.J. will be absent raises a red flag. Back in February, Anderson was reportedly on track to be cleared from his season-ending meniscus tear during the middle of March. Now Broncos head coach Vance Joseph isn't so sure if his lead running back will be cleared before Denver's OTAs begin April 10. This is just another thing that bears tracking. If Anderson is sidelined, it won't yet impact his fantasy value, which currently exists in the midrange RB2 area. Now, if he is still not given the green light once training camp rolls around, that would be a big and worrisome story. Let's hope it doesn't become that dire. Keep in mind that Devontae Booker is the handcuff here.