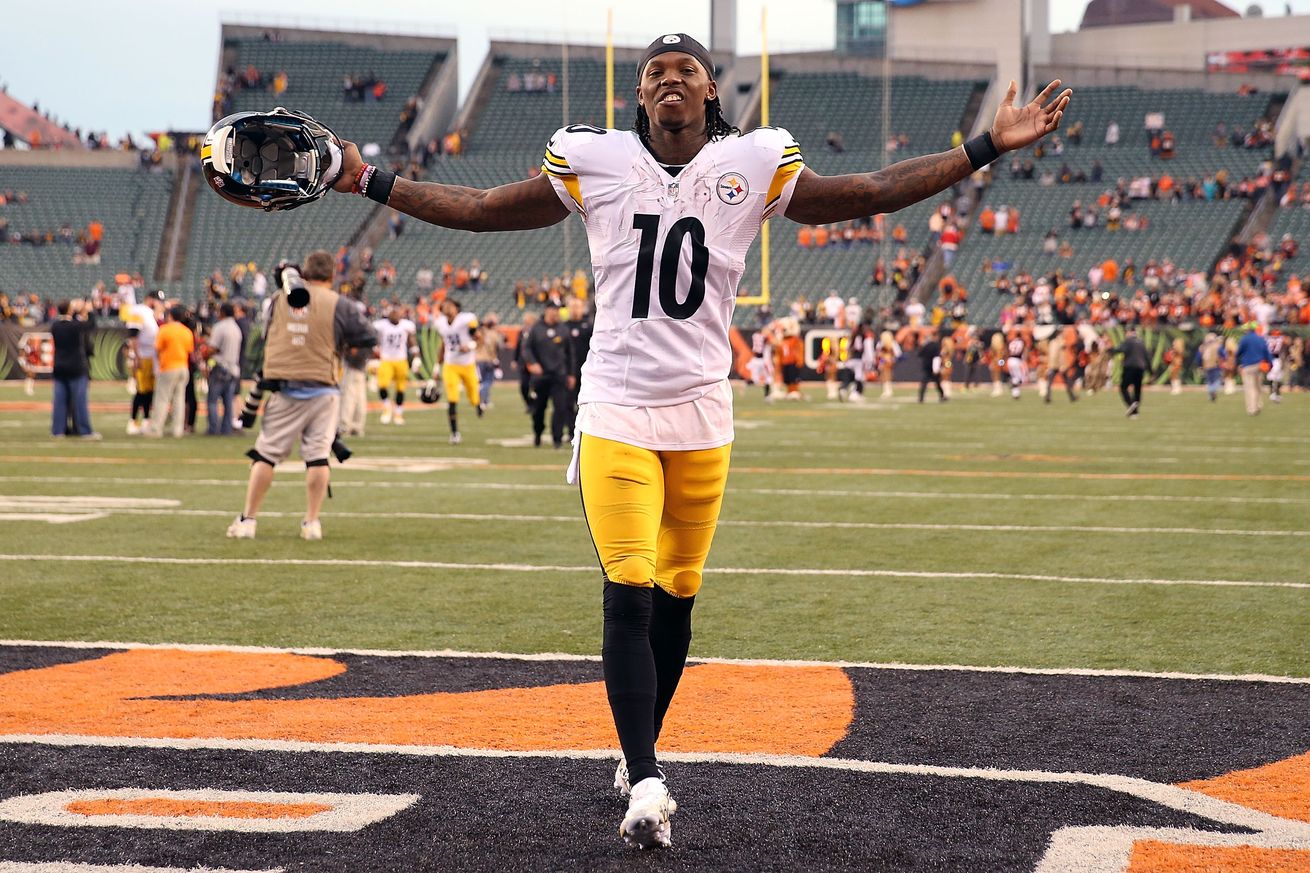 Written by Brian Murphy
30 March 2017
The Beaver County Times reported Wednesday, via an anonymous league source, that Steelers wide receiver Martavis Bryant's reinstatement back into the NFL is "imminent."
You may remember that Bryant, who has scored 14 times in his first 21 games and has a career average of 17.3 yards per catch, was banned for at least one year last March due to multiple violations of the league's substance abuse policy. Commissioner Roger Goodell may not reinstate Bryant, but let's trust the Times' source and say that, yep, the Steelers will be getting a huge mismatch at wideout back into the fold.
Oh, and let's also assume that from this point until the end of the season, Bryant doesn't violate that policy again. We'll all be holding our breath on that one.
The 25-year-old Bryant is 6-foot-4 and not that far removed from blazing (bad word choice?) a 4.42 40-yard dash at the NFL Combine. His numbers already tell you how much of a big-play threat he is and how much of an impact he can make in the red zone. Of course, he has his on-field flaws, too. Does he have the best hands? Is he a pristine route-runner? Does he always give 100 percent effort? No, no and no.
Alas, Bryant's raw talent makes him a force to be reckoned with. And he is about to rejoin a top-10 offense that already has its fair share of threats. You know about Ben, Bell and Brown. Now add Bryant, and consider that second-year receiver Eli Rogers looks like a serviceable slot receiver at the very least. If everyone there is healthy and clicking, how do you stop this offense? A tough task for any defensive coordinator, certainly.
Bryant can be a lethal WR2-quality fantasy player even with all of the weapons Pittsburgh possesses. Keep in mind that the No. 24 fantasy wideouts this past season were Golden Tate and Jamison Crowder, each scoring 124 points in standard formats. Both topped 1,000 receiving yards but scored only four touchdowns apiece. And keep in mind that Bryant tallied 104 fantasy points in 10 games as a 2014 rookie and then 120 points in 11 games the following year. Give him a full season to do work and he really should be a top-15 commodity.
Obviously, Ben Roethlisberger must be pleased to know Bryant is close to coming back. Prior to 2016, Big Ben was clearly more productive in those two seasons when Bryant was on the field as opposed to off of it. Bryant's absence during that time cost Roethlisberger about 50 yards and 0.6 touchdowns per game. 
However, Ben was largely stellar without the lanky field-stretcher in 2016, finishing as fantasy's No. 7 QB in points per game. We all know quarterback is an extremely deep position, but I think Roethlisberger is poised to turn in at least another top-10 year at the age of 35. His hints toward retirement following Pittsburgh's playoff loss are all but forgotten.
Who receives the greatest negative impact from Bryant's forthcoming return? If you don't count the Steelers' other secondary wideouts (Sammie Coates, Darrius Heyward-Bey) who were fringe fantasy players to begin with, I think the biggest downgrade goes to Antonio Brown, but please keep that in context. Brown will probably lose a few extra targets and possibly touchdowns. It'll ding his value slightly, not crater it. I think Le'Veon Bell's fantasy stock is largely unchanged.
Really, the biggest losers with this news are the rest of the AFC North and Pittsburgh's other 2017 opponents. They won't have a fun time trying to stop this attack. If you like offense, let's hope this group stays intact for an entire 16-game slate.