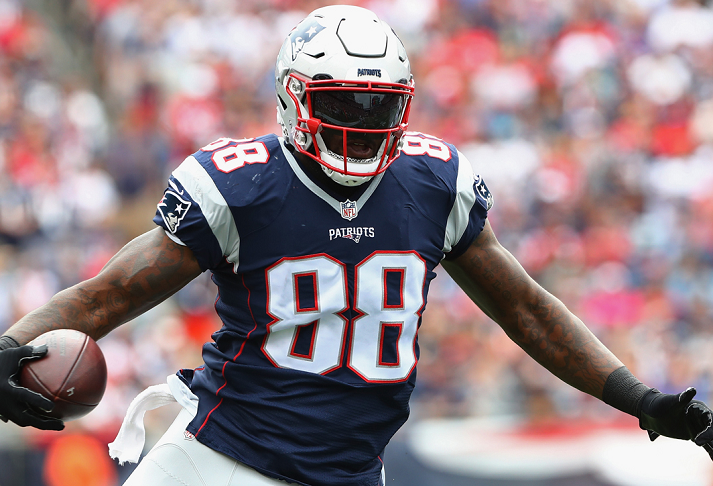 Written by Daniel Brown
17 March 2017
As the NFL free agency slows down after the initial frenzy, we take a look at the free agency for your dynasty team. This time of year in a dynasty league with a salary cap you are either in or about to be in a free agent auction and the moves in the NFL will have a significant impact on the value assigned to various players through your auction, and even if you are in a regular non-salary cap league the impact of the NFL free agent moves impacts your team and potential trades. Today we look at a couple of teams that have made moves or stayed put and the impact on other players on that team.
New England Patriots – Wow. Just wow. They have been busy in free agency signing players, re-signing their own big free agent and making trades. They have gone close to winning the off-season (which of course means nothing … unless you are also the defending Super Bowl champions). They have signed Rex Burkhead (RB); Lawrence Guy (DL), Stephon Gilmore (CB), Duron Harmon (FS) and traded for Brandin Cooks (WR), Kony Ealy (DE) and Dwayne Allen (TE). Most fringe competitive teams would be ecstatic with an offseason like this but for the defending champions this represents a major change. So what does this mean from a fantasy perspective?
Fantasy Impact: Brandin Cooks gets a new opportunity in a very structured offense that historically has been very pass heavy. This is nothing new for Cooks given his time in New Orleans, the big difference in this offense is the presence of Julian Edelman and (if healthy) Rob Gronkowski. For him this will be similar to his early days in New Orleans when they had Jimmy Graham. For Edelman and Gronkowski it means that there is another threat which is good news and bad news. The good news is that it will require defensive coordinators to focus on Cooks which could open up even more one-on-one match ups for these two, the bad news is that Cooks may end up poaching touchdowns from both of these guys. Don't forget that New England also has Chris Hogan.
Dwayne Allen however looks like a significant downgrade when compared to his situation in Indianapolis. Playing second fiddle to Gronkowski means that Allen will likely get less targets than his time in Indianapolis, and more importantly, less red-zone targets. While it is true that Jack Doyle took some opportunities away and this ultimately lead to the Colts moving on from Allen, from a fantasy perspective he will likely need an injury to Gronkowski to be a reliable fantasy option on a week to week basis.
Rex Burkhead is an interesting addition to this offense. Towards the end of last season he saw some opportunities while at the Bengals, however was 3rd in line for carries and chose to move in the offseason to the Patriots. He appears to be a replacement for Legarrette Blount, which on the surface looks like a good situation, however with Dion Lewis returning from injury and James White still in the mix the role for Burkhead is unclear. He is certainly one to watch and if you can get him cheaply seems like a smart play.
Green Bay Packers – It has been an interesting offseason for the Packers. They did sign Martellus Bennett to replace (and potentially) upgrade the TE position from Jared Cook, which should help Aaron Rodgers, however they lost Eddy Lacy to Seattle. The loss of Lacy probably isn't that significant when you consider that he was injured last year and Ty Montgomery showed he can handle the duties … at least for regular season. The big question will be whether he can do it for 16 games, and further what will happen during the playoffs (assuming they make it). The key for the Packer players you will want to look to own or acquire (Aaron Rodgers, Jordy Nelson, Ty Montgomery and Davante Adams) will be what happens with the running back position and what this means to the offense. If they stay with the current set up it probably means that we can expect similar numbers for these players as last year. If they sign another running back (Adrian Peterson for example) then each of these players will take a slight hit with Montgomery taking the biggest impact. It appears unlikely that they will do this given Ted Thompson's history regarding free agency, however time will tell.
New York Giants – The Giants acquired a solid wide receiver in Brandon Marshall who will take over the role previously help by Victor Cruz. This acquisition should have a positive impact on Eli Manning as well as Sterling Shephard. It is hard to say what the impact will be for Odell Beckham Jr, but we suspect that it will change significant over the course of the season. Initially it is likely to impact him in the red zone, and probably takes targets away which will mean a possible slow start for him this year. However once Marshall establishes himself in the offense (by week 4!) we think defenses will need to pay closer attention to him, and this in turn could lead to more opportunities for Beckham in terms of more one-on-one chances, as well as in the red zone where Marshall will get more attention. The Giants still need to figure out their running back situation, having released Rashad Jennings and re-signing Orleans Darkwa, the backfield appears to belong to Paul Perkins, however they also have Shane Vereen on their roster. IF the Giants can establish a run game, this will further provide significant opportunities for the talented wide receiver corps and Eli Manning.