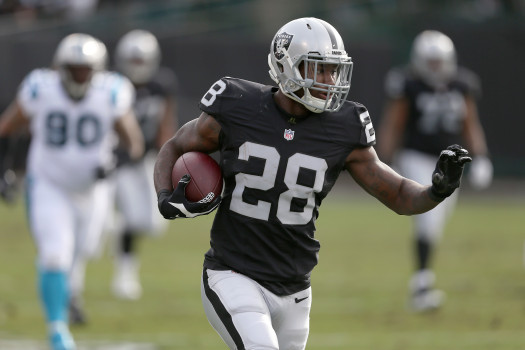 Written by Brian Murphy
17 March 2017
Let's just begin here: No one can truly replace Adrian Peterson in Minnesota. Latavius Murray is the next man up after signing a three-year, $15 million deal early Wednesday, but he's more or less following in the footsteps of the all-time great. And don't expect Murray to come close to filling those shoes.
Murray has a lot going for him physically. He just turned 27 and should have plenty-fresh legs after handling 634 touches over his three seasons on the field. He's a competent receiver and a rare specimen as a 6-foot-3, 230-pound back who possesses 4.40 speed. He looks the part. But what has he accomplished in the NFL? Less than what those numbers would suggest.
The more important number for Murray is 4.0. He averaged just 4.0 yards per carry in each of the past two seasons. More damning, he put up that pedestrian total while running behind a top-10 offensive line. In 2016, the Raiders' O-line ranked third in the league, according to Pro Football Focus. Yet, Murray's backfield mates in Oakland, DeAndre Washington and Jalen Richard, each topped 5 yards per carry (5.4 and 5.9, respectively). Now those two are left to form a quick duo while Murray tries to make do with the Vikings, whose line ranked 30th in run blocking, according to Football Outsiders. Murray is one-cut runner who relies on his power for yards. To that end, Minnesota's 2016 offensive line slotted 31st in power run blocking, via Football Outsiders. So when it comes to the men who will be opening lanes for him, Murray is almost going from the penthouse to the outhouse.
The rest of what surrounds Murray in his new digs isn't an upgrade either. In Oakland, defenses had to be wary of blossoming quarterback Derek Carr and a strong duo of wideouts in Amari Cooper and Michael Crabtree. In Minnesota, Murray will have to hope Sam Bradford (or possibly Teddy Bridgewater?) can keep defenses honest. Good luck with that. And while wide receivers Stefon Diggs and Adam Thielen are no slouches, they don't quite measure up to what the Raiders have on the outside.
Plus, don't forget about Jerick McKinnon. No matter where Murray was going to sign as a free agent, he wasn't going to be a bell cow back, even though he has the body and athleticism to do so. Certainly, he'll share some work with McKinnon, most likely on passing downs. That should still leave Murray with the lion's share of the early-down work, goal-line chances and some receptions. In Pat Shurmur's offense, that sounds like 220-250 touches, which is what Murray's used to. He took on 228 touches in 14 games last season and gained 1,052 yards from scrimmage with 12 TDs. Again, that was behind one of the game's best offensive lines and inside one of the league's most dangerous offenses. 
I think Murray is a touchdown-dependent RB2, someone I wouldn't want to draft until after the fourth round at least. Actually, I'd rather take a chance on either Washington or Richard later on in my draft. If one of those two gets hurt, the other man would have tremendous upside, more so than what a healthy and newly rich Murray has right now.