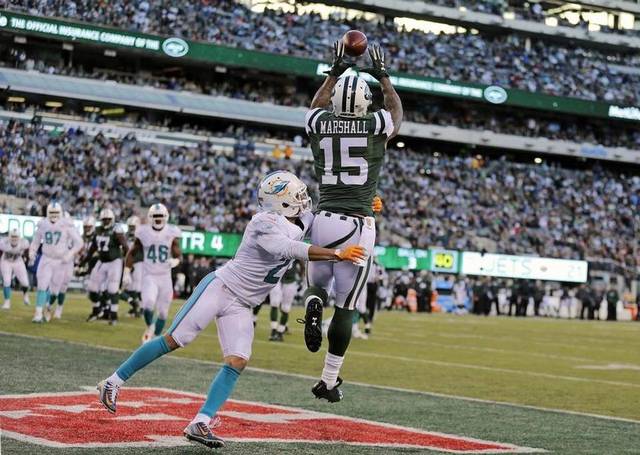 Written by Brian Murphy
09 March 2017
Wide receiver Brandon Marshall will be playing in the same city and the same stadium as last year. He might even use the same locker. But his move from the New York Jets to the New York Giants -- at the very affordable price of $12 million over two seasons -- should be a boon for his fantasy football stock thanks to a change at quarterback.
Quarterback Ryan Fitzpatrick regressed horribly from 2015 to 2016, stifling the Jets' offense. Marshall certainly felt the effects as his reception and yardage totals fell by 40-45 percent from one year to the next. He went from scoring 14 touchdowns in '15 to just three last year. At 32 years old and in his new role, admitted by Marshall himself, as the Giants' No. 2 wideout behind Odell Beckham Jr., the six-time Pro Bowler is highly unlikely to match his 2015 stats again. However, he should be startable in standard 10- or 12-team fantasy leagues. 
For better or worse, the Giants employ a pass-heavy attack that is predicated on quick reads and throws. Perhaps they will dial up more running plays in quarterback Eli Manning's age-36 season, but the Giants will still likely throw more often than the Jets, and Manning is still an upgrade over Fitzpatrick, even as his career enters its dusk period. Manning completed 63 percent of his throws last season; Fitzpatrick sat at just 56.6 percent. And with the Giants relying so heavily on those quick, short throws, you should expect Marshall to eat up a lot of those targets. He is a fantastic possession receiver and a big target in the red zone. Since 2012, the 6-foot-4 Marshall has scored 48 touchdowns. Only Dez Bryant has caught more TDs during that time.
Marshall's arrival doesn't really change Beckham's outlook. He will remain the go-to receiver in this offense, someone who should see double-digit targets every week. He is a first-round fantasy selection. The more probable scenario is that Marshall and WR Sterling Shepard cut into each other's production. If I had to pick one for my fantasy squad, I'd take Marshall for his touchdown upside. Shepard did score eight times as a rookie, but there's no doubt that Manning will favor the bigger, safer option with points on the line. 
Marshall should truly be the Giants' No. 2 receiver with Shepard moving down to the No. 3. The youngster from Oklahoma will still have his big games thanks to his speed and quickness. But the 11-year vet from UCF will probably be more consistent from week to week. I think he will at the very least trail only Beckham for the team lead in catches and touchdowns. I'll project Marshall for 70 catches, 900 yards and nine TDs. Such a line would have ranked him as the No. 16 wide receiver in standard leagues last season. That feels about right, especially for someone who was a top-five fantasy wideout in three of the past five campaigns.
In today's NFL, there are a few positions where NFL teams love to load up: Cornerback, pass rusher and wide receiver. You can never get enough. Although the Giants already possessed two strong options on the outside, Manning should benefit from the inclusion of Marshall. His yards per attempt average, touchdowns and interceptions all went in the wrong direction last year, but we could be looking at a modified rebound season from Eli. He won't enter QB1 territory just because the position has so much quality depth. But for those in two-quarterback formats, Manning could bring you a lot of profit with a mid-to-late-round draft pick.