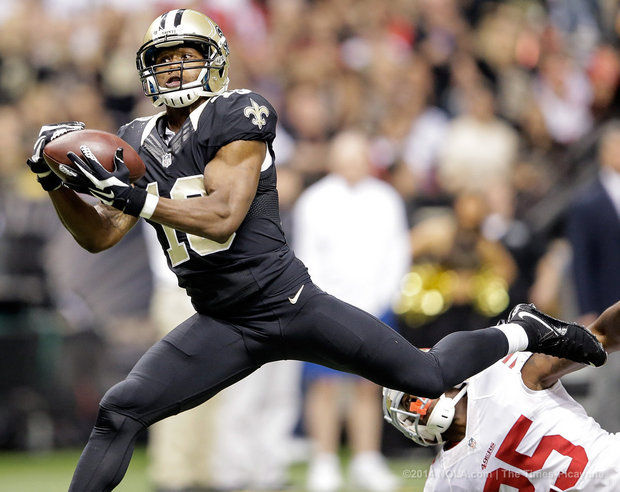 Written by Brian Murphy
03 March 2017
Jets cut WR Brandon Marshall, will reportedly be without WR Eric Decker in camp
It was always a matter of when, not if, the Jets would release Marshall this offseason, especially after his poor 2016 season. Granted, the Jets' dearth at quarterback had something to do with that. The move was made official Thursday night. Marshall, who will celebrate his 33rd birthday this month, should have some significant fantasy value next season if he lands with a team that has a competent QB. Don't forget that he was a top-five fantasy wideout in 2015.
Decker is in the middle of his recovery from hip and shoulder surgeries last October. He may join Marshall on the open market soon, but no matter where he ends up, there are reports stating that he will probably not be ready to go once training camp opens. I'm less optimistic about his immediate fantasy future given the nature of his operations. 30-year-old wideouts coming off of multiple surgeries -- especially when they concern those specific joints -- aren't exactly enticing fantasy commodities. 
Saints admit they are listening to trade offers on WR Brandin Cooks
This has been a hot rumor all week, but head coach Sean Payton confirmed Thursday what was believed: The Saints are using Cooks as a trade chip. The Titans are known to be interested, and New Orleans is looking to pick up at least another first-round pick in order to rebuild its defense. No trade can be announced until the league year begins March 9. If the two sides agree to a deal, it would undoubtedly hurt Cooks' fantasy stock to go from the Saints' Drew Brees-led attack to Tennessee's run-based offense. He may be just a WR3. However, such a trade would add more hype to Marcus Mariota for 2017. Rishard Matthews, Delanie Walker and Cooks make up quite the trio.
Buccaneers still unsure on what to do with RB Doug Martin
Thanks to the four-game suspension he received in December due to a positive test for Adderall, Martin has no guaranteed money remaining on his contract, which runs through 2020. However, head coach both Dirk Koetter and general manager Jason Licht said Thursday that a decision has not been made regarding Martin's fate with the franchise. My guess is the Muscle Hamster will spin his wheels somewhere else next season. He averaged just 2.9 yards per carry, missed six games due to injury and caught a mere 14 passes last year. Martin would have to settle for a backup role if he is given his walking papers.
WR Josh Gordon applies for reinstatement
Will Gordon ever play in the NFL again? He has submitted the proper paperwork to make it happen. Gordon hasn't played in the league since 2014 and will likely need to find another team to take him in; the Browns probably aren't going to give him another chance. This is entirely a wait-and-see situation. But if he gains a team and the privilege to play again, the 2013 league leader in receiving yards will definitely be worth at least a lottery ticket late in drafts. Gordon will turn 26 in April.