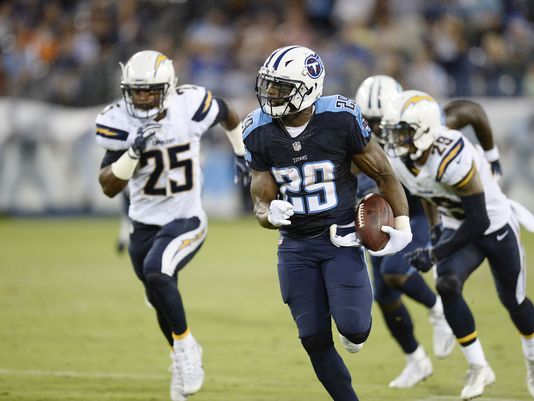 Written by Brian Murphy
24 February 2017
DeMarco Murray, Tennessee Titans
Murray frankly surprised many people this past season. It's not that he was just better with the Titans than he was with the Eagles; he was fantasy's No. 5 RB in standard leagues at season's end. And it looks like he'll be drafted around that spot next summer. That would be a mistake for multiple reasons. His 346 touches were third-most in the NFL and considering Murray's well-known injury history, even going back to his days at the University of Oklahoma, that puts him on high alert for an injury in 2017. He just made it through all 16 games, however, that doesn't mean he made it through the season exactly healthy (not many players do). Murray fought through a torn plantar plate during the second half of the year. That type of injury requires a lot of rest, which is readily available in the offseason, but those foot ailments also have a tendency to pop up and chronically nag athletes from year to year. Just ask the Los Angeles Angels' Albert Pujols how his balky foot is doing. He suffered a similar injury a couple of years ago and is still trying to manage it. Murray might still undergo surgery this spring, and that would certainly bring his 2017 fantasy value into question. No matter how you cut it, injury worries will always be right next to him.
Another thing right next to Murray? His backfield mate, Derrick Henry. Although the second-round rookie obviously wasn't a huge drain on Murray's workload, he made a noticeable impact around the goal line late in the season, scoring four times in his last five outings. Expecting Henry to best his 110 carries next season is only natural, but even if that doesn't come to pass, it does look like he will cap Murray's scoring potential. Add it all up and there are just too many possible negatives attached Murray, who will be selected in the middle of the first round. I would draft Murray absolutely no higher than ninth among running backs.
LeGarrette Blount, Free Agent
Disclaimer: If Blount gets his wish, remains with the Patriots and continues to benefit from the franchise's seemingly endless Midas touch when it comes to offensive players, I think he will belong among the top-20 backs during drafts. However, I don't think he will return as a helper on the Brady-Belichick ticket. First of all, the duo of James White and Dion Lewis allows them to spread the field and do what they do best. Plus, the Patriots aren't going to pay what Blount wants just to make him a glorified goal-line vulture. They have won with an army of different pieces over the past 15 years and basically won it all this past season without much from Blount down the stretch. He averaged just 2.8 yards per carry over his final six games, playoffs included. So, I assume that Blount will be out the door. His touchdown prowess will remain his calling card and with 1,279 career carries, his legs should have plenty of life left even as he enters his age-30 season. But there's no way Blount reaches 18 TDs again in a less-efficient offense. He'll be in a clear timeshare -- as he was for most of his time in New England -- but with diminished scoring potential. And minus those six-pointers, Blount's fantasy value takes a severe hit, one that I think puts him well outside the top 20. Again, a lot remains to be seen in this situation. But if Blount is playing for a new team next season, I can guarantee he won't be playing for my fantasy team at his price point as it currently stands.
Thomas Rawls, Seattle Seahawks
Rawls has definitely shown that he belongs in the league after going undrafted in 2015. What we don't really know yet is whether he is cut out to be an every-down player. Although he has impressively notched three 160-yard rushing performances in his first 24 games, Rawls has already suffered a broken ankle, a hairline leg fracture and a shoulder injury that have caused him to miss a collective 10 weeks. Additionally, C.J. Prosise looks like a real force on passing downs (although he has durability questions of his own). Prosise's presence could transform Rawls into a solely early-down back. I don't think that makes him worth a top-15 investment at running back, but that is right about where he is slated to land in drafts right now.