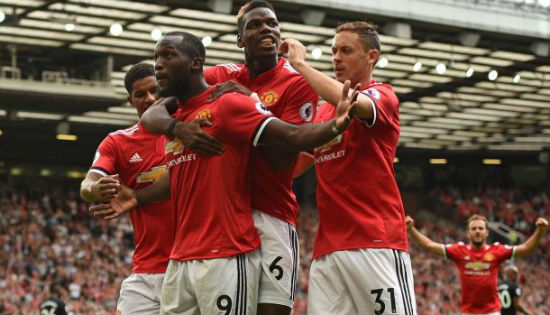 Written by Daniel Brown
17 August 2017
English Premier League is under way, with a few interesting results and some fantastic finishes. ASL's Daniel Brown takes a look at the first round action.
Manchester United vs West Ham: Result: 4-0

Analysis: Manchester United are always one of the favorites for the English Premier League crown and starting with a home match a win was expected, but a 4-0 victory gets them out of the gate quickly and on top on goal difference. The post-Rooney era (to be honest last year he wasn't as involved as previous years) started well for Manchester with new summer signing, Romelu Lukaku (£75 million), scoring twice. For West Ham it puts them at the foot of the league table (on goal difference) and there wasn't a whole lot of positives to come out of this match for them. A mid-table finish last year is something they will be looking to at least replicate if not improve upon. Next week they will take on Burnley in a game they will expect to bounce back and take all 3 points.
______________________________________________________________________________
Arsenal vs Leicester: Result: 4-3
Analysis: Arsenal have struggled on opening weekend having won just 1 of the past 7 season openers prior to Friday's premier league opener. It was a struggle again for the Gunners who twice had to come from a goal down to ultimately secure victory. It was the start the Gunners needed, Leicester won the league 2 years ago in somewhat of a fairy tale season, but Arsenal were too strong at home to secure victory. Arsenal new signing Alexandre Lacazette (£52 million) scored the fastest goal of the opening weekend when he slotted home after just 94 seconds, but it was Arsenal substitutes who came to the rescue with Olivier Giroud scoring the game winner in the 85th minute. For Leicester it was a case of what could have been as they led twice. After a disappointing season last year (finishing 12th) they will be looking to recapture the form (and results) that yielded them the title 2 years ago. A big positive for them was Jamie Vardy scoring twice. As he goes, so to may Leicester this year.  ______________________________________________________________________________
Watford vs Liverpool: Result: 3-3
Analysis: Liverpool are one of the big 6 in the Premier League, whereas Watford barely avoided relegation last season and yet in the opening weekend of this season the sides finished taking a point each. It wasn't without drama though, as Miguel Britos scored deep into stoppage time to deny Liverpool all three points. Watford scored first after just 8 minutes and Liverpool finally responded in the 29th minute after having done little to trouble Watford to that point. Watford were able to regain the lead just 3 minutes later before 2 goals in as many minutes saw Liverpool take the lead. It will be a disappointing result for Liverpool who have aspirations for the title this year. For Watford it will likely feel like a win as they try and move away from the relegation zone this year and solidify their place in the Premier league.
______________________________________________________________________________
Chelsea vs Burnley: Result: 2-3
Analysis: Wow. Just wow. Chelsea won the title last year and were starting at home this season against a team that barely avoided relegation last season, and yet Burnley were able to leave Stamford Bridge with all 3 points. What a start for them. They led by 3 goals after 43 minutes, and had to hold on at the end as Chelsea tried desperately (with just 9 players!) to equalize. Incredibly 2 players were sent off for Chelsea (Gary Cahill in the 14th minute and Cesc Fabregas in the 81st minute), and yet they were able to pull 2 goals back after the break. Chelsea will look at this as a huge missed opportunity in a game they would have expected to win.
______________________________________________________________________________
Crystal Palace vs Huddersfield: Result: 0-3
Analysis: Potential relegation battle: Huddersfield were another of the newcomers this season, winning their first ever promotion to the big time and they started in perfect fashion with a very convincing 3-0 win over Crystal Palace. Two goals for Steve Mounie and an own goal by Joel Ward were enough for a strong win, despite less possession (57% to 43%) and less shots (14 to 9) than their opponents. For Palace it was a tough afternoon where nothing seemed to go right and they really couldn't create much. It appears they will be in for another battle to avoid relegation … and losing to a team that was considered a relegation candidate (and probably still is!) … at home … is not a great start.
______________________________________________________________________________
Everton vs Stoke: Result: 1-0
Analysis: Wayne Rooney is back at the club where it all started! And he didn't disappoint scoring his first competitive goal for the club since 2004 (to be fair, it is also his first appearance since 2004). His goal was the difference in the match, coming just before half time to mark an incredible return to his boyhood club. A strong start for Everton, who look to build upon their 7th place finish last year. For Stoke City, they come up against another strong club in Arsenal next week, and while they will be at home, Arsenal will be no easy match. Manager Mark Hughes will be hoping his side can create more opportunities at home than they were able to against Everton.
______________________________________________________________________________
Southampton vs Swansea: Result: 0-0
Analysis: A draw here to open the season, but the story was the 29 shots for Southampton compared with just 4 for Swansea. Swansea will be by far the happier team scoring a point away from home against a team that finished 8th last year. Superb goalkeeping from Lukasz Fabianski and poor finishing from the hosts meant Swansea were able to start the season with a point that going into the match, and certainly after the first half, they would have not necessarily expected to get. For Southampton they will rue the missed opportunities but be pleased to have created so many chances.
______________________________________________________________________________
West Brom vs Bournemouth: Result: 1-0
Analysis: These two teams finished just one point apart at the end of last season with Bournemouth finishing 9th and West Brom in 10th place. So to open the season playing one another was an early opportunity to flip the script for West Brom and they did just that winning by the barest margin 1 goal to nil. For two teams that were just outside the European qualifying last season they will hope to take that next step this year and West Brom did what they needed to do at home to secure the 3 points.
______________________________________________________________________________
Brighton vs Man City: Result: 0-2
Analysis: Manchester City started with an important away win. It took them until the 70th minute to break the tie and then an own goal in the 75th minute completed the scoring. It was a good win for Man City who are considered amongst the favorites for the title, but was also a strong performance from Brighton. Having been promoted to the Premier league for the first time, the challenge to confront a team with the quality and history of Man City would have been enormous and to hold them scoreless for as long as they did is a testament to their defense. If they can continue to have that type of resistance at the back Brighton may be able to solidify their place in the Premier league for another season … but it is just week 1 and a long way to go!
______________________________________________________________________________
Newcastle vs Tottenham: Result: 0-2
Analysis: Tottenham have established themselves as one of the league challengers over the past 8 years, having finished runner-up last year and in the top 4 four out of the last eight years, whereas Newcastle rejoined the Premier league this season after winning the Championship last season. Tottenham would have expected a victory against a newly promoted team, however Newcastle is not your average newly promoted team having been in the Premier league more often than not. Still a win on the road was exactly what Tottenham needed and next week they face league Champions – Chelsea in a crucial early season matchup. Newcastle were not helped by a red card just after half time to Jonjo Shelvey which effectively ended the contest as Tottenham were able to score twice in the second half with the extra man advantage.
______________________________________________________________________________