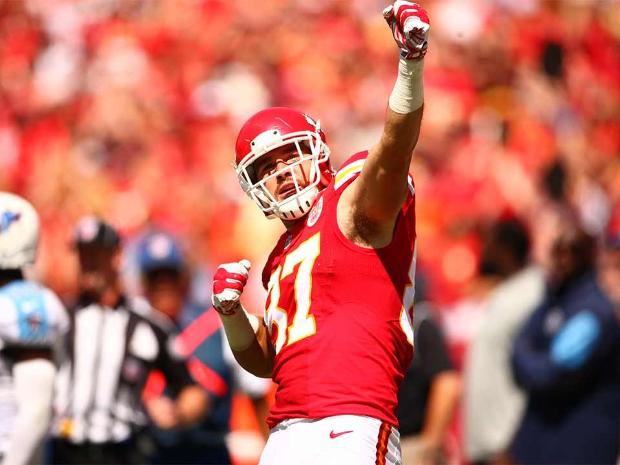 Written by Brian Murphy
05 February 2017
 1. Rob Gronkowski, New England Patriots
Those who populate keeper and dynasty leagues need to be a little leery of Gronk; his growing history of back injuries is bound to impact his play at some point. But I don't think that will come in 2017. And for redrafters (the crowd we're catering to here), Gronkowski is the position's No. 1 player without question. He should be healthy well before training camp. It's no surprise that he had led tight ends in fantasy points per game.
2. Travis Kelce, Kansas City Chiefs
The second-best average belonged to Kelce. He also paced tight ends in overall points from Week 8 on, registering six 100-yard games during that time. His lack of touchdowns is the only thing holding him out of the No. 1 spot. Kelce has scored just 14 times in 48 career regular season games; Gronkowski has logged double-digit scores in four of his last six seasons.
3. Jordan Reed, Washington Redskins
Reed is another case where it would just be so much easier if humans were invulnerable. Through four years, he has still not played a full season, missing at least two games in each. A major shoulder separation and yet another concussion forced him to miss four contests -- and be far less than 100 percent in a few others. Still, Reed racked up 66 catches, nearly 700 yards and six scores. The good news is he remains a stud whenever his body is intact.
4. Jimmy Graham, Seattle Seahawks
This past season should be viewed as a big personal success for Graham. He was fantasy's No. 4 TE -- 65 catches, 923 yards, six touchdowns -- after suffering the dreadful torn patellar tendon in November 2015. He admitted this week that he hardly practiced at all in 2016, but with a healthy offseason ahead of him, it's reasonable to think Graham will be even better in 2017.
5. Greg Olsen, Carolina Panthers
OlsenION surpassed the 1,000-yard mark for the third consecutive season in 2016, but many of his performances left much to be desired. He didn't reach the end zone after Week 9 and was held to 45 yards or fewer in six of his final 10 outings. His statistical drops can be credited to Cam Newton's 52.9 completion percentage. Even as he enters his age-32 season, Olsen should be a top-five fantasy tight end.
6. Tyler Eifert, Cincinnati Bengals
Sensing a theme here? Eifert has scored 18 touchdowns in his last 21 games, but he has suited up for only 57.8 percent of a possible 64 games in his career. His 2016 campaign was nearly a wash thanks to a back injury and ankle issues that lingered from 2015. If healthy, yeah, he can easily land in the top five. But Eifert has been injured for extended stretches so often, you can draft him for the upside but you also need to make backup plans.
7. Cameron Brate, Tampa Bay Buccaneers
Recency bias? I don't think so. This Harvard man emerged out of seemingly nowhere in 2016 and was actually fantasy's No. 2 TE from Weeks 8-16, trailing only Kelce, and sixth overall. He is not the matchup nightmare like so many others on this list, but he's clearly got Jameis Winston's eye, especially in the red zone. And as Winston improves, Brate should go r
8. Delanie Walker, Tennessee Titans
Walker's stock, like Brate's, should be buoyed by his own young quarterback. At 33, his best days are probably behind him, but 800 yards -- a mark Walker has reached in each of the past three seasons -- and 6-7 touchdowns is certainly not a risky prediction. And that would make Walker a top-eight tight end with ease.
9. Zach Ertz, Philadelphia Eagles
While his season-ending numbers are good enough to place him among this group, large portions of Ertz's stats have been accrued in small bunches over the past two years. For example, about 30 percent of Ertz's catches and yards and half of his TD total came in Weeks 14 and 17 this year. Outside of those standouts, Ertz has barely been starter-worthy. He makes the list because of his athleticism and upside (he doesn't turn 27 until November), but some consistency is sorely needed from him.
10. Kyle Rudolph, Minnesota Vikings
Rudolph has a fairly mundane ceiling -- he probably reached it this season with 840 yands and seven touchdowns -- but I'll take that over some of the more athletically gifted tight ends who have been little more than a tease thus far. Rudolph's value will get a bump if Sam Bradford remains under center for Minnesota.
HONORABLE MENTION: Eric Ebron, Detroit Lions; Hunter Henry, San Diego Chargers; Martellus Bennett, New England Patriots