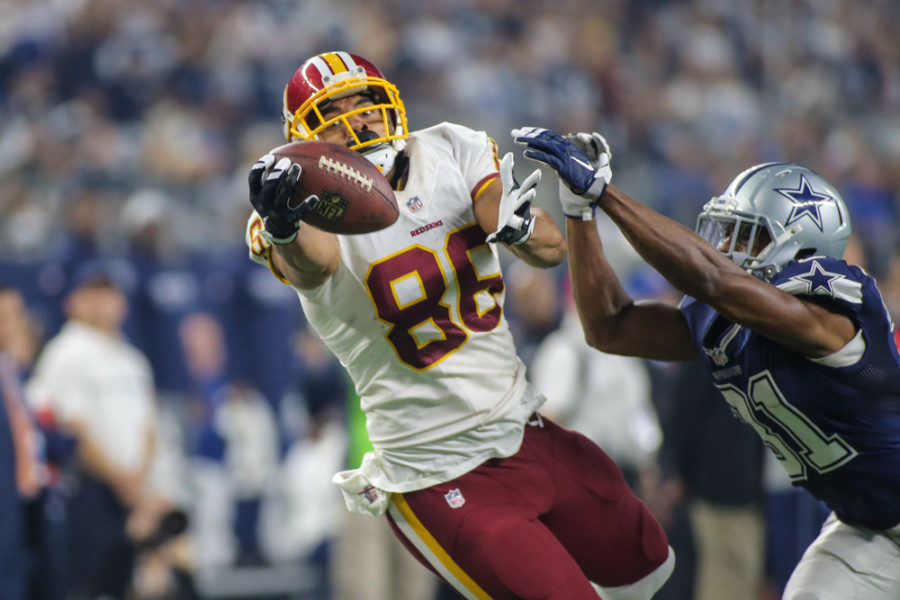 Written by Brian Murphy
15 December 2016
This is a huge week in fantasy football as many owners are fighting for a playoff berth. Unfortunately, there is a long list of injured stars to deal with. Here is what we know as of early Friday morning...
QUARTERBACKS
Aaron Rodgers, Green Bay Packers
Rodgers experienced some hamstring pain on Monday night, but he finished that game and has been able to practice in limited fashion so far this week. He'll be good to go against the Texans.
Andrew Luck, Indianapolis Colts
Luck has taken part in two practices this week yet he hasn't been fully cleared to play following his Week 11 concussion. The Colts play on Monday night, so Luck will have an extra day to pass the necessary tests. Even though concussions are completely unpredictable, the expectation is that he will start.
Derek Carr, Oakland Raiders
Maybe Carr should continue playing with a gloved hand. He did pretty well with it last week after dislocating his right pinkie finger in two places. Although he is undoubtedly sore, Carr is practicing in full and will be available against the Bills.
Trevor Siemian, Denver Broncos
With his left foot still in a walking boot, Siemian's Week 13 status isn't looking up. First-round rookie Payton Lynch may have to step in against the Jags. There's no appeal here for fantasy owners.
Jay Cutler, Chicago Bears
Cutler is done for the season -- and possibly with Chicago -- as he will undergo shoulder surgery this weekend. Matt Barkley will get another start this week, but it's hard to imagine him topping his Week 12 performance even though he is facing the pitiful 49ers.
WIDE RECEIVERS
A.J. Green, Cincinnati Bengals
As expected, Green won't play in Week 13. He has already been ruled out because of his hamstring injury. Tyler Boyd remains the most intriguing Bengals wideout, but he is just a middling WR3.
T.Y. Hilton, Indianapolis Colts
Hilton apparently took a step back Thursday when he sat out the day's practice, one day after he was on the practice field. He has a back injury that limited to just a few snaps on Thanksgiving. If he can't play Monday night versus the Jets, Donte Moncrief will get a big boost in value.
Sammy Watkins, Buffalo Bills
Want to hear something frustrating? Well, Watkins hasn't practiced much this week due to lingering soreness in his surgically repaired foot. Bills offensive coordinator Anthony Lynn said Thursday that he doesn't know if Watkins will see "one play or 20 plays" versus the Raiders. Even if it's the latter number, that's not much. Hopefully we'll learn more about his health over the next couple of days, but Watkins is looking like a risk-reward WR3 for this week.
Kelvin Benjamin, Carolina Panthers
Benjamin's shoulder injury, which he has been dealing with since Week 11, kept him off the practice field Wednesday. He returned Thursday but was reportedly very limited. Still, because he was able to play through the pain and catch a highlight-reel touchdown last week, there doesn't seem to be too much concern about his Week 13 status. With a one-on-one matchup versus Richard Sherman upcoming, Benjamin is just a low-end WR2 this week.
Tyrell Williams, San Diego Chargers
There is real concern about Williams' Week 13 status. He has been absent from this week's practices thus far due to a shoulder problem. It would be a big loss for Philip Rivers if he can't suit up Bucs, but Travis Benjamin, Dontrelle Inman and Antonio Gates would pick up extra looks.
Brandon Marshall, New York Jets
Marshall didn't practice Thursday because of knee and foot pain, but the common belief is that he will be just fine in time for Monday's battle against the Colts. He's a fine WR2.
Jordan Matthews, Philadelphia Eagles
Matthews is being nagged by a sprained ankle, but he still practiced Thursday. He got Wednesday off. He is expected to play against the Bengals and would be a WR3.
DeVante Parker, Miami Dolphins
It looks like Parker won't play versus the Ravens due to the back injury that cut his Week 12 game short. He hasn't practiced this week and Dolphins OC Clyde Christensen has called Parker's availability for this Sunday a "bonus." Jarvis Landry and Kenny Stills would get a slight bump up in value if Parker is inactive.
Marvin Jones, Detroit Lions
Jones has been limited by a thigh injury this week. He should play against the Saints, but his major statistical swoon has made him nothing more than a WR3 in even the best of matchups.
Jeremy Maclin, Kansas City Chiefs
Hey, Maclin's back! He's been sidelined by a groin injury since Week 9. Do you care? Probably not, considering that the 28-year-old has scored twice and hasn't topped 80 yards all season long. His return is not great news for Tyreek Hill, but the Chiefs' coaches should have realized by now that he, not Maclin, is their most dangerous offense weapon.
Allen Hurns, Jacksonville Jaguars
Hurns hasn't practiced this week due to a hamstring injury. He probably won't play Sunday, not that you should be starting him anyway; Hurns has caught four passes through the past four weeks. Prepare for Allen Robinson to be a target monster, even in a difficult matchup against the Broncos.
John Brown, Arizona Cardinals
Brown continues to cope with leg soreness due to his sickle-cell trait. He did practice Thursday but is not a startable fantasy commodity at the moment.
Robert Woods, Buffalo Bills
Watkins isn't the Bills' only ailing wideout. Far from it, actually. Bills head coach Rex Ryan has already said he doesn't expect Woods to play against Oakland because of a knee issue. Ryan insinuated as much about Percy Harvin, who is still dealing with migraines. And to top it off, Marquise Goodwin had to leave Thursday's practice early after injuring his wrist. Needless to say, this is going to be a run-heavy game for Buffalo. Conversely, downgrade Tyrod Taylor.
RUNNING BACKS
Mark Ingram, New Orleans Saints
Ingram may not get an opportunity to build off of what was perhaps his best game of the year. Ingram, who totaled 167 yards from scrimmage and scored twice last Sunday, hasn't practiced yet this week because of a toe injury. if that doesn't change Friday, Tim Hightower could be in line for a full workload versus the Lions.
Ryan Mathews, Philadelphia Eagles
It looks like a sprained knee will cost Mathews a second consecutive game. He has yet to practice this week. That means Darren Sproles and Wendall Smallwood will once again fill in. Both players are just low-end flex options.
Chris Ivory, Jacksonville Jaguars
The Jags' running game is a mess right now, but that's just a microcosm of the entire team. According to Mark Long of the Associated Press, Ivory is unlikely to play versus the Broncos due to the hamstring injury he suffered in Week 12. However... 
T.J. Yeldon, Jacksonville Jaguars
... Yeldon is fighting through an ankle problem. The good news is that his malady doesn't seem too severe and he was on the practice field Thursday. I Ivory and Yeldon can't play, Denard Robinson is the next man up, Regardless, you should avoid this ground game when it's facing Denver.
Mike Gillislee, Buffalo Bills
Gillislee is being limited by a hamstring injury, but as long as LeSean McCoy is rolling, he's just a backup.
TIGHT ENDS
Rob Gronkowski, New England Patriots
One of the biggest stories of the week and of the Patriots' season was Wednesday's revelation that Gronk will need another back surgery -- his third going back to his college days -- to fix a ruptured disk. He is expected to miss two months of action. This should mean more targets for everyone involved in the passing offense, but tight end Martellus Bennett and wide receiver Malcolm Mitchell stand to gain the most. However, there is no doubt that this hurts Tom Brady's weekly value.
Jordan Reed, Washington Redskins
Reed was a beast on Thanksgiving Day, which is even more impressive considering that he played through a wrecked shoulder. He has a Grade 3 sprain that includes ligament tears. He has been absent from practice this week and is reportedly unlikely to play this weekend. Vernon Davis is an OK streaming option, but the Cardinals have been very tough on tight ends.
Julius Thomas, Jacksonville Jaguars
Thomas' back is still holding him back from practicing. Look elsewhere.
-------
Other injured players who are expected to play in Week 13 include: Tom Brady, QB, New England Patriots; Michael Crabtree, WR, Oakland Raiders; Julian Edelman, WR, New England Patriots; Michael Floyd, WR, Arizona Cardinals; Lamar Miller, RB, Houston Texans; Latavius Murray, RB, Oakland Raiders; Theo Riddick, RB, Detroit Lions; Jacquizz Rodgers, RB, Tampa Bay Buccaneers; Jimmy Graham, TE, Seattle Seahawks; Martellus Bennett, TE, New England Patriots; C.J. Fiedorowicz, TE, Houston Texans.