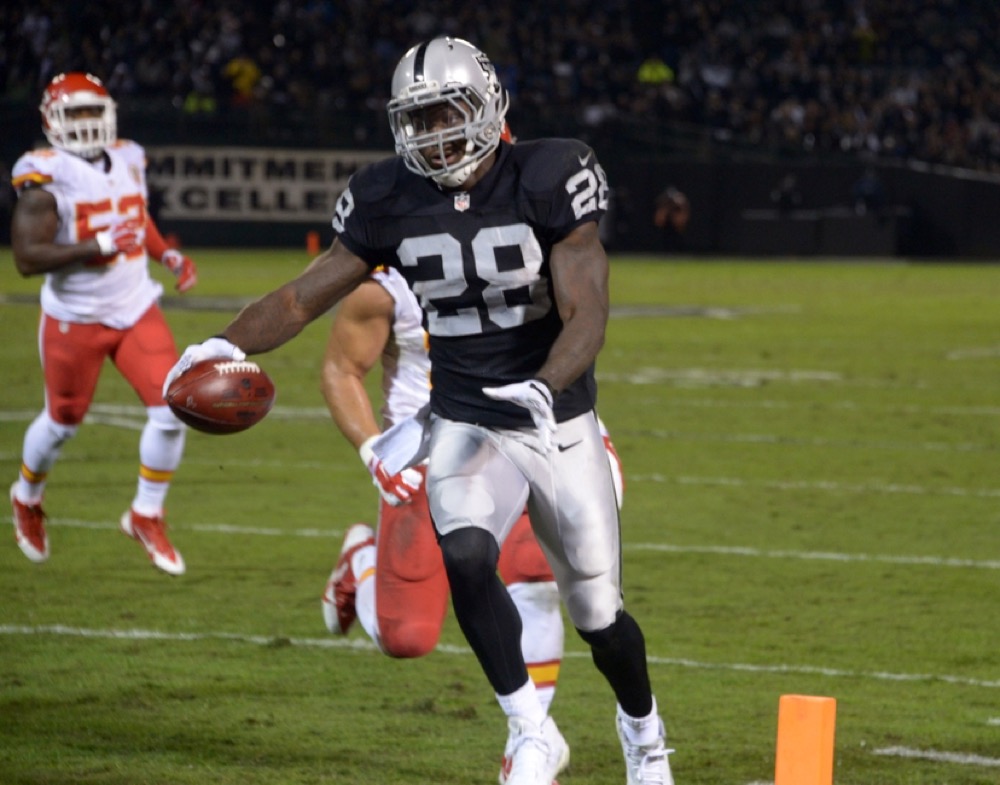 You drafted these players high for a reason, but should you sit them in Week 3?
With two weeks of play complete, we now have a better idea of how certain players may pan out the rest of the season. We provide you five names you may want to reconsider starting because of tougher than usual matchups. As a result, you might want to contemplate other options.
Blake Bortles
Throwing to Allen Robinson and Allen Hurns, the Jaguars quarterback has been a popular option for fantasy teams. Bortles has already thrown for 649 yards and three touchdowns through two games, but the Baltimore Ravens defense has held Tyrod Taylor and Josh McCown to a combined 371 yards with two touchdowns and two interceptions. Baltimore has a solid secondary with Shareece Wright and Jimmy Smith playing well so Bortles may have a tougher time racking up points in Week 3.
Latavius Murray
The Raiders runner only has 116 yards over two games but add in two touchdowns and that is solid return for a RB2 or flex option. Murray will have a surprisingly tough matchup ahead with the Tennessee Titans in Week 3. Wesley Woodyard and other Titans have held all running backs faced to under 40 yards through two weeks and that includes Adrian Peterson gaining only 31 yards on 19 carries. Moreover, the Titans have not allowed a rushing touchdown so far in 2016. Oakland might throw the ball more to avoid Tennessee's run defense.
Carlos Hyde
After a huge Week 1 performance, 88 yards and two touchdowns, Hyde ran into the Panthers brick wall of a defense this past Sunday. Hyde will have a similar test against Seattle in Week 3. The Seahawks defense held their first two opponents, namely Arian Foster and Todd Gurley, to a combined 89 yards on the ground. With Seattle yet to allow a rushing touchdown and Hyde only managing 34 yards last week, the Niners back may be better off on your bench in Week 3.
Stefon Diggs
The shifty Vikings receiver burst on the scene last year as a fifth-round pick and has backed up his strong rookie scene through two weeks in 2016. The six foot wideout has combined for 285 yards through two games with two different quarterbacks. Although Diggs is a great option for the rest of the season, consider benching him next week against the Panthers. Carolina has only allowed 219 yards to all wide receivers faced over the first two weeks of the season including the likes of Demariyus Thomas and Torrey Smith. With Sam Bradford still learning the Minnesota offense, Diggs should get a spot on your bench.
Martellus Bennett
The former Chicago Bear went off for the Patriots on Sunday with 114 yards and a score, but temper expectations for the future. Even if Rob Gronkowski is out another week, a factor that could put a significant dent in Bennett's targets, the veteran tight end will probably be receiving throws from rookie Jacoby Brissett. To make matters worse for Bennett, he will face a Texans defense that held Zach Miller and Travis Kelce to a combined 48 yards thus far in 2016.