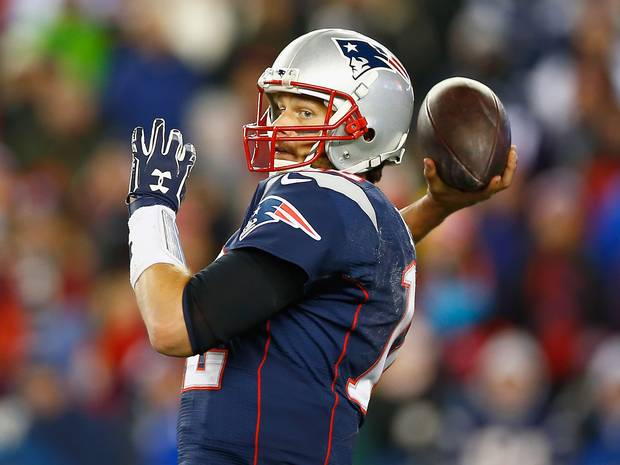 Written by Brian Murphy
19 July 2016
Last week's edition of this article received a lot of interest, so let's go with Round 2. Again, if you aren't using The Machine by ASL, you are not doing everything you can to win your fantasy league. As we enter draft season, you are going to need The Machine to help you draft the best roster possible. From there, let the Machine assist you in trades, waiver-wire decisions, start-sit dilemmas and more.
Today, let's point out a couple more NFL players The Machine states could become value picks during drafts. And let's begin with perhaps the hottest chatter topic among fantasy owners right now.
Tom Brady, QB, NE
The Machine's draft projections are compiled using data from Pro Football Focus, Fantasy Sharks and Fantasy Football Metrics, and can be adjusted to fit your league's scoring system. For Brady, The Machine's projections have him listed as the 25th-best quarterback (237 points). The low ranking is obviously due to the fact that he will miss the season's first four games. But Brady's true value isn't decided by just looking at those 12 other games; it's about those 12 games PLUS the four you will get from the replacement you choose. So, let's say you draft Brady and then spend a late-round, low-risk pick on his backup, Jimmy Garoppolo. The Machine forecasts Garoppolo for 67 points during those first four games. Add that to Brady's total, and those 304 total points slot in as the sixth-best QB in fantasy.
But as of Monday, Yahoo's average draft position data shows Brady as the ninth quarterback off the board. It's been only a few days since football news that Brady refused to fight his suspension longer, and it's only July. As we move through August, I assume Brady will fall a little farther and become an even greater value pick. Right now, he's being drafted in the middle of the sixth round in Yahoo standard leagues. However, as long as you can grab Garoppolo -- or another lesser QB with favorable early-season matchups -- Brady will probably turn into a mid-round pick with a fourth-round value. Steal.
Eli Manning, QB, NYG  
Manning has had somewhat of a career resurrection under offensive coordinator Ben McAdoo. Eli set a career-high in touchdowns last season, has been playing more efficiently and faster under McAdoo, and his numbers could reach even greater heights this season with speedy rookie Sterling Shepard and a healthy (perhaps?) Victor Cruz. In Yahoo leagues, he is the 11th QB off of draft boards. But The Machine has ranked Manning ninth at his position. It may be only a two-spot difference, but in Yahoo leagues, the current gap between the No. 9 quarterback and the No. 11 quarterback is 20 picks. That's value you can use.