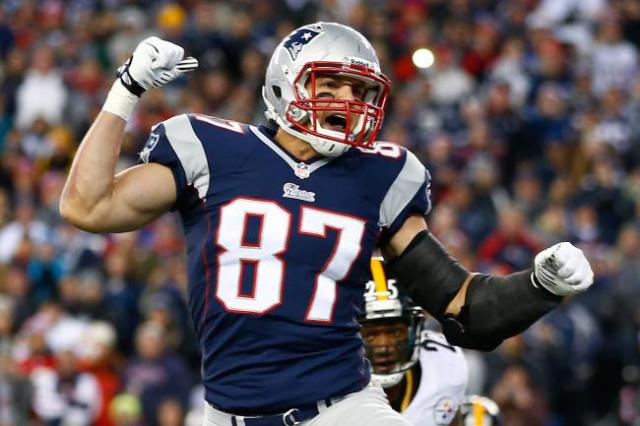 Written by Brian Murphy
19 July 2016
New England Patriots quarterback Tom Brady will be suspended for the first four games of a season. Through the past 18-plus months of the Deflategate saga, that fate tiptoed the line separating fact from fiction. But as Brady has now chosen to not appeal to the U.S. Supreme Court for a stay of his suspension, we know for certain that he will miss games against the Arizona Cardinals, Miami Dolphins, Houston Texans and Buffalo Bills this year. 
This situation hasn't been faced since Chiefs safety Bernard Pollard went low into Brady's left leg in 2008. Much has changed since then, obviously, including a new cast of receivers for New England. If you're wondering what this legal surrender means for Brady's own fantasy value and whom you should draft to cover for him in those opening weeks, I addressed that previously right here.
For today, let's concern ourselves with the pass-catchers. Namely, Rob Gronkowski, Julian Edelman, Martellus Bennett and Danny Amendola. Granted, there aren't a whole lot of firm conclusions that can be drawn given that Jimmy Garoppolo, Brady's expected replacement, has thrown a grand total of 31 passes over 11 NFL appearances. But here are my best guesses.
Gronk? I don't think we've got to worry about him. Perhaps you remember the Garoppolo-to-Gronkowski connection resulting in a touchdown during the late stages of a memorable blowout loss in Kansas City two seasons ago (that was the "We're on to Cincinnati" game). There are certain receivers who can dominate no matter who is under center. Gronkowski fits that bill and he should remain a top-15 pick in drafts. Bennett is a definite TE2 simply because we don't know how he fits in with the Pats right now.
I'm more wary of New England's top wideouts. Edelman and Amendola, both of whom have a pretty well-established injury history, are recovering from offseason surgeries. The former seems to be further along than the latter, with Edelman expected back by training camp while Amendola is actually at risk of missing the start of the regular season. Edelman is the better NFL player, but for what it's worth, Amendola does have Garoppolo's eye. Seventeen of Jimmy G's 31 career NFL passes came in Week 17 of the 2014 season versus the Bills. Seven of his 17 throws were intended for Amendola (Brandon LaFell's four targets were second-most). Edelman was injured for that contest, which explains Amendola's prominence. But I wouldn't totally discount the notion that Garoppolo feels more comfortable throwing to Amendola than Edelman, even with the small sample size. Amendola isn't much of a fantasy NFL commodity anyway, but his relationship with the backup QB should move Edelman down draft boards a bit. At least outside of the top 20 at wide receiver.
Garoppolo, as with most young, inexperienced backup QBs, will probably be asked to lean on his running backs. That should mean more carries for LeGarrette Blount but also a few more short passes for Dion Lewis or James White. If Lewis has no setbacks in his ACL recovery -- he hasn't had any as of yet -- he should reprise his role from 2015 as a dangerous change-of-pace player. However, White will push him for that gig. Right now, Lewis is only a flex RB in standard leagues while White is a lottery ticket pick, so I don't think either player's draft position should move all that much just because Brady won't be around until October. Their respective ADPs will hinge much more on how Lewis' reconstructed left knee responds during camp.
Deflategate as we know it is not over. Brady and his attorneys may still push his appeal to the Supreme Court at a later date. However, the end result at that point will be more important to league executives in their board rooms than fantasy owners in their living rooms. The upshot for all of this: Garoppolo's tiny track record makes it difficult to present many committed opinions on the Patriots' passing game minus Brady. I am fully confident in Gronkowski's ability to continue being the destroyer of worlds, but I'd play it cautiously with the rest of the cast. Edelman's value takes a hit, albeit a slight one. Amendola, Bennett, Lewis are probably viewed through the same lens regardless of the quarterback.