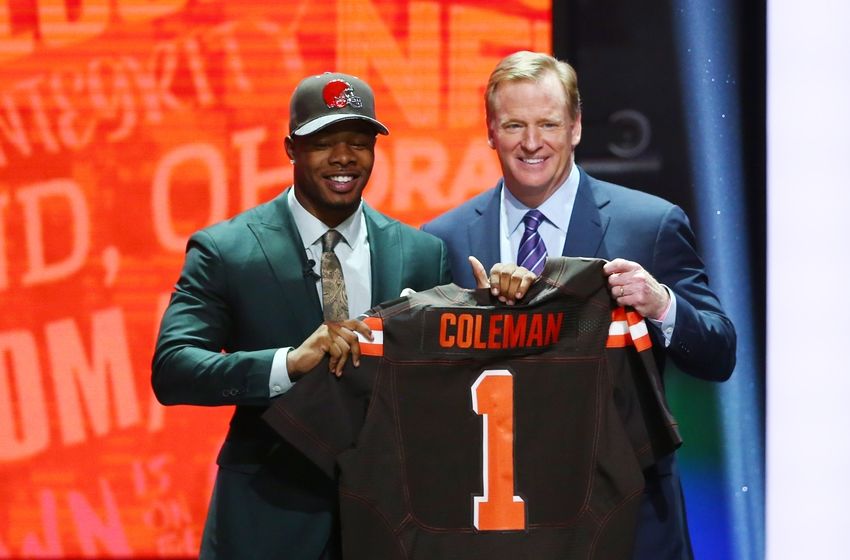 Wide receivers are an important investment when creating a fantasy team. Owners typically look for players who on teams that have an aggressive passing game and reliable QB. Cashing in on a rookie WR has had its benefits. For example, rookies Amari Cooper (2015), Mike Evans (2014), and DeAndre Hopkins (2013) are all currently ranked in the top 20 for Fantasy Football WRs. The 2016 draft has a lot of explosive talent that can translate to a pay off for fantasy owners. Here are the top picks for this season.  
Corey Coleman  - Round 1, Pick 15 to the Cleveland Browns
Corey Coleman will be playing alongside fellow Baylor alum Robert Griffin III for this upcoming season. The Browns had next-to-nothing at receiver pre-draft. Coleman will likely run routes and be the primary WR play maker this season. In his three years at Baylor, Coleman caught a total of 173 passes for 3,009 yards and 33 TDs. With little competition on the roster and the Browns likely playing catch up most games, the speedster could end being a fantasy difference-maker even though the situation will be hard to trust.
Will Fuller - Round 1, Pick 21 to the Houston Texans
The Texans needed a viable option opposite DeAndre Hopkins. Enter Fuller, who brings oodles of speed and the kind of potential that could help kick-start the Texans offense. The Notre Dame product had an average of 20.4 yards per reception and a total of 30 TDs in his three years with the team. If Brock Osweiler shows ability to look for others besides Hopkins, Fuller could be a sneaky good play in standard scoring leagues.
Josh Doctson  - Round 1, Pick 22 to the Washington Redskins
The Redskins added yet another WR to their roster. The former TCU star joins DeSean Jackson, Pierre Garcon, Jamison Crowder and tight end in Washington. Doctson, who totaled 2,345 yards and 25 TDs in his last two seasons with the Horned Frogs, won't start, but he could turn into the Redskins' red-zone go-to. Let's see if he can battle through lingering Achilles pain this summer before dialing him on draft night as anything more than a deep flyer in redraft leagues. But dynasty owners, get excited, especially since Jackson and Garcon are entering the final year of their contracts.
Laquon Treadwell - Round 1, Pick 23 to the Minnesota Vikings
Though Treadwell looks good on paper, 2,393 receiving yards and 21 TDs in his last three seasons with the University of Mississippi, there have been reports of multiple dropped passes during OTAs. Don't fret just yet. Treadwell will most likely play WR2 alongside Stefon Diggs, creating a huge opportunity for fantasy owners. Treadwell will be a primary playmaker for the Minnesota team. 
Sterling Shepard -Round 2, Pick 9 to the New York Giants 
Sterling Shepard is joining Odell Beckham Jr. and Victor Cruz on the Giants. Though there is a lot of receiving talent on the team, Shepard has been drafted to fill a particular niche. Known for being a slot receiver, Shepard will be playing alongside the other veteran WRs. It will be interesting to see Shepard's impact on the team and how his fantasy value will be calculated for the pass-heavy Giants offense.