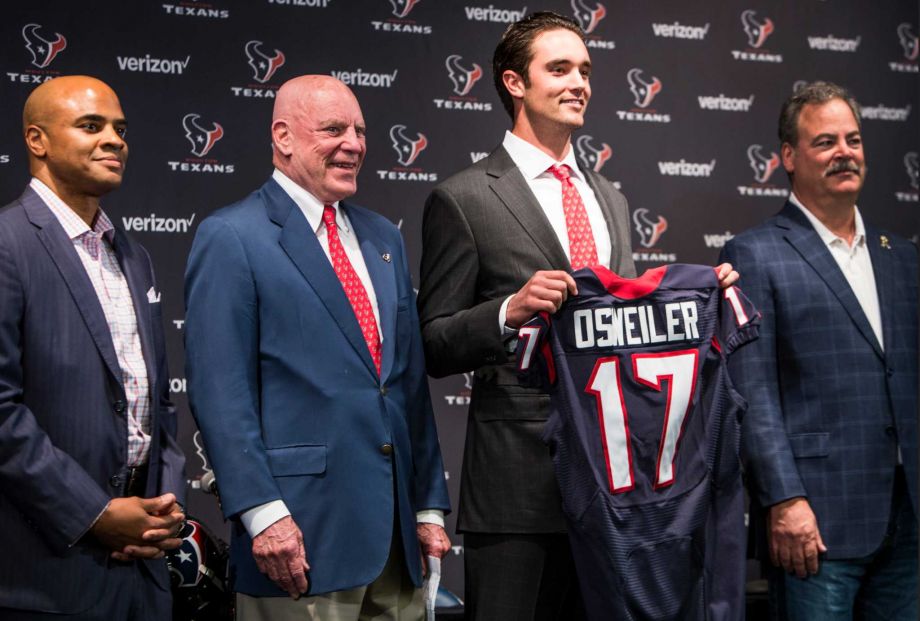 Some quarterbacks improved their outlook by changing teams. Others were helped by changes around them. Here's a look at five.

Brock Osweiler

Brock Osweiler took over the starting QB position for the Broncos when Peyton Manning was sidelined with a foot injury last season. Gaining his first "real" playing time, Osweiler was able to lead the team to a 5-3 record in the regular season and helped to secure the Broncos a spot in the playoffs. In the eight games that he played in, Osweiler threw for a total of 1,967 yards, 10 TDs, and 6 INTs, with a passing rating of 61.8. However, even though he was a valid replacement for Manning, he was not granted the starting position in the playoffs.

Feeling snubbed, the QB looked elsewhere for a team that would value his capabilities. Houston was the answer. The Texans have been struggling with the QB position over the last couple of seasons. Osweiler offers a long-term solution to the problem. The Texans jumped and signed the unrestricted free agent to a 4 year, $72 million dollar contract.

Kirk Cousins

In his first season as an NFL starter, Cousins rewrote the Redskins with a franchise-best 4,166 yards. He also led the NFL in completion percentage (69.8) while throwing 29 touchdowns and leading Washington to the NFC East title. Now Cousins, who for now will receive $20 million next season after signing the team's franchise tag, is the clear starter entering training camp. The Redskins brought back essentially the entire offense intact while adding receiver Josh Doctson in the first round of the NFL Draft. More weapons, less drama is a good formula. If the two sides work out a long-term contract, even better. 

Robert Griffin III

From the Redskins bench to the Browns starting lineup? Yes, that might be the trajectory for RGIII. After being cut by the Washington Redskins, the fifth-year QB was picked up by the Cleveland Browns and signed to a 2-year, $15 million dollar contract.

The Browns signing RGIII makes sense. The team needs a dual threat QB and had originally drafted Johnny Manziel for the job. Though RGIII is injury prone, he has had an entire year to rest, and when given the opportunity, has produced good numbers. From 2012-2014 RGIII threw for 8,097 yards, 40 TD and 23 INTs, running for 1480 yards and 8 TDs. RGIII will battle Josh McCown and rookie Cody Kessler for playing time, but will be given every chance to start from the start. 

Sam Bradford

This one is a bit tricky, but here goes. Bradford was not happy when the Eagles signed free agent Chase Daniel, and was equally unhappy when the Eagles made moves to get the No. 2 overall pick in the 2016 NFL Draft which they used to select Carson Wentz. All of that came after Bradford signed a 2-year, $36 million dollar contract. What's come since is that Bradford is looking for a trade.

Last season Bradford threw for 3,725 yards, 19 TDs and 14 INTs, leading the team to a 7-7 record. He had a shaky start, but played stronger toward the end of the season. If he stays in Philly it will be under new head coach Doug Pederson, a former NFL QB. If he gets traded, Bradford will likely land with a team seeking him as a starter. 
Chase Daniel

If Bradford gets traded, it's Daniel who likely starts while Wentz learns the NFL game. Daniel has been sitting bench behind a mediocre Alex Smith. Either way, the career backup signed to a three-year, $21 million-dollar contract. That's a definite raise. If Bradford gets traded or suffers an injury, Daniel's profile rises as well.