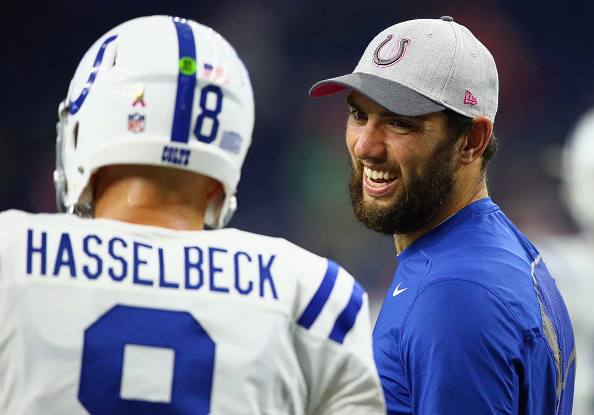 Andrew Luck is ruled out for Week 14, which means that Matt Hasselbeck will continue to be the starting QB for the Indianapolis Colts. However, Hasselbeck suffered a neck injury and rib separation in last Sunday's loss against the Steelers. Though Hasselbeck is expected to play, the Colts have stated that third string QB, Charlie Whitehurst, is active to play next week. Stay tuned to ASL's fantasy news for more on this throughout the week.

C.J. Anderson suffered an ankle injury last Sunday against the Patriots. Though the third year back has been hot and cold throughout the season, Anderson has been improving his rushing game. Anderson is listed as questionable and will be evaluated on a day-to-day basis. If Anderson is out for Week 14, look to start Ronnie Hillman.

Travis Benjamin leads the Cleveland Browns in receiving yards. Brown has made 54 receptions for 826 yards and 5 TDs. Last Sunday, the Brown's star receiver left the Cincinnati shut out with a shoulder injury. Benjamin's return to the field for Week 14 is probable, but I would check the day of the game to make sure that he is listed as active on the roster.

Rob Gronkowski missed last Sunday with a bruised knee and has been listed as week-to-week on New England's injury roster. However, Gronk's status as out has been upgraded to questionable. Though this doesn't leave much information for fantasy owners, it is hopeful to think that he might return for the favorable Patriot matchup against the Houston Texans. Check for updates regarding his status, as he might make an active appearance.

Matt Bryant missed last Sunday's game and is questionable for Week 14. Shayne Graham replaced the senior kicker in Week 13. Graham kicked 4/4 field goals and 1 extra point. He showed his leg strength kicking his longest field goal from 52 yards out. If pressed to find a decent kicker, Graham could be a good replacement.
For the most recent fantasy updates and sporting news, keep reading ASL!