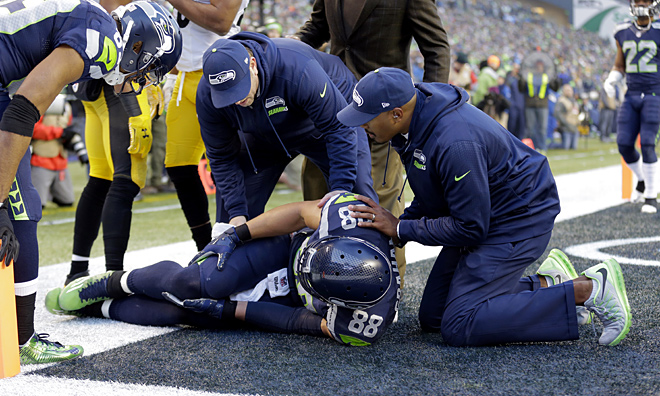 Jimmy Graham suffered a season ending injury when he tore his patellar tendon last Sunday against the Steelers. Graham offered an upside to the Seattle offense and Russell Wilson owners, as he was a high-target, low-risk pass catcher. Over five seasons Graham only missed two regular season games, and he averaged 1,052 yards and 13 TDs over the last two seasons. Though his season got off to a slow start with the usual run-heavy Seattle offense, Graham started seeing more targets throughout the season. Once integrated into the Seahawk offense, Graham has been able to record 48 catches for 605 yards and 2 TDs.

With Graham injured, third year Luke Wilson will likely get the nod to start. This season Wilson has caught 12 passes for 152 yards and 1 TD. Even though Wilson will get more looks, the Seahawks will probably look to wide receivers Doug Baldwin and Jermaine Kearse to carry the bulk of the passing game.

New England has yet another injured player. Rob Gronkowski made sporting news headlines after he was carted off of the field late Sunday night with a knee injury. There is no specific timeline regarding his return, but Gronk is doubtful for next week. His absence will not only affect the Patriot offense (who are already missing Dion Lewis, Julian Edelman, and Danny Amendola) but also fantasy football owners. Gronkowski is the undisputed #1 TE in the NFL. Gronkowski currently leads the Patriot receiving corps with 57 receptions, 931 yards, and 9 TDs.

However, there might be a slight upside for fantasy owners looking to replace Gronkowski with fellow teammate, Scott Chandler. Chandler could be a solid option due to the heavy use of TEs by the Patriot offense, and simply by having Tom Brady as QB. The Patriots like to run 2-TE plays in the red-zone, which has helped Chandler score 3 TDs. Though Chandler might not be a long-term option, he can prove to be a TE1 under these injury circumstances and weak defensive matchups in the coming weeks.

Tyler Eifert suffered a neck injury last Sunday and is doubtful for Week 13. Eifert leads the Bengals in TD receptions, becoming a central target to QB Andy Dalton. Eifert's return for Week 13 is questionable; so are his replacements. Stay tuned to ASL for fantasy updates on Eifert. The Bengals have targeted other TEs just twice this year. I would look to other TE options while Eifert is out.

Heath Miller left last Sunday's game with a rib injury. Though the Steelers have a strong roster of WRs, Miller has played an integral role in supporting the Pittsburgh passing game. Miller has recorded 39 receptions for 390 yards and 1 TD. There is no timeline for how long Miller will be sidelined, but he is listed as questionable for the Steeler Week 13 matchup against the Colts. Replacements for Miller on the Steeler team are TEs Matt Spaeth and Jesse James. James has caught one TD, but fantasy value is unclear for both players.

Will Tye has stepped up to the focal role of TE while Larry Donnell has been out with a neck injury. The timeline for Donnell's injury is erring on out for at least the next couple games to long term, and season ending. Though these status updates are not very clear, I would go ahead and pick up Tye if there are no other TE options. Over the past two games, Tye has received 15 targets, 11 receptions, and 130 yards, definitely noteworthy fantasy news. Though he hasn't found the end zone, Tye could add value for fantasy owners who are in Points Per Reception leagues.