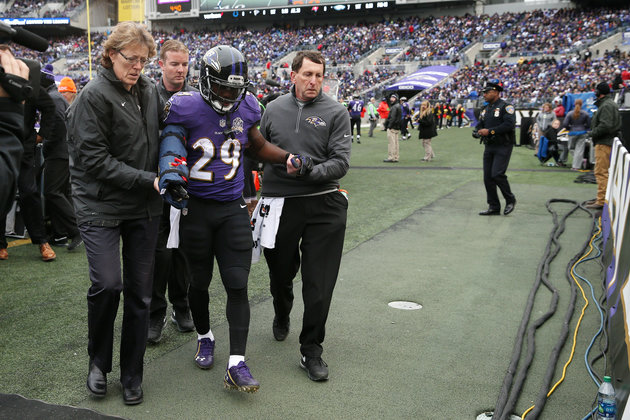 Justin Forsett will miss the remainder of the season with a broken arm. The veteran RB was Baltimore's leading rusher and backfield receiver. Forsett rushed for 641 yards and 2 TDs and caught 31 passes for 153 yards. The loss of Forsett is yet another blow to the Baltimore offense as they've already lost Steve Smith Sr. to a torn Achilles earlier in the season. Javorius Allen will likely take over the starting RB role for the remainder of the season. Allen rushed for 67 yards and caught five passes for 48 yards in the Week 11 win over the St. Louis Rams.
Devonta Freeman left Sunday's game with a concussion. Freeman's status is unknown at the moment, but there should be a decision made by the Atlanta coaching staff later on this week deciding if he'll suit up for the Week 12 game against the Vikings. The second year RB has had some explosive games, rushing for over 100 yards in four games; three of which were back-to-back games. Freeman is on track to eclipse 1,000 in rushing, as he's already run for 764 yards and 9 TDs. Freeman has also gotten involved in the Falcon passing game, catching 48 passes for 420 yards and 2 TDs.

Charcandrick West strained his hamstring during Sunday's game against the Chargers. The Chiefs have already lost Jamaal Charles earlier this season, and the depth at RB is growing short. West is listed as day-to-day, however if he does miss the Week 12 matchup against the Bills, Spencer Ware will take the start. Ware is a second year RB who had a strong game when West was taken out. Ware ran for 96 yards on 11 attempts for 2 TDs. The Chiefs depend on their running game; if West is out, then I would recommend taking a risk on Ware for Week 12, even against the tough Buffalo defense.

The injury woes continue for the New England Patriots. Danny Amendola had the biggest game of his season last Sunday, catching 9 passes for 117 yards. However, Amendola left Sunday's game with a sprained knee. Though the status on Amendola is unclear, he will hopefully play in the Week 12 game against the Denver Broncos. Amendola has proved to be a solid replacement for Julian Edelman owners and a great pick up for owners who are in Points Per Reception (PPR) leagues. Over the last two games, Amendola has been targeted 23 times, catching 19 of those passes for 196 yards. Be on the lookout for updates throughout the week on Amendola's status.

Zach Ertz suffered a concussion in Sunday's blowout loss to the Tampa Bay Buccaneers. Due to concussion protocol and the fast turnaround, Ertz will likely not play in Thursday's game against the Detroit Lions. Though Ertz was once a solid option for TE, catching 58 passes for 702 yards and 3 TDs last season, he has failed to reach the end zone this season. It might be the Eagle QB situation, but there hasn't been much chemistry between Ertz and back up QB Mark Sanchez. If Ertz is out, then the TE to add on the Eagle roster is Brent Celek. Celek has caught 11 passes thrown by Sanchez for 213 yards in two games. Celek has also found the end zone twice this season adding to his red zone value.