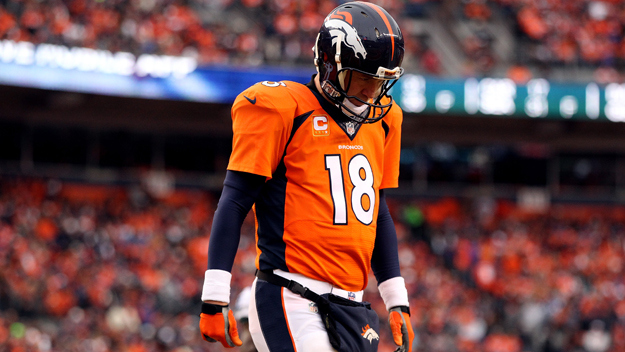 QB Fantasy Updates

Peyton Manning was benched in Sunday's game after throwing 5 completions out of 20 attempts and 4 INTS. After the game, it was announced that Manning had been playing with a torn plantar fascia in his left foot. Manning will miss Denver's Week 11 game against the Chicago Bears. In the meantime, Brock Osweiller will start in Manning's place. Osweiller threw for 146 yards, 1 TD, and 1 INT when he took over for Manning in the third quarter in the Bronco loss to the Kansas City Chiefs.

Sam Bradford left Sunday's game with a shoulder injury and a concussion. It is predicted that he will miss up to two games. In his place, Mark Sanchez will start. Sanchez threw for 156 yards and 1 INT in Philadelphia's loss to the Dolphins.

The Texan QB woes continue. Brian Hoyer left Monday's game with a concussion. T.J. Yates took over when Hoyer left and threw for 5 completions and 1 TD to tie the Texans at the top of the AFC South.

RB Fantasy Updates

Matt Forte has missed the last two games with a knee injury. However, his absence has highlighted rookie, Jeremy Langford's ability to carry the Chicago run offense. In the last two games, Langford has run for 145 yards and 2 TDs, and has caught 10 passes for 179 yards and 1 TD. If you haven't added Langford already, I would do so now.

Eddie Lacy missed Sunday's game against the Detroit Lions with a groin injury. Green Bay has made James Stark the starting RB in Lacy's absence, and will likely to continue to start if Lacy is not cleared to play in Week 11. The Packers are in a slump and have gone on a 3 game losing streak. Their next matchup is against a tough Minnesota defense. Though Stark only ran for 41 yards against the Lions, he did catch 6 passes for 54 yards.

Ryan Matthews also suffered a concussion and left Sunday's game against the Dolphins. Matthews must be cleared before he can play in Sunday's game against Tampa Bay. Be on the lookout for injury updates throughout the week.

WR Fantasy Updates

Allen Hurns made fantasy news and sporting news by catching a TD in the last 7 games that he's played in, all while battling nagging injuries. His most recent injury is to his core. Though he has been previously listed as questionable, he was upgraded to probable for Thursday's game against the Titans.

Julian Edelman broke a bone in his foot in Sunday's game against Tampa Bay and received surgery on Monday. The latest news is that he will be out for at least 6 to 8 weeks. Brandon LaFell and Danny Amendola will likely receive more looks and opportunities in the passing game. Patriot RBs will probably also receive an increased role in backfield passing. If you need to replace Edelman, I would look to add either LaFell or Amendola.