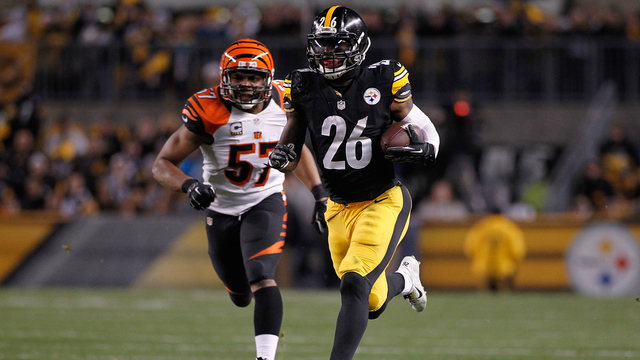 Rankings generated by "The Machine" listed next to each player

RUNNING BACKS

Le'Veon Bell (8) followed fellow top tier RBs, Jamaal Charles (10) and Arian Foster (16), with a season ending injury. Bell left the Steeler's Week 8 game against the Bengals during the second quarter with an injury that would later be ruled as a torn MCL. Though the placing of Bell on Injured Reserved is a huge loss to the Steelers and fantasy owners alike, there is hope in backup DeAngelo Williams.

While Bell sat out the first two games of the season on a suspension for substance abuse, Williams was able to fill in for the starting RB role. In those two games Williams rushed for 204 yards and 3 TDs. Williams later proved himself after Bell left during last Sunday's game, running for 71 yards on 9 attempts and catching 4 passes for 39 yards. Williams is now a must add for fantasy owners who have lost Bell as he will surely appear in fantasy updates throughout the rest of the season.

Another waiver claim that could be an RB2 option is Antonio Andrews. Though the running game in Tennessee is unstable, Andrews has emerged as the rushing leader. Over the course of five games, Andrews has improved in rushing yardage and has started to take on a role in catching backfield passes. In Week 8 Andrews rushed for 64 yards and caught 3 passes for 18 yards.

Matt Forte (12) suffered a knee sprain in Sunday's game against the Vikings. Though the injury is not season ending, there is no definitive date for when he will return to the field. Jeremy Langford will likely take over the Chicago backfield while Forte recovers.

WIDE RECEIVERS

Keenan Allen (30) left Sunday's game against the Ravens with a lacerated kidney. Though there is no official timeline for his return, reports are doubtful for his return to the field this season. Allen led the Chargers in receiving with 67 receptions for 725 yards and 4 TDs.

Steve Smith Sr. (83) tore his Achilles tendon and will be out for the rest of the season. Smith has had three games with over 100 receiving yards and led the team in targets. With the loss of Baltimore's WR1, Kamar Aiken will likely become Flacco's top target for the remainder of the season.

There are more options for WR waivers. I would suggest looking to add either Brandon LaFell or Malcom Floyd. LaFell has Tom Brady under center. Though his initial return in Week 7 was rusty, he has been getting targets. Over the past two weeks LaFell has been targeted 15 times. Floyd had a high output game last Sunday; he caught 4 passes for 92 yards and 2 TDs. Both the Patriots and the Chargers have high-energy pass offenses. Be on the lookout for the greater integration of LaFell and Floyd in their respective team's passing game.