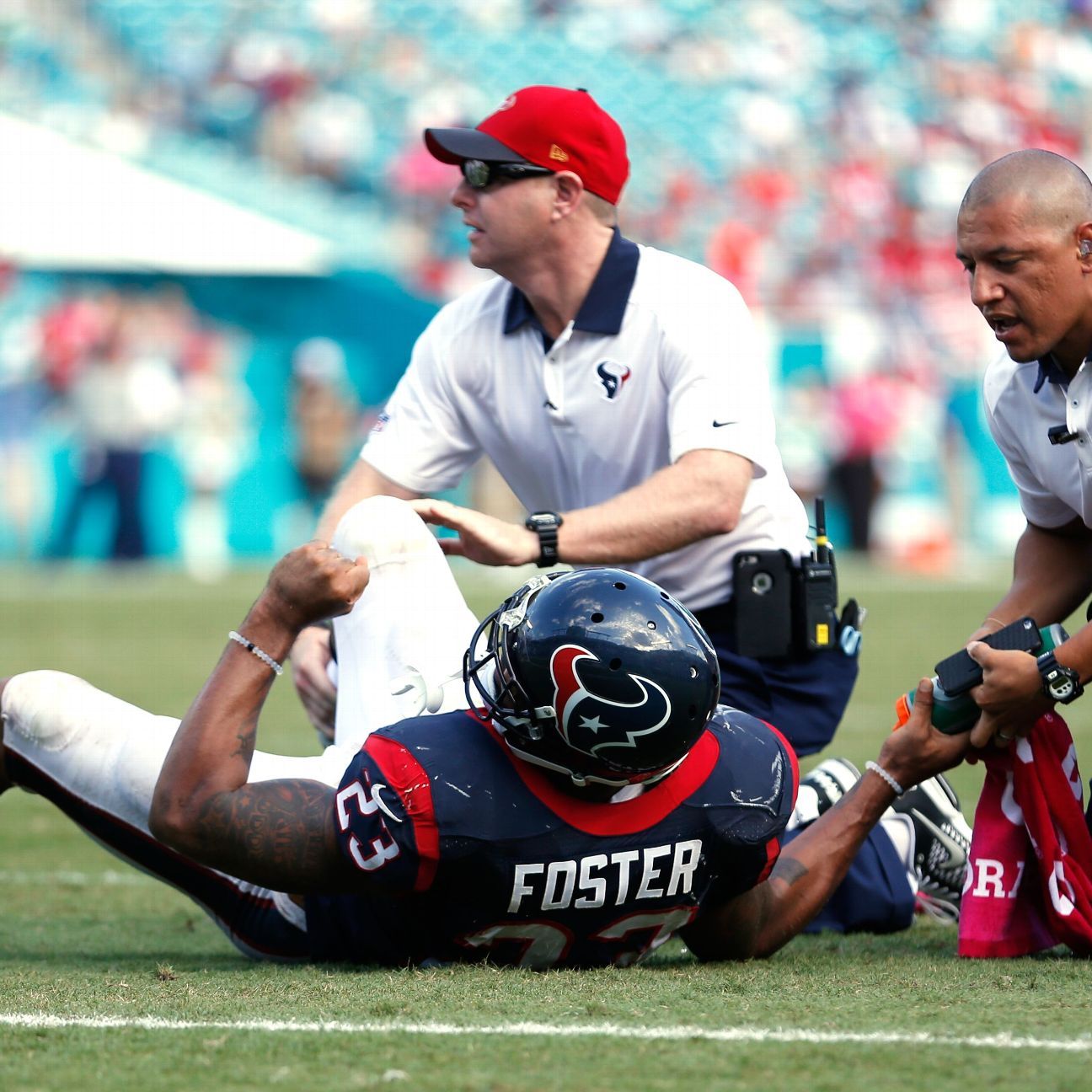 Foster has been plagued with injuries since the start of his career. However, there were high hopes for him this season. Fantasy owners invested in Foster, expecting a fair turn-around from his groin injury. Head coach, Bill O'Brien, took a cautious start with Foster, sitting him out for the first three games of the 2015 season to rehabilitate. This caution was thrown out the window when Foster was still on the field in the final minutes of the Texans' blowout loss against the Miami Dolphins.

Foster had a slow start when he saw his first touches of the season in Week 4 against the Atlanta Falcons, but he managed to put up decent fantasy numbers in the following three weeks. Though he did not rush for more than 60 yards in a game, he did help the weak Texan passing game, connecting with QB Brian Hoyer twice in the end zone. Over the four games that he played in, Foster ran for 163 yards and 1 TD and caught 22 passes for 227 yards and 2 TDs.

Fantasy owners should turn their fantasy focus to teammate Alfred Blue as a tentative replacement for Foster. Blue currently leads the team in rushing with 234 yards and 1 TD. However, Darren McFadden might be a more viable candidate. The Cowboys have lost lead backfield pass catcher, Lance Dunbar, to a torn ACL and starter, Joseph Randle is struggling with an oblique injury. When given the opportunity to dominate carries, McFadden was able to eclipse 100 rushing yards and find the end zone, a combination Randle has yet to do this season.

The Texans don't have the luxury of adding a RB replacement for their Sunday game against the Titans. The probable choice for starting RB will most likely be Blue, with supporting RBs Chris Polk and Jonathan Grimes, but stay tuned for fantasy updates on this. An upcoming win could tie the Texans with the Indianapolis Colts for first place in the AFC South.

Though the future for the Texans is shakey, the future for Foster is even shakier. Foster's health is a concern for fantasy owners and franchises alike. As he leaves his 7th season with the NFL with yet another injury, will he be healthy enough to return? Did Arian Foster play his last game of his NFL career? Will he be a focus of fantasy news ever again?