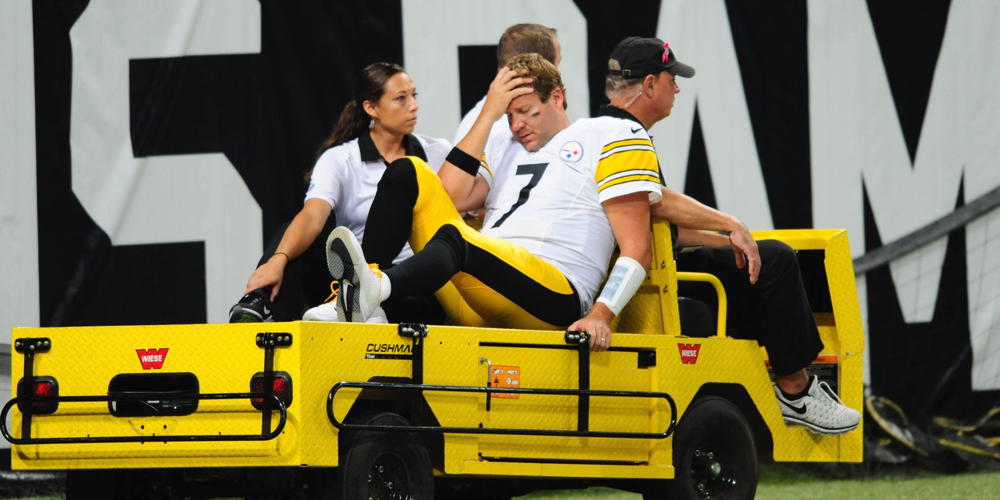 Fantasy updates with rankings generated by "The Machine" listed next to each player

OUT

Ben Roethlisberger (54) grabbed headlines when he went down in the third quarter with a knee injury against the St. Louis Rams. Out for an estimated six weeks, Roethlisberger will be rehabbing a sprained MCL and bruised knee bone. Big Ben is central to the Pittsburgh offense, racking up 67 completions for 912 yards and 4 TDs in just three games. Michael Vick will look to pick up where Roethlisberger left off in the Week 4 matchup against the Baltimore Ravens on Thursday. Expect the Steelers to utilize Vick's running abilities and downfield passing. With the weapons that the Steelers have in their receiving corps, I would take the risk and add Vick to my lineup.

QUESTIONABLE

Marshawn Lynch (19) entered last Sunday's game with a calf injury and left with an added hamstring injury. Though head coach Pete Carroll stated that the injury is not severe, Lynch underwent an MRI and is listed as questionable for Monday's game against the Detroit Lions. Over the past three games, Lynch made 38 rushing attempts, running for only 128 yards and 0 TDs. The Seahawk offense has been underwhelming to start the season, but might have found a spark in rookie Thomas Rawls. Taking over for Lynch, Rawls ran 104 yards on 16 attempts. Out performing veteran Fred Jackson, Rawls has made a name for himself as the needed handcuff for Lynch fantasy owners.

DeMarco Murray (24) is another elite RB that has had an underwhelming start. In two games, Murray ran for 11 yards and 1 TD on 21 attempts. To put this into perspective, Murray had 285 yards and 2 TDs with the Cowboys this time last year. With Murray out last week, Ryan Mathews took over the rushing game running for 108 yards on 24 carries. Limited with a continued hamstring injury, look for updates on Murray's return before the Eagle game on Sunday against the Washington Redskins.

Arian Foster (16) has frustrated many fantasy owners with nagging injuries. However, Week 4 could provide a gift to the patient. The Texan matchup against a weak Falcon defense would be the perfect start for Foster, who is recovering from a groin injury. Atlanta has allowed 287 rushing yards and 6 TDs to opposing teams. If this is Foster's "comeback," expect him to put up decent fantasy numbers. Be on the lookout for updates, as Foster will probably be a game day decision.

Drew Brees (39) is listed as questionable for Sunday's game against the Dallas Cowboys. The Saints are currently 0-3 for the season and look for the speedy return of their veteran QB from his shoulder injury. With his return to practice Wednesday, it looks like Brees' return to the field will be sooner rather than later.  Stay tuned to ASL fantasy news for updates on Brees.
For the best sporting news around, stick with ASL!