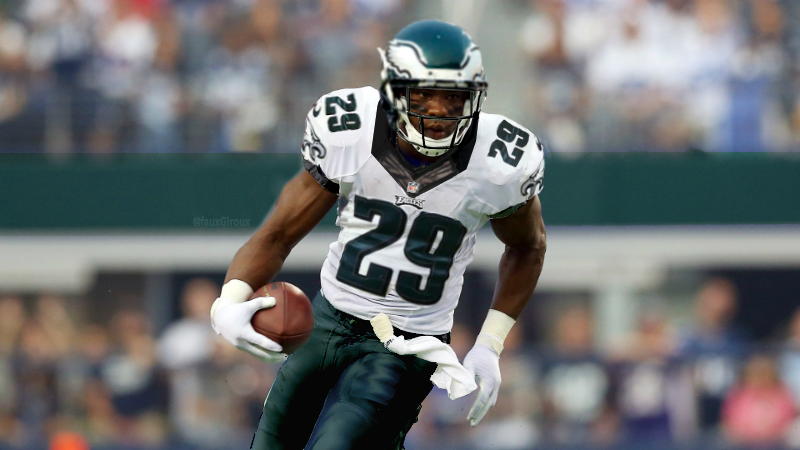 RB DeMARCO MURRAY, Eagles at Jets

The new season and Chip Kelly's offense hasn't been kind to DeMarco Murray.  Through two games, Murray made fantasy news headlines as he has carried the ball just 21 times for an abysmal 11 yards.  Yes, 11 yards…  Week three sends Murray and the Eagles to New York to face a Jets team who is coming off a huge win against the Colts on Monday Night Football.  The Jets defense is allowing a league best 8.5 points a game and has already forced three fumbles this season.  With the Eagles offensive line struggling, Murray may have a hard time finding any holes against New York's d-line.  "The Machine" projects 15.9 out of Murray, which seems like a reach.

RB MATT FORTE, Bears at Seahawks

Matt Forte has been the bright spot for the Chicago Bears this season.  In week one, he rushed for 141 yards and one touchdown.  Forte was less successful in week two, rushing for 61 yards and no touchdowns.  This in large part to the Bears falling behind and abandoning the run game.  Week three brings Forte to Seattle to face the surprisingly 0-2 Seahawks.  Seattle's two losses came in close games away from CenturyLink, where they are statistically an inferior team.  Let's not forget that Bears' starting quarterback, Jay Cutler, is likely to miss the game due to a hamstring injury.  This means Jimmy Clausen will get the start and things could get ugly quick.  Don't expect Forte to rush for more than 100 yards.  The Bears maybe down more than two scores after the first quarter, especially if Cutler is on the Bench.  "The Machine" predicts 18 points from Forte.

WR CALVIN JOHNSON, Broncos at Lions

Johnson held his coming-out party in week two fantasy updates.  He hauled 10 passes for 83 yards and one touchdown.  Johnson may not be so fortunate in week three.  The Lions host the Broncos on Sunday Night Football.  While Johnson will definitely be in the spotlight, he will be covered by the best cornerback duo in football in Chris Harris Jr. and Aqib Talib.  The Denver defense has yet to give up a passing touchdown this season and leads the NFL in per game passing yards allowed with 135.  Lions' quarterback, Matthew Stafford, has already thrown three interceptions this year while the Broncos' defense has already intercepted four passes.  Johnson against the Broncos' dominate defense doesn't look promising.  "The Machine" projects 16.4.

WR JORDAN MATTHEWS, Eagles at Jets

"The Machine" sees Matthews achieving 15.7, but I see less.  Matthews will go up against Darrelle Revis and the 2-0 New York Jets.  Matthews has had a successful season thus far, he's accumulated 16 catches, 182 yards, and one touchdown.  Unfortunately for Matthews, Sam Bradford, has unperformed all season and has yet to face a defense like the Jets.  They have intercepted a league leading four passes and have given up just two touchdowns through the air.  If the Jets are able to play like they did against the Colts, don't expect much out of anyone on the Eagles. 
For the latest in sporting news and most comprehensive fantasy updates, keep reading ASL!