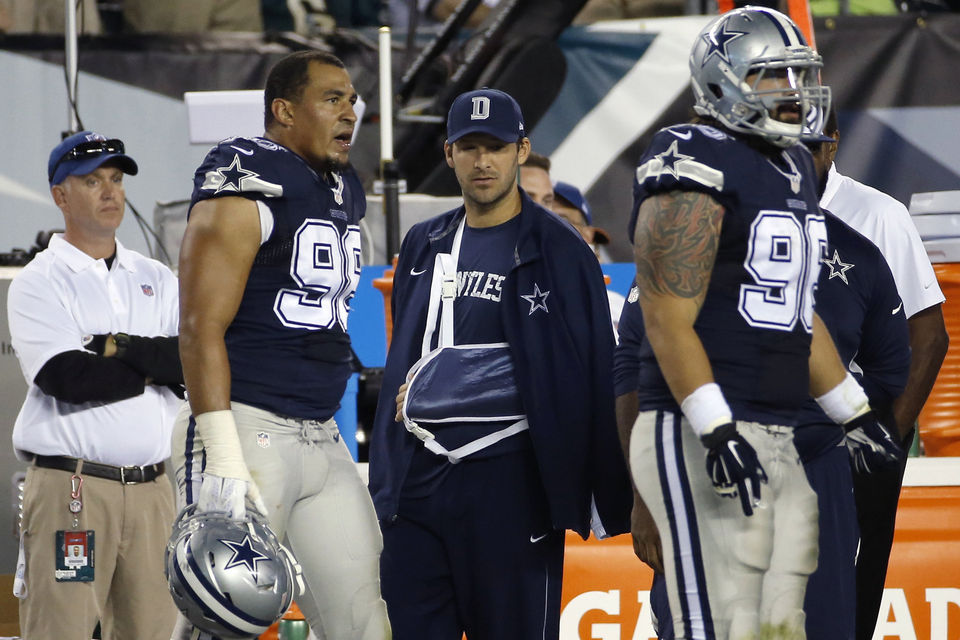 Fantasy updates with rankings generated by "The Machine" are listed next to each player

QUARTERBACKS

Tony Romo (69) left Sunday's game against the Philadelphia Eagles with a broken collarbone. He is expected to miss 8 weeks. With Romo out, Brandon Weeden will get the start. Taking over for the injured Romo in Week 2, Weeden went 7-7, for 73 yards and 1 TD.

Dez Bryant (6) will also be out for the next 10-12 weeks. In his absence, Terrence Williams (134) has stepped up to receive for the Cowboys, catching 4 passes for 84 yards and a TD against the Eagles. Jason Witten (82) ended Sunday's game with two sprained ankles and a sprained knee. Though he says that he will be ready for next week, Witten is listed as questionable on injury reports. With Bryant out and Witten questionable, Weeden has a limited receiving corps for Week 3 against the Falcons. Even though the Falcons defense allowed 291 passing yards from the Giants offense, I would pass on Weeden this week.

Jay Cutler (127) suffered a hamstring injury in last Sunday's game against the Arizona Cardinals and is expected to miss at least two weeks. In the meantime, Jimmy Clausen will get the start in Week 3. Clausen threw for 121 yards and 1 INT against the Chicago loss to the Cardinals. Feeling the loss of WR Alshon Jeffery (9), the Bears have continued to struggle in the passing game. I would steer clear from Clausen, as the Seahawks will host the Bears next week.

The worst scenario for the New Orleans Saints might have come true. Drew Brees (39) will likely miss upcoming games due to a bruised rotator cuff. Though there is no timeline for Brees' injury, expect Luke McCown or Garrett Grayson to get the nod to start next Sunday. Going up against a chintzy Carolina defense, I would look for other QB options.

RUNNING BACKS

Eddie Lacy (18) made fantasy news when he was carted off the field on Sunday with an ankle injury. However, Lacy and the Green Bay Packers have been blessed with a Monday night game. Giving Lacy, an extra couple of days to rest up, he should be ready to start against the Kansas City Chiefs. However, if Lacy is sidelined, James Starks proved that he could step up to the plate rushing for 95 yards on 20 carries. Starks is a solid RB2 option.

Carlos Hyde (65) is listed as questionable for next Sunday's game against the Cardinals. Hyde suffered a leg contusion but was cleared to play. However, already down, Head Coach Jim Tomsula did not want to risk further injury and sidelined Hyde for the remainder of the game. Expect Hyde to play next Sunday.

TIGHT ENDS

Dwayne Allen (186) left Monday's game with an ankle injury and did not return. There is no timeline out regarding Allen's injury for the remainder of the week. However, TE2 Coby Fleener (104) was able to step in for Allen. Fleener is a TE2 option at best as Andrew Luck's (14) passing game has been suffering, even with the receiving weapons he has on the field.