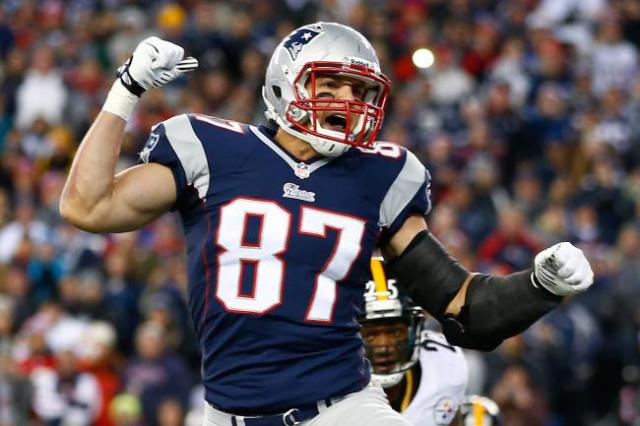 Advanced Sports Logic's Fantasy Focus Takeaways
(Scouting the film and the stat line to give you the edge you need to win your league)
New England Patriots
Newly acquired tight end Scott Chandler, who caught a one-yard touchdown pass from Brady in the third quarter (his lone catch of the night) will be an intriguing speculative spot starter in deeper leagues when a favorable matchup presents itself given his mammoth size and red-zone prowess. Obviously the Patriots will look to Gronkowski first and foremost near the goal line, but on several occasions on the doorstep last night, offensive coordinator Josh McDaniels went with a three tight end set featuring Gronkowski, Chandler and Michael Hoomanawanui. They would then force the Steelers to play all three in man coverage by splitting them out wide, using Chandler and Gronkowski on the same side of the field. That red-zone set generated three of New England's four touchdowns and will be a force to be reckoned with going forward.
The "Shane Vereen role" is a tired and inaccurate analogy, which will be driven into the ground when describing the potential fantasy impact of Dion Lewis going forward. I wrote about it earlier this month in my bold predictions, but his style of play and the ways in which the Patriots are using him are more reminiscent of Danny Woodhead than anyone else in recent history, despite the fact that he owns the same jersey number (33) as the legendary Kevin Faulk and most fantasy owners want to compare him to Vereen, who was an incredible pass catcher and one of the fastest straight-line runners in the league.
With LeGarrette Blount suspended, Lewis, who had not played in a single NFL game since 2012, ran for 69 yards on 15 carries and also reeled in four passes for 51 yards. Not only did he display good vision between the tackles, but he flashed an impressive ability to make defenders miss in the open field. Due to his small stature and jitterbug-like quickness, it's incredibly hard to line him up and take him down in the open field. Lewis, who put together a stellar collegiate career at Pittsburgh, is only 24-years-old, and clearly has an extremely bright future ahead of him in New England. Those are the positives.
Let's not gloss over the fact that Blount is scheduled to return next week and will take over the traditional "ground and pound" workload. Expecting Lewis to still be a factor in point-per-reception formats on a weekly basis is not unreasonable, but his usage will likely be relegated to shotgun draws and as a safety valve out of the backfield on passing downs. The only other negative thing you can say about Lewis from last night was that he fumbled near the goal line after making an excellent catch in traffic and eluding several Steeler defenders. Gronkowski pounced on the loose ball (seriously, what can't he do?). Hopefully that singular play it is not a harbinger of a potential ball security issue and merely a fluke. Overall, Lewis is a name fantasy owners should remember and make sure they get on their roster if they don't already.
Pittsburgh Steelers
32-year-old veteran running back DeAngelo Williams reportedly dropped weight during the offseason and the impact was noticeable in his Steeler debut as he flashed a burst of speed and ability to bounce it outside and turn the corner, which we haven't seen in years. Granted superstar Le'Veon Bell will make his return in Week 2, but Williams has likely earned himself some additional carries above and beyond just spelling the league's most dynamic runner going forward. It's important to remember that the Patriots lost starting defensive tackle Dominique Easley on the first series of the game, but their run defense looked atrocious overall as both defensive end/outside linebackers Rob Ninkovich and Jabaal Sheard had trouble setting the edge and containing Williams. Even if Williams isn't going to get enough playing time to be a relevant fantasy option, he's worth stashing on your bench because he showed that he could be productive with an expanded role if it were to arise again.
The Steelers offense desperately needs Martavis Bryant back, who made sporting news by getting suspended for 4 games. I'm not sure what the Markus Wheaton believers see there. His hands are suspect and he isn't flashy either as a possession receiver on shorter routes or as a vertical threat. Despite being targeted seven times, he caught just three passes for 55 yards. I don't get it. At least with Bryant we know that he can be one of the best downfield threats in the league and a premier red-zone target.
Finally, the Pittsburgh defense was flat-out atrocious last night. Gronkowski was left uncovered in the red-zone on several occasions and Edelman was wide open on virtually every series. It's one thing if he made a brilliant catch, but there is no excuse for leaving someone like Gronkowski alone to walk into the end-zone.
What's Next?
The major question marks for the Patriots going forward appear to be in the trenches. Without sophomore sensation Bryan Stork at center, the team turned to David Andrews, an undrafted rookie free agent, last night and he responded with a truly impressive performance. He looks like he's been playing in the league for a decade. New England also got superb efforts from rookie guards Shaq Mason and Tre' Jackson in their debuts. It's natural to wonder as a fantasy owner, "why should I care about the offensive line?" Simply put, it's paramount that they keep Brady upright and find a way to create running lanes for Blount and Lewis going forward, especially without Stork in the middle of the line. Gronkowski and Edelman will remain the catalysts offensively, but having a solid running game will only open up more windows in the passing game. The Patriots will surely get a test from the Buffalo Bills dominant defensive front and mastermind Rex Ryan in Week 2.
Pittsburgh will look to rebound from a disappointing loss at home against the San Francisco 49ers next weekend, where the headline story will be Bell's return. The Steelers need to find some answers in their secondary, otherwise they will find themselves in plenty of shootouts this season, which might not be a bad thing for fantasy owners with shares in their offense.