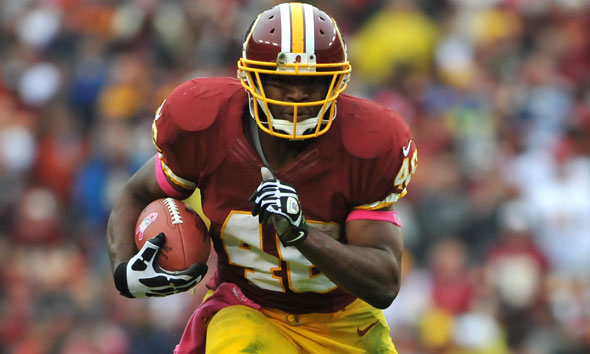 QB PEYTON MANNING, Ravens at Broncos

It may seem like a surprise to see Manning's name near a negative fantasy news list, but 2014 didn't end well.  In the last four games of the regular season, Manning threw just three touchdowns as opposed to six interceptions.  He also appeared in one playoff game against the Colts where he threw for a meager 211 yards and just one touchdown.  The 39-year-old is entering his 18th season without feeling in his fingertips, apparently.  Hopefully his offensive line can keep him up, otherwise it could be a shortened season.

RB ALFRED MORRIS, Dolphins at Washington

It isn't Morris' skills that come into question, it's simply the matchup.  Morris will have his hands full as he rushes against DE Cameron Wake and new acquired, DT Ndamukong Suh.  Even though Washington invested their fifth overall pick in OT Brandon Scherff, he's likely to have his 'Welcome-to-the-NFL' moment in week one.  Seeing as though the Dolphins offense should be solid all around, expect Washington to be forced to throw.  "The Machine" projects 10.9 points out of Morris, just 0.3 more than Chargers' RB Danny Woodhead.

WR ANDRE JOHNSON, Colts at Bills

Newly acquired Andre Johnson has a lot of hype surrounding him going into the new season.  He's just two years removed from a 1,400 yard season and three years removed from a 1,500 yard season.  Even with QB Andrew Luck at the helm, Johnson will have his hands full against a Bills defense that gave up just 205.8 passing yards per game, third best in the NFL.  Johnson could still have elite talent but after 12 years in the NFL you're bound to lose a step or two.  Don't be surprised if Johnson doesn't have the game you were hoping for.

TE JIMMY GRAHAM, Seahawks at Rams

Graham is transitioning from pass-happy New Orleans to run-heavy Seattle.  Don't be too discouraged, he will undoubtedly be QB Russell Wilson's number one target.  Last season, the Rams defense gave up just two touchdowns to opposing tight ends which is where Graham makes his money.  Also, seeing as though these two teams split in 2014, expect the Seahawks to rely heavily on RB Marshawn Lynch.  "The Machine" projects Graham to finish with 14.6 points.
For the best sporting news and fantasy updates, stay tuned to ASL all season long!