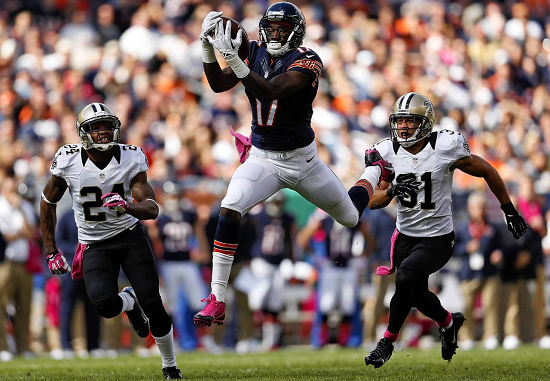 Fantasy Updates with rankings generated by "The Machine" listed next to each player

Alshon Jeffery (9) is listed as questionable for the Bears' home opener against the Green Bay Packers. Jeffery has been out with a calf injury and did not practice on Monday. Listed as a WR2, Jeffery is a high-end receiver, catching 86 passes for 1,133 yards and 10 TDs last year. Though he is hopeful to play in the game on Sunday, fantasy owners should follow updates regarding his injury.

Arian Foster (16) is listed as out for an approximate four to six weeks. Foster has a history of frustrating fantasy owners by appearing in the injury fantasy news, having missed 11 games in the past two seasons. However, Foster is a fantasy gold mine when he does play. Last season he ran for 1,264 yards and 8 TDs. The Texans have disputed claims regarding the workload of Foster; so expect him to be up to speed when he gets back on the field. Look for weekly updates on the progression of Fosters groin injury.

Mike Evans (20) injured his hamstring during the preseason and has remained sidelined during Tuesday's practice. Currently listed as questionable for the Week 1 game, fantasy owners should remain hopeful. Evans still holds a huge fantasy upside as he looks to surpass his 68 catches for 1,051 yards and 12 TDs from his rookie season. Fantasy owners should look for updates closer to the Buccaneer game for the status on Evans.

LesSan McCoy (23) has been listed as questionable for Week 1 due to a hamstring injury. The Buffalo Bills have limited depth at the RB position and are hopeful that McCoy will be ready to play on Sunday afternoon. If McCoy does not play in the opening game, then it is likely that he will be back on the field for Week 2.

Many fantasy owners were hopeful for the quick return of Todd Gurley (44), who was one of the bigger names in sporting news out of the NFL draft. However, it looks like the first round draft pick will get playing time somewhere before Week 6. Gurley is worth keeping on a fantasy lineup, as the potential for him to be a breakout star is great. Continue to look for updates for when the Rams decide to integrate Gurley into some playing time.

Brandon LaFell (50) has been placed on the regular-season PUP list for the New England Patriots. Out for the first six games of the season, it is unwise to hang on to the emerging WR. However, when LaFell is able to come back to the game, he will be worth adding to a fantasy lineup. Last season LaFell came in third for receiving yards with 74 catches for 953 yards and 7 TDs.